If you happen to enjoy playing Madden NFL 22 on the go, the best way to play it is using your Android device. While the app is generally stable and free from major game breaking bugs, many players experience crashes from time to time.  In this guide, we'll show you the solutions if Madden NFL 22 Mobile keeps crashing on your Android device.
How to fix Madden NFL 22 Mobile crashing on Android?
These are the solutions that you can try if Madden NFL 22 Mobile is crashing on you: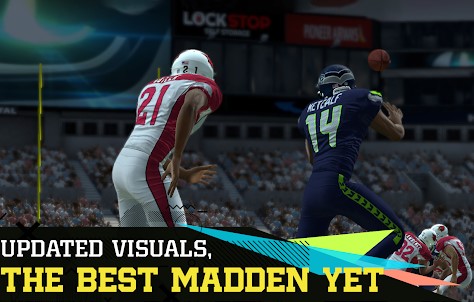 Fix #1: Force stop the Madden NFL 22 Mobile.
Apps may sometimes stop working due to inefficient codes or internal errors. The good thing is, these errors are usually fixed by simply interrupting or stopping the app before launching it again.
You can force stop the Madden NFL 22 Mobile with these steps:
Open Settings app.
Tap Apps.
Tap the More settings icon (three-dot icon, upper right).
Tap Show system apps.
Find and tap the app.
Tap Force Stop.
Not all Android phones have the same exact steps to force close an app. Try to do a little research if the steps above won't work on your phone or tablet.
Fix #2: Check for app updates.
Updating the app may sound a little out of place here but it sometimes work in fixing known bugs. Developers rely on reports from users to know of bugs or problems with their product. If they realize that a lot of users are having the same problem, they work on a solution right away and release it via updates. It is for this reason that you want to update Spotify at this point. To check for app updates:
Open Play Store app.
Tap More settings icon (at the upper left).
Tap My apps & games.
Tap Update all button.
Fix #3: Restart the device.
If your Madden NFL 22 Mobile game continues to crash, restart the device and see if that will change anything. A restart is a simple way to clear the system and hopefully get rid of minor bugs. To do that, simply press and hold the Power and Volume Down buttons for about 10 seconds. Once the phone has restarted, release the buttons. This is usually effective in clearing bugs that developed when a system is left running for some time.
Fix #4: Clear the app data.
At times, apps may freeze or becomes unresponsive leaving users confused what to do. If Madden NFL 22 Mobile is not working, or if it keeps crashing while trying to load, or when in the middle of gameplay, try to see if clearing the app data will fix it.
Clearing the app data will erase the directory or folder of your game that contains your account details, customizations, app settings, and other offline files. Sometimes, these data will cause problems if a file or files becomes corrupted or damaged. Deleting them will force the game app to rebuild the directory or folder and make the app as if it's just been newly installed.
Once you've cleared the app data, you'll need to log in to the app again, change your customized notifications, etc. Offline game progress may be deleted by doing this solution so be sure to back everything up if they are not stored in the cloud.
Open Settings app.
Tap Apps.
Select More settings.
Select Show system apps.
Find Madden NFL 22 Mobile and select it.
Tap Storage.
Tap Clear data.
Open Madden NFL 22 Mobile again and check for the problem.
Fix #5: Delete and reinstall Madden NFL 22 Mobile.
The final fix that you can try in this case is to remove the game from the device and reinstall it. This may work if the cause of the problem is a bug buried deep within the system that any of the solutions previously can't reach. 
OTHER INTERESTING ARTICLES:
Visit our TheDroidGuy Youtube Channel for more troubleshooting videos and tutorials.