Several reasons can cause lag spikes on pc. It could be due to your ISP, network adapter driver, network devices, router connection, or software issues, just to name a few. You will need to perform a series of troubleshooting steps to fix these lag spikes on PC.
In computers, lag refers to the time it takes between a user's input and the response that must be delivered back to the client from the task-supporting server. Lag spikes are unexpected spikes in ping that are higher than the typical ping for the connection you are using. You're witnessing a ping spike, for instance, if the ping between your computer and a game server is typically 10ms but occasionally soars to 500ms.
Depending on the kind of game being played, a player may be able to withstand lag. For instance, a slow-moving strategy or turn-based game may be tolerable if you PC lag spikes. A first-person shooter game with lots of action that moves at a much quicker rate could need a little less lag spike to be enjoyable.
Lag spikes on pc? Here's how to fix it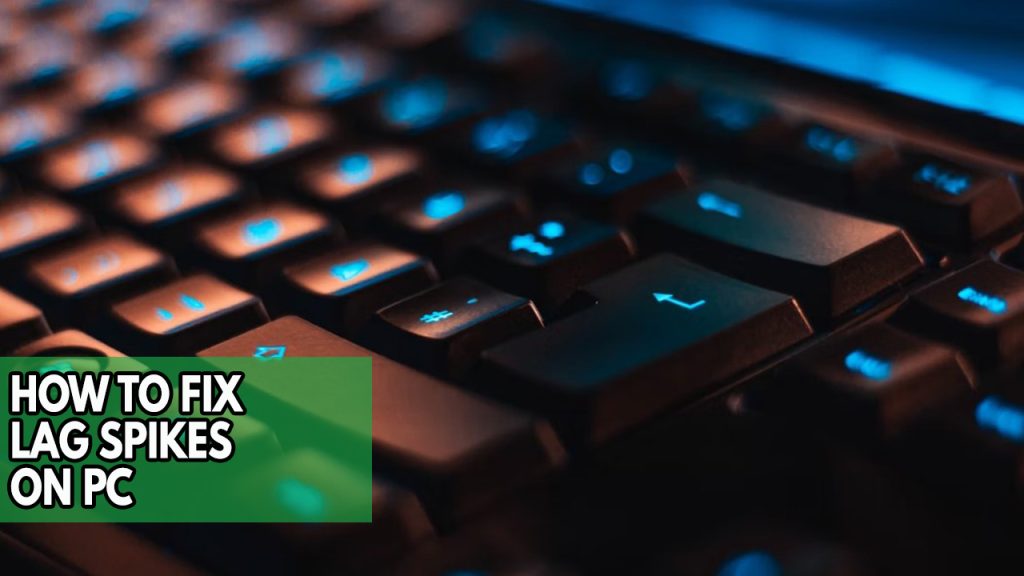 Lag spikes are one of the network issues you could experience with your PC. Especially when playing online, lag is defined as the delay between the player's action and the server's response. The lag can occasionally become so severe that the game is unplayable.
Here's what you can do to fix lag spike issues on your computer.
Fix #1 Check your internet connection
If the lag spike is so bad, a slow internet connection could be to blame. By using internet tools like speedtest.net, you may easily determine the state of your connection.
The ping, download, and upload speeds are the three crucial factors you should pay attention to during the speed test.
Average ping times should be between 10 and 60 milliseconds. Anything above this will have an impact on your online game. Your download and upload speeds should be in line with the ISP plans you have.
Time Needed : 3 minutes
Checking your internet speed
Open your browser.

Use any browser you want.


On your browser, open speedtest by typing speedtest.net.

This will lead you to the speedtest site.


Press the Go button.

This will start the speed test.


Check speed result.

This shows the connection speed results.

If the results re not good then try performing the following steps to improve and fix errors in the connection.
Restarting devices
Step 1: Your computer should be turned off.
Step 2: Remove the power cords from your Modem and Router.
Step 3: Reconnect your modem and router to the power supply after a minute and turn on the devices.
Step 4: Wait for the lights to come on again.
Step 5: Turn on your PC.
Fix #2 Update network adapter drivers
The next thing to do is to update your network adapter, if you have outdated network drivers, you can update your network adapter driver to fix any issues that you are encountering about network lagging issues and high ping.
Updating network adapter
Step 1: Simply type Device Manager in the search bar on your desktop and then click the icon that appears in the results.
Step 2: Click the Network display adapters icon. The list of display adapters will be expanded.
Step 3: Right click the Wi-fi adapter then choose Update drivers.
Step 4: Select Search automatically for drivers.
Step 5: Right click the Ethernet adapter then choose Update drivers.
Step 6: Select Search automatically.
Fix #3 Change default DNS server
If the issue persists, switch your computer's DNS address to a new DNS address, such as one of Google's DNS addresses. Changing your computer's DNS addresses will greatly enhance your connection and eliminate lag spikes.
Changing DNS address
Step 1: Type Control Panel in the search bar on your desktop and then click the Control Panel icon that appears in the results.
Step 2: Click Network and Sharing Center.
Step 3: Click Ethernet, Wi-Fi, or other connections that you are currently using.
Step 4: Click Properties.
Step 5: Click Internet Protocol Version 4 (TCP /IPv4) then click Properties.
Use the following DNS addresses:
Preferred DNS server: 8.8.8.8
Alternate DNS server: 8.8.4.4
Step 6: Check the check box beside Validate settings upon exit and then click OK.
After You have finished changing DNS you need to flush your cache
Step 7: Open Command Prompt, In the Command Prompt, type the following command and press Enter.
ipconfig /release
ipconfig /flushdns
ipconfig /renew
Fix #4 Update Windows operating system
Make sure your computer has the most recent Windows update installed. The lag spike problems will be resolved by these Windows updates, which will also improve your computer's performance and provide security patches and bug fixes. It is advised to download and install the most recent Windows update version.
Updating Windows
Step 1: Right click the Start button.
Step 2: Select Settings. This will open Windows settings.
Step 3: Select Windows Update found on the bottom left menu of the new windows that appears which will take you to the Update section.
Step 4: Select Check for updates.
Fix #5 Use a wired connection
If you are utilizing a wireless connection and are not physically connected to the router, you can check the other devices connected to the router to see who is using the most bandwidth. This problem might be caused by other devices downloading and using streaming platforms, which use up all the available bandwidth. Try to use a wired connection since it is more stable than a wireless connection and disconnect other programs and users that are consuming bandwidth on your router connection.