Valorant is a game that allows players to execute outstanding performances. Unfortunately, there is no in-game system that can record Valorant gameplay. This is why you will need a third party software such as OBS in recording Valorant or streaming the game to YouTube.
Valorant is one of the popular first person shooter games that's being played today. It's a team based game played by two opposing teams of 5 players. The main game mode which is Search and Destroy has an attacking team set to plant the bomb with the defending team's goal of preventing this bomb from being detonated. First released in 2023, Valorant now has an average of more than 15 million monthly players.
Can you record Valorant gameplay?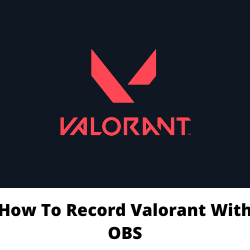 The best solution to record a Valorant game is by using OBS (Open Broadcaster Software). This is a free to download open source software that allows you to do live streaming or video recording. You will be able to live stream to YouTube, Twitch, or even Facebook. If streaming is not your cup of tea then recording Valorant gameplay is also possible with OBS. The saved file can then later on be uploaded to YouTube.
Recording Valorant gameplay with OBS Studio
The first thing you need to do is to download and install OBS to your computer. You can get OBS Studio from https://obsproject.com/.
Open OBS Studio.
Click Settings found on the lower right corner.
Click the Output tab.
Set video bitrate to 6000 kbps.
Set Encoder to hardware.
Set Audio bitrate to 256.
You can change the default recording location by changing the save path in the Settings tab.
Click the Audio tab.
Set Desktop audio to Disabled.
If you have a microphone you can add it by setting up the Mic/Auxiliary device.
Click the Video tab.
Set the output resolution to your choice. If it is 1080p choose 1920×1080 and set Common FPS to 60.
Click on Apply to save changes made.
Click the Scene icon on the lower left side of the screen.
Click the plus icon under the Sources tab.
A drop-down menu will show up and add, Game Capture and Audio Output Capture.
Open Valorant.
Go back to OBS by pressing Alt+Tab.
Single click on the Game Capture option and select the mode as "Capture specific window" and select window as "Valorant.exe."
Single click on Audio Output Capture and select the device that is taking Valorant's audio output.
Frequently Asked Questions
Valorant lags when I use OBS Studio

When your Valorant game lags when you start recording then this might mean that your computer hardware is not powerful enough to run the game and record it at the same time. You are going to need either increase the amount of RAM available, use a more powerful graphics card, or use a more powerful processor.

My Valorant framerates drop when I use OBS

You need to make sure that your graphics drivers are updated. If it already is then you might need to increase your RAM, upgrade your graphics card, or use a more powerful processor.

The recorded Valorant game is pixelated.

You will need to make sure to change the output resolution setting to at least 1080p at 60FPS.

What is the best way to capture Valorant gameplay?

The best way so far that will not cost you anything at all is by using OBS Studio.

What will happen to the recorded gameplay?

The recorded game file will be saved to the location of your choice in your computer hard drive.