Now, here is one problem that you don't see more often. Some of our readers, not just Samsung Galaxy S5 (#Samsung #GalaxyS5) owners, reported that their devices just rebooted one day and went into a black screen with a caution: "Downloading…Do not turn off target!" In the upper-left corner of the screen is shown some information about the phone that only very few can understand with a text "Factory Mode."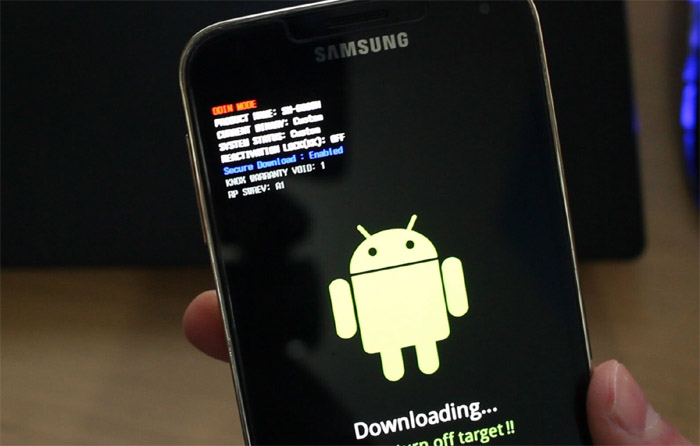 Many of those who reported thought that the phone was just download some updates but the fact is it doesn't. It's a sign that the device may have been messed up so badly that it couldn't successfully boot up to the Home screen.
The Factory Mode is automatically enabled if some data or files in the EFS folder are missing or if the partition itself is corrupted. There are also times when the either the firmware or the hardware glitches that the phone will boot up into this state.
Before going deeper into this issue, if you have other concerns with your phone, visit our Samsung Galaxy S5 troubleshooting page. It contains hundreds of solutions to problems we already addressed. Find issues related to yours and try the solutions we provided. If they won't work, then contact us as we are always willing to help our readers.
FAQs about EFS Folder
Q: What is the EFS folder?
A: It's a partition where all sensitive, device-specific information are stored like the IMEI, ESN, MEID, MAC address, phone number for locked units, and other identifying numbers.
Q: What are the common causes that may result to the corruption of data in the EFS folder?
A: A glitch, rooting, flashing of firmware regardless whether it's stock or custom, failing hardware, etc. If you didn't tinker your phone and this problem appeared, then it's probably just a glitch and might be fixed by a reboot. However, if you installed a firmware or modified ROMs, then double-check it to see if they're corrupted or not.
Q: Can corrupted EFS folder get restored?
A: You can only restore it if you've made a backup in the first place. Samsung will ask you to send the phone, its techs will check it if it has been tinkered with and if it got corrupted without apparent reason, you may be provided a replacement unit.
Q: Can I backup the EFS folder?
A: Yes you can if the phone is rooted. Only people who have sufficient knowledge in manually flashing new firmware or custom ROMs may need to backup the EFS partition.
Once the phone enters the Factory mode on its own, it is almost certain the problem is serious, although there were reports from other users suggesting it may be just a result of a glitch. It is imperative you troubleshoot the problem before sending it away for repair. Here are some of the actual messages we received related to this problem:
Galaxy S5 shows Factory Mode
Problem: If I power off my phone it loads a screen with the Android icon in the center and underneath it says "Downloading…Do not turn off target!" In the top left corner it says the following:
FACTORY MODE
PRODUCT NAME: SM-G900P
CURRENT BINARY: SAMSUNG OFFICIAL
SYSTEM STATUS: OFFICIAL
REACTIVATION LOCK(KK): OFF
KNOX WARRANTY VOID: 0X0
QUALCOMM SECURE BOOT: ENABLE (CSB)
AP SWREV: S1, 53, A1, A3, P1
SECURE DOWNLOAD : ENABLE
UDC START
Once this loads I am unable to stop it. It reloads even if I take the battery out for over 10 seconds. Sometimes I can remove the sim card & SD card and it will reboot normally when I put the battery back in….but not always. It just started doing this.
Troubleshooting: What matters most in this problem is the fact that the user said he "can remove the sim card & SD card and it will reboot normally when I put the battery back in….but not always." Apparently, the phone doesn't always boot in factory mode every time. If the EFS partition was totally corrupted, the phone will automatically enter the Factory mode.
In this case, it is best if you tried booting in safe mode and back up all your data in preparation for a master reset that will bring everything back to factory defaults. Booting in safe mode will also give you an idea if the phone can still boot in other modes.
Safe Mode
Turn the device off.
Press and hold the Power key.
When 'Samsung Galaxy S5' appears on the screen, release the Power key.
Immediately after releasing the Power key, press and hold the Volume down key.
Continue to hold the Volume down key until the device finishes restarting.
Safe mode will display in the bottom left corner of the screen.
Release the Volume down key when you see Safe Mode.
If the phone successfully booted in safe mode, backup all your data, files, pictures, videos, etc. and then turn it off and remove both the SIM card and microSD card.
Master Reset
Turn off the device.
Press and hold the following three buttons at the same time: Volume Up key, Home key, and Power key.
When the phone vibrates, release the Power key but continue to press and hold the Volume Up key and the Home key.
When the Android System Recovery screen appears, release the Volume Up and Home keys.
Press the Volume down key several times key to highlight 'wipe data / factory reset.'
Press Power button to select.
Press the Volume down key until 'Yes — delete all user data' is highlighted.
Press Power button to select and start the master reset.
When the master reset is complete, 'Reboot system now' is highlighted.
Press the Power key to restart the device.
If these procedures failed, it's time to contact Samsung.
Galaxy S5 entered Download Mode
Question: Hello, I just got a Samsung Galaxy S5 from ebay and I noticed that there is a significant bouncing when I scroll down, especially scrolling down a website. I went in and disabled the animation (under developer options) but that didn't help. I also disabled apps that I don't need. neither of those helped. Do you have other suggestions?
Also, how do permanently disable "my magazine"? It always reappears after I restart my phone. Finally, in an attempt to fix the issue, I turned off my phone and hit the volume, home screen, and power button at the same time. It then asked me if i wanted to proceed and I hit the volume up option that indicated I wanted to proceed. My phone now has a picture of an android on it and beneath it, it reads "downloading… do not turn off target!!" What did I just do? Thanks in advance for your help! — Sarah
Answer: Apparently, you got the phone to enter Download Mode or Odin Mode. It is here that you can manually flash a firmware using a flashing tool known to many as ODIN. While you are warned by the phone "not to turn off target" it is actually the only way out if you're not going to flash a firmware.
Try removing the battery to turn the phone off and turn it on as usual. That will bring you to the Home screen and you can use the phone like you always do.
Galaxy S5 shows "mmc_read fail" error
Problem: Hello. My Samsung Galaxy S5 is frozen I will try to explain the best as possible so please bare with me
OK so my phone was almost dead and I noticed for whatever reason it was trying to download something it is the screen where it says Odin Mode with some other stuff in the upper left hand corner and there is an android in the middle and it says "Downloading…Do not turn off target!!" but I have left it here and it does nothing… so I pulled out the battery and tried just putting it back in and powering it up normal and now it just goes to the very first screen and it's black with the Samsung label and it's frozen I guess it does nothing so I tried to perform a hard restart and whenever I try this it all ways says (in the upper left hand corner) "mmc_read fail and Movinand checksum confirmation fail." I'm lost and don't know what to do. Can you please help me? Thanks.
Troubleshooting: Now, this here is a different one. Booting into download mode is the phone's way of showing the owner how to fix the problem; it's not the cause. The booting process failed due to this error "mmc_read fail," so it has to boot into download mode where the user can flash a firmware using the flashing tool ODIN with the help of a computer.
The error indicates the firmware is pretty messed up that the system couldn't read some directories required to boot up normally. I don't know what happened as our reader didn't include some information about the phone prior to this problem. The only thing that can fix it is by re-flashing the firmware. You can do that on your own or you can have someone to help you with it. Better yet, contact your provider or Samsung as they can provide you all the help you need.
Connect with us
We are always open to your problems, questions and suggestions, so feel free to contact us by filling up this form. We support every Android device available and we are serious in what we do. This is a free service we offer and we won't charge you a penny for it. But please note that we receive hundreds of emails every day and it's impossible for us to respond to every single one of them. But rest assured we read every message we receive. For those whom we've helped, please spread the word by sharing our posts to your friends or by simply liking our Facebook and Google+ page or follow us on Twitter.