The #internet is one of the reasons why smartphones like your Samsung Galaxy S6 Edge Plus (#Samsung #GalaxyS6Edge) were built and there are two basic ways you can have a connection; either through a Wi-Fi network or mobile data. Now, in this post, I will tackle the most common mobile data issues that have been reported to us since the Edge+ was released. And to give you an overview, here are the topics you can find on this page:
For those who have different issues, visit our S6 Edge+ troubleshooting page. We list down every problem we address each week on that page so try to find issues related to yours and use the suggested solutions. If they won't work or you can't find something similar to what your experiencing, feel free to contact us. Just fill up this form and hit submit. We're always willing to help you.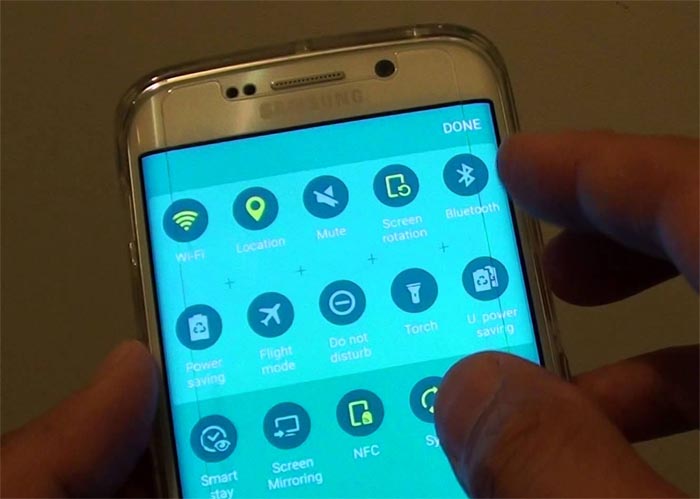 ---
Mobile data connection keeps dropping
Problem: I have an S6 Edge Plus and while I'm enjoying its features and performance, there's one problem I encountered. The mobile data keeps on dropping like crazy; one second I'm connected, then a few moments later the connection drops. It does this the entire day that's why I often connect to a Wi-Fi network at work but the problem is when I'm at home because I don't have Wi-Fi. Do you know how to fix this?
Troubleshooting: This kind of problem needs further observation because, as you said, the phone can connect to the internet via mobile data but then suddenly drops. It could be a network problem, a firmware issue or even a hardware glitch. To troubleshoot this problem, the first thing you have to do is rule out the possibility that third-party apps and/or services are causing it. So, boot your phone in safe mode first:
Press and hold the Volume Down and Power keys for 20 to 30 seconds.
Once you see the Samsung logo, release the Power key immediately but continue pressing the Volume Down key.
Your phone should continue booting up and you will be prompted to unlock your phone as usual.
You will know if the phone successfully booted in safe mode if the text "Safe mode" is displayed at the lower-left corner of the screen.
Try to browse the web, use Facebook or Twitter, or download some apps while in safe mode to see if the connection would still drop. If so, then you must wipe the cache partition to delete system caches. You haven't mentioned about an update but if you happen to download one prior to this problem, then the cause might be just some corrupt caches.
Turn off the device.
Press and hold the following three buttons at the same time: Volume Up key, Home key, and Power key.
When the phone vibrates, release the Power key but continue to press and hold the Volume Up key and the Home key.
When the Android System Recovery screen appears, release the Volume Up and Home keys.
Press the Volume Down key to highlight 'wipe cache partition.'
Press the Power key to select.
When the wipe cache partition is complete, 'Reboot system now' is highlighted.
Press the Power key to restart the device.
If the wiping of the cache partition didn't fix the problem, then at this point, there's one thing left to do and that's the master reset. However, I suggest you call your service provider first and inquire whether it's a network problem or not. Wireless companies often don't want to tell their customers that they have issues with their network so expect that the rep will ask you to troubleshoot the problem but you already done that. If the rep can't offer a resolution, backup your data and do the master reset before going to the tech.
Turn off your Samsung Galaxy S6 Edge.
Press and hold the Volume Up, Home and Power keys together.
When the device powers on and displays 'Power on logo', release all keys and the Android icon will appear on the screen.
Wait until the Android Recovery Screen appears after about 30 seconds.
Using the Volume Down key, highlight the option, 'wipe data/factory reset' and press the Power key to select it.
Press the Vol Down button again until the option 'Yes — delete all user data' is highlighted and then press the Power key to select it.
After the reset is complete, highlight 'Reboot system now' and hit the Power key to restart the phone.
I hope this helps.
Phone can't connect to mobile data network after an update (AT&T)
Problem: There was a minor update that I installed in my phone and right after the reboot, the device just can't connect to the internet. I have no email, can't browse, no twitter and all. If I'd known this would happen, I would never should have installed it, although I really didn't have a choice that time because the notification just wouldn't go away. Help me figure out what the issue is. Thanks a lot!
Solution: I believe you are using the GMS variant of the S6 Edge Plus and if this problem occurred immediately after a firmware update, then it must have something to do with the APN; either it was messed up or was totally reset leaving the device to use the default APN, which is apparently not AT&T's.
Call your service provider, ask the rep for the correct APN and have him/her walk you through in setting it up on your phone. Once everything is set, you can have your internet back as well as all other services that require mobile data.
Cannot send picture and/or group messages
Problem: For some reason my S6 Edge Plus cannot send and receive MMS and group messages although it used to without any problem before. I really don't know what happened but this problem just happened one day and it hasn't been fixed since. I think it's been about 5 days since I last receive and send MMS and group messages to my friends. How do I fix this?
Troubleshooting: MMS and group messages require mobile data to be enabled to go through. So, that's the first thing you should check. If it's already turned on, try turning it off and then on again to see if that makes a difference. If not, then it must have something to do with the APN. Call your provider and ask for it. More often, the rep will guide you through in setting it up since the company needs to make sure their subscribers are connected to the network.
Mobile data signal drops, phone connects to Wi-Fi (Sprint)
Problem: I am usually connected to the mobile data although we have Wi-Fi at home. The weird problem is when I'm in an area where there is a trusted network in range, my S6 Edge Plus may drop out of mobile data and connect to the Wi-Fi network although it doesn't happen all the time. What I want with my phone is for it to stay connected to one network and switch only when I make it to. How can I do that? Thanks for your help.
Solution: There's a setting for that. Just follow the steps below and you'll be good:
Swipe down from the top of the screen with one finger.
Tap the Settings icon on the upper-right corner.
Tap the WiFi icon.
Tap the Menu icon on the upper-right corner of the screen.
Choose Advanced from the drop down.
Uncheck the box next to "Smart network switch."
Mobile data connection is very slow
Problem: Hello guys. So I got myself a nice Galaxy S6 Edge Plus together with an unlimited data plan but I noticed that for 3 months now the connection would become very, very slow starting the middle of the month and then it will be fast again from first week to second or third week. Why is that? I am video kind of guy so I often stream videos on Youtube and other video sites plus I also watch movies online and sometimes tether my connection to my iPad. I don't have Wi-Fi at home and I can't connect to Wi-Fi at work. So 24/7 my phone is connected to the network. The reason why I signed up for an unlimited plan is so that I can enjoy watching videos but apparently I can't because the videos will keep buffering. How can I fix this? Thanks.
Suggestion: The "unlimited data" plan is a myth. Sure you can be connected to the internet the entire month but as you said, your connection becomes crappy after some time. There's one reason to it–your connection is throttled.
All connections are capped and you reach that threshold, your connection will be throttled from 4G to 3G or worse, 2G. There's nothing you can do to fix that except minimize your streaming activities or call your provider and inquire if they can upgrade your account to have higher cap than the one you have now.
Apps won't update automatically when connected to mobile data
Problem: When I'm at home, I am connected to my home Wi-Fi network but when I'm at work, I'm on mobile data because my company doesn't allow us to connect to its network for some security reasons. Now my problem is my S6 Edge Plus won't update the apps when I'm connected to mobile data. When I'm on WiFi, apps will be updated automatically and I want the same thing when on mobile data. How can I do that? Thank you very much!
Solution: Well, there's a setting for that and it's in the Play Store not your phone's Settings page. Here's how you do it:
From the Home screen, tap Apps.
Tap Play Store.
Tap the Menu key.
Choose Settings.
Now, tap on Auto-update apps.
To enable automatic application updates when connected to both Wi-Fi and mobile data, tap Auto-update apps at any time.
Hope this helps.
Connect with us
We are always open to your problems, questions and suggestions, so feel free to contact us by filling up this form. We support every Android device available and we are serious in what we do. This is a free service we offer and we won't charge you a penny for it. But please note that we receive hundreds of emails every day and it's impossible for us to respond to every single one of them. But rest assured we read every message we receive. For those whom we've helped, please spread the word by sharing our posts to your friends or by simply liking our Facebook and Google+ page or follow us on Twitter.