In this post, I have addressed a number of issues associated with sending and receiving of picture messages (#MMS) and text messages (#SMS) with stock messaging app on the #Galaxy S6 Edge (#S6Edge) smartphone. Among these issues include unable to send MMS, cannot get SMS notifications, cannot forward SMS, and more.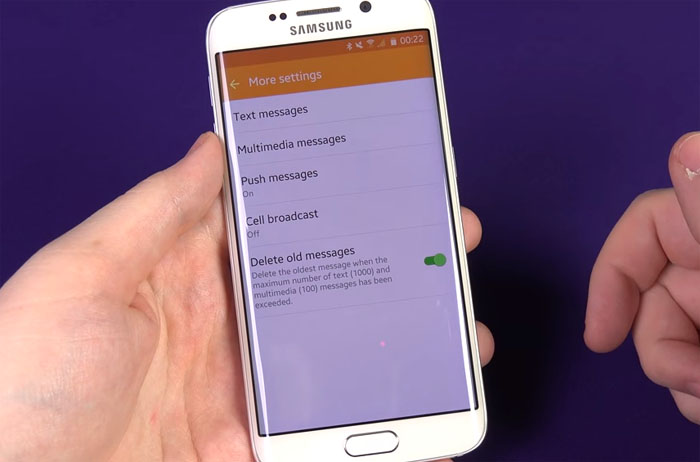 Feel free to browse this content, if you too are searching for potential solutions to any of these problems with your device. I've also included a step-by-step process on how to perform each of the troubleshooting methods I recommend for certain issues, to further assist those who are not yet familiar with the platform.
---
Cannot Send Picture Messages (MMS)
Problem: "Hi DroidGuy! So I recently bought a Galaxy S6 Edge from eBay (Verizon) unlocked and clean. I had it setup with my carrier (MetroPCs) and the phone works fine but it won't send picture messages. It does not allow me to use the message app only the Verizon messages+. I've tried about everything and nothing seems to work. Can you help please? Thanks."
Solution: Problems on sending picture messages or MMS are usually associated with certain factors including data connection stability, network availability, and file size. This means if you are unable to send a picture message, you have to consider checking on these components. That being said, ensure mobile data is enabled, network is available, and the picture file you are about to send is not too large for the specified file size limit. You will know if the file you are about to send is too large as you will see an error prompt saying the media file is too large. You may use compatible editing software from the Play Store to reduce the file size of the image. Once everything is good with the mobile data settings, network signal, and file size, try to send a picture message (MMS) again, and see if it goes through this time.  As for the native message app that you can use, try to perform a soft reset. If that won't work, then you may opt to try some third-party messaging apps instead.
A step-by-step guide on how to perform these methods is provided at the bottom of this page.
Cannot get text notifications while on call
Problem: "No matter what messaging app I use I cannot get text notifications during a call. I'm sure the notifications on calls option is enabled in the phone. "
Solution: Kindly check on the sound and notifications settings and make sure the option to get text (SMS) notifications during calls is checked. Navigate to Apps-> Settings-> Sounds and notifications-> Ringtones and sounds-> Messages notifications, and configure options according to your preference. Also verify if Do Not Disturb (DND) feature is turned off.
Built-in Messaging app not responding
Problem: "My factory messaging app keeps not responding. I've cleared the data and did a factory reset and it didn't fix the problem. Any suggestion on how to fix the issue would be appreciated."
Solution: Apps crashing and freezing can usually be remedied by clearing cache or data and a soft reset. Force closing can also help if the application is misbehaving. Given you already have performed a factory reset but to no avail, I suggest you should try using any third-party messaging application instead. There are a lot of reliable messaging apps compatible with your Galaxy S6 Edge from the Play Store, so all you have to do is choose which best suits your needs.
Cannot forward text messages (SMS)
Problem: "I have an issue related to the SMS forwarding. There is no possibility on my phone to forward SMS. The only functions that appear when you tap on the SMS are Deleting and Copy text. Also, I couldn't see the clipboard where the text message is stored?"
Solution: Perhaps, you're long-pressing on the entire text thread for certain contact. You have to long press the individual text message, and by then you should see the pop-up menu containing the Forward option.
You may refer to the step-by-step guide on how to forward a text on your Galaxy S6 Edge at the bottom part of this content.
Text messages are sent with weird characters
Problem: "Hello. So my problem with my S6 Edge is when I receive texts sometimes it doesn't send the full text and sends weird characters. I have to ask the person to resend me the text and then it will show the full text. Hope you can figure out how to fix this problem. Thank you!"
Solution: There have been trending reports about an issue with truncated texts and weird symbols sent/receive instead of text messages. This is a random problem occurring on some iOS and Android devices including Samsung's GS6 Edge. So far, there's no exact solution available but some have figured it out as a network-related issue. In this regard, you may try to restart your device (soft reset) and see what happens. If that doesn't work, then I strongly suggest contacting your network provider/carrier to escalate this concern and get official recommendations from them.
Failure to send and receive text messages
Problem: "Recently I have noticed that I am not receiving text messages. Throughout the day I have to restart my phone to receive any new texts.  This is a relatively new issue and I can't figure out what changed to start this problem. Occasionally I am also having difficulty sending texts as well.  I have to hit resend after "failed delivery" to send a text message. Please help!"
Solution: One possible reason why you might not be able to receive text messages is that your inbox is already full. Try to delete unnecessary old messages to free up space for new text messages and see what happens afterwards. Alternatively, you change or increase the text message limit on your phone's messaging app settings. (Please refer to the steps on how to change text message limit at the bottom part of this page).
As for the sending error "failed delivery," it could be network issue affecting text messaging services from going through. Check the signal bars and ensure the network coverage is good. If the problem persists even with good signal/network coverage, please verify if the message center number is set correctly.
Sprint: +17044100000
Verizon: +316540951000
AT&T: +13123149810
T-Mobile: +12063130004
You may refer to the steps on how to check the message center number for your device outlined at the bottom of this page.
Step-by-Step Guide for your Reference
Scroll to the method you are trying to perform and follow the steps.
Steps to enable mobile data
Tap Apps from the Home
Scroll to and tap Settings.
Scroll to and tap Data usage.
Tap the On/Off slider next to Mobile data, to enable the feature if necessary.
Steps to perform a soft reset
A soft reset removes any corrupt temporary files that may be causing problems. Performing a soft reset will also reconnect your Galaxy S6 edge to your carrier's network. Here's how it's done:
Press and hold the Power and Volume down keys simultaneously.
Release both keys as soon as the phone reboots
Steps to change or increase text message limit
Tap Apps from the Home screen.
Tap Messages to open the messaging application.
Tap the Menu icon (three vertical dots) located on the upper-right corner of the screen.
Scroll to and tap to select Settings.
Tap Delete old messages to erase old messages from your inbox.
Tap Text Message Limit.
Specify the maximum number of text messages you want to receive.
Tap OK to save and confirm changes.
Steps to Forward a Text Message or SMS
Tap Messages from the Home screen.
Tap the message thread.
Tap and hold on the message you want to forward.
Scroll to and tap Forward from the given Message options.
Enter the 10-digit contact number or contact name, then tap the preferred contact suggestion.
If you want, you can edit the message and then tap the Send button when done. The message should now be forwarded.
Steps to change message center number
Tap Messages from the Home screen.
Tap More.
Scroll to and tap Settings.
Tap More settings.
Tap Text messages.
Tap Message center number.
Enter the correct message center number.
Note: Contact your carrier for the correct number, if necessary.
Tap Set. The new changes will be applied.
Return to the Home
Menu options may vary between carriers and device models.
Connect with Us
Please visit our troubleshooting page to view other issues with the Samsung Galaxy S6 Edge, along with their respective solutions recommended by The Droid Guy support team. You may also browse our Tutorials section found in the same page to view step-by-step process of performing various functions with your GS6 edge. Should you wish to contact our support team for further assistance in resolving other issues with your Android device(s), don't hesitate to fill up and submit the Android Questionnaire (form). Just provide us with as much information we need so we would be able to get back to you with the best possible solution and recommendations.