One of the best ways to stay connected with your friends is through sending a text message to them. If you have a #Samsung #GalaxyS5 all you need to do is open the stock messaging app, compose a message, and then send it to your contact or contacts. The good thing about sending a text is that you can send it even in a noisy environment where calls are impossible to make.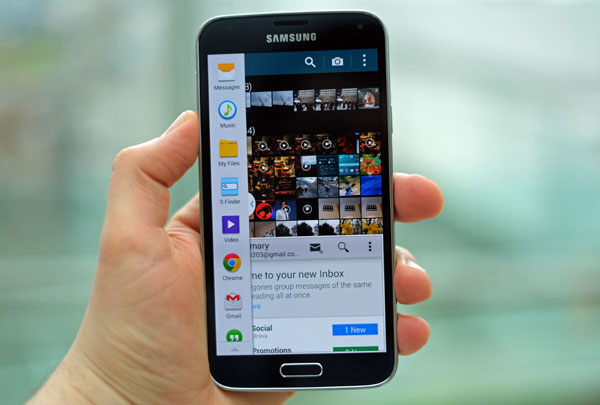 Although sending a text message has a lot of advantages there are also instances when issues arise. Take for instance when the #S5 is not sending a text message. This and other related issues are what we will be tackling in this latest installment of our troubleshooting series.
If you own a Galaxy S5 or any other Android device for that matter then feel free to contact us using this form. We will be more than happy to assist you with any concern that you may have with your device. This is a free service we are offering with no strings attached. We however ask that when you do contact us try to be as detailed as possible so that an accurate assessment can be made and the correct solution can be given.
If you would like to browse the previous parts in this series then check out this link.
Aside from sending us an email you may also reach us at our Facebook and Google+ social media accounts.
S5 Not Getting MMS From iPhone Users
Problem: I swapped from an iphone that u used I message on to a galaxy s5. Well every since then I may or may not get a mms text from an iPhone user and if I send a group text to an iPhone user they never get it either. I've put my Sim card back in the old iPhone and deactivated my I message,  turned all messages off, verified and checked apn settings several times and even changed the telephone number that was registered to it yet I still have trouble. The only think I haven't done was to swap back to iphone.  I'd rather not do that but if my problem persists I will have to. Please let me know if yall can help!!
Solution: Once you have made sure that you have already deregistered from the iMessage service have your friends delete the old message thread that they have in their iPhones. If they continue using this thread then the message will still be sent using iMessage. Have your friends send a message using a new thread.
You should also check if your phone is properly setup to send and receive an MMS. To do this just compose an MMS and send it to yourself. You should be able to send this and receive this.
If for some reason you are not able to send or receive your own MMS then you need to check if the mobile data of your phone is switched on. You should also check if you have an active mobile data subscription. Finally, you have to make sure that the APN settings in your phone matches that of your network.
S5 Lag In Typing text Message
Problem: The past few months I've had problems with text messaging, i will go to type, and there is like a lag, then when it finally appears on the screen, the word shows up multiple times. It is the standard messaging app that is on the phone.  Another issue I have had is while in an app or even while just opening up a text, a "pop up" appears. Any help would be appreciated!!
Solution: The lag issue you are experiencing may be caused by corrupt cached data in the messaging app itself. You should start the troubleshooting by clearing the cache and data of your phone's stock messaging app. You should also follow this up by wiping the cache partition of your phone.
Regarding the pop ups that appear on your phone are these error messages or are these ads? If they are error messages then try to see what they are then we can troubleshoot from there. If however the pop ups are ads then the quickest way to deal with this is to back up your phone data then do a factory reset.
S5 Not Sending Text Message To 5-6 Digit Number
Problem: When I try to send a text to a 5 or 6 digit number, (the radio stations, 76 gas card game, etc), the message does not go through and sends me a ""failed"" message.  How do I fix this so that the texts will go through?  Thanks so much for your assistance.
Solution: Try checking the permissions of your messaging app. To do this go to Settings – App Manager – All Tab – Messenger. Scroll to permissions you have three choices here Ask, Never Allow, and Always Allow. Your setting right now may be Never Allow. Change this to either Ask or Always Allow.
If it is already set to Ask or Always Allow then the issue may be with your carrier. Your carrier may be blocking certain short codes used for texting.
S5 Not Sending Text Message
Problem: I've had this phone for probably a year now, and I could always send or receive messages over my WiFi or regular connection. Now today all of the sudden it takes absolutely forever to send or receive a message. It just stays in that little blue spinning circle when you send a message. I don't know weekdays going on. I've reset my phone multiple times and did a few soft resets with still no help.  I also cleared cache please help.
Solution: Since you have already reset your phone then there may be other factors affecting this issue aside from the phone software. Does this issue occur in only one Wi-Fi network or all Wi-Fi networks that you are connected to? Since you are under the T-Mobile network do you have any network coverage when trying to send or receive a text message? In order for you to send a text message using Wi-Fi calling you need at least 1 bar of coverage. One other suggestion I could make is to contact your carrier and inquire if there are any account related issues that is preventing you from sending or receiving a text message.
S5 Not Receiving Text Message
Problem: I can't figure out why my phone won't receive text messages even after the hard reset; however if I make or receive a phone call the messages come through. How can this be fixed?
Solution: Since you already performed a factory reset then we can rule out any software related problems that may be causing this issue to occur.
You should try using another SIM in your phone and see if the problem still persists.
If the problem is the same even when using a different SIM then check if an app installed in your phone is causing this by starting your phone in Safe Mode. Once in Safe Mode have someone text you. If you can receive the text normally then the problem is most likely caused by a third party app. Find out what app this is and uninstall it.
If however you are still experiencing the same issue even in Safe Mode then this may already be a hardware related issue. Your phone has a transmitter and receiver circuit inside of it and this could be the cause of the problem. I suggest you bring your phone to an authorized service center and have it checked.
S5 Can't Download MMS
Problem: I can see that someone has sent me a MMS text, but I can't see the actual text. It just says MMS and doesn't even give an option to download it.
Solution: Try to check first if your phone is properly setup to send and receive an MMS. First, make sure you have an active mobile data subscription. Second, make sure that your mobile data is switched on. Finally, make sure that your phone APN settings matches that of your carrier.
Once all three conditions above have been met and the problem still persists then try clearing the cache and data of your messaging app as this issue may be caused by a corrupt cached data. You should also follow this up by wiping the cache partition of your phone.
Engage with us
Feel free to send us your questions, suggestions and problems you've encountered while using your Android phone. We support every Android device that is available in the market today. And don't worry, we won't charge you a single penny for your questions. Contact us using this form. We read every message we receive can't guarantee a quick response. If we were able to help you, please help us spread the word by sharing our posts with your friends.