"Hi droid guy. My Samsung Galaxy Note 5 (#Samsung #GalaxyNote5) is just 2 months old but it keeps restarting on its own. It started shortly after an update, which I was really hesitant to download but installed anyway. Help me make my phone useful again. — Jeannette"
It's just one of the emails we received from our readers who own Note 5 units that have issues booting up or keep rebooting without apparent reason. Before going any further, I just want to make a distinction between these two issues because I've read some emails referring to "boot loop" as "constant reboot" and "random restart" as "boot looping."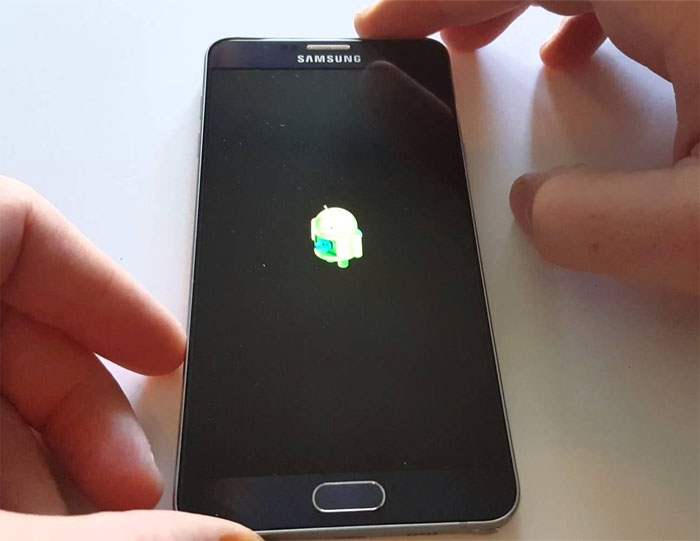 Boot loop means that the phone failed to boot up successfully. Instead, it shows (more often) the logo, then the screen goes dark (or blank) for a few seconds, then turns off, turns on and then shows the logo again. It would do this cycle hundreds of times until the battery gets depleted.
On the other hand, random reboot means the phone shuts itself off and comes back on any time of the day with or without the knowledge of the user. The frequency of the restarts depends on how serious the issue is but most of the time, it's a firmware problem, although battery issues may also result to this.
Now that I made it clear for everybody, let's proceed with our troubleshooting but for those who are looking for solutions to different issues, visit our Note 5 troubleshooting page, where we list down every problem we address each week. Find ones that are related to yours and use the solutions we suggested. If they won't work for you, then fill up this form and hit the Submit button to contact us.
---
Fixing Samsung Galaxy Note 5 that keeps rebooting
Random reboots may have different causes and proper observation on the part of the user is the key to knowing what the problem really is and how to fix it. That said, the troubleshooting procedures I suggested in this section are based on how our readers described their problems.
Note 5 reboots randomly after installing apps
Problem: Last week, my Note 5 became very sluggish to the point that I could no longer use it to just send texts or for emails. So, I decided to reset it and everything actually went through without errors. But just when I'm about to use it after installing my usual apps, it started to reboot. I though maybe it was just part of the reset so I continued. After several minutes it rebooted on its own again so now I think there's really something wrong with it. How can I go about this? Help me please.
Troubleshooting: Since you positively mentioned that the problem started after installing apps, you have to immediately isolate if it's the third-party or pre-installed apps that cause the issue by booting the phone in safe mode:
Turn off your Galaxy S6 Edge.
Press and hold the Power key.
When 'Samsung Galaxy S6 Edge' appears, immediately release the Power key and then press and hold the Volume Down button.
Continue holding the Volume Down button until the phone finishes the restart.
When you see Safe Mode on the lower left corner of the screen, release the button.
In safe mode, all third-party apps and services will be temporarily disabled. So, if the problem still persists, then it must be the pre-installed ones that cause the issue. However, if the issue doesn't occur in safe mode, then you have to find the third-party app that's causing it starting from the most recent installation.
Boot your phone to normal mode and begin uninstalling those apps until the problem is fixed. Here's how you uninstall an app:
From any Home screen, tap Apps.
Tap Settings.
Scroll to 'APPLICATIONS,' then tap Application manager.
Swipe right to the ALL screen.
Scroll to and tap the app in question.
Tap Uninstall.
Note 5 keeps rebooting after downloading an update
Problem: There was a minor update rolled out by my carrier and I had no other choice but to download it as it wouldn't go away. After the installation, the phone rebooted just like every other update but this time, it took the device several minutes to become active again. What I mean is that it was unresponsive for several minutes after the automatic reboot that I couldn't use it; I couldn't even turn it off as it won't respond. Eventually, the Note 5 became active and it was working fine. After a few hours, it rebooted on its own and it keeps doing that every few minutes and it's very frustrating. How can I fix it?
Troubleshooting: Majority of random reboot issues that occurred after an update are caused by corrupt caches. These files are created by the system itself to make apps and services run smoothly the next time the user launches them. With the new system installed, caches automatically become obsolete and sometimes incompatible but the system may still use them and that's where problems enter. To address this problem, you need to wipe the cache partition to delete all caches and force the new system to create new ones. Here's how…
Turn off the device.
Press and hold the following three buttons at the same time: Volume Up key, Home key, and Power key.
When the phone vibrates, release the Power key but continue to press and hold the Volume Up key and the Home key.
When the Android System Recovery screen appears, release the Volume Up and Home keys.
Press the Volume Down key to highlight 'wipe cache partition.'
Press the Power key to select.
When the wipe cache partition is complete, 'Reboot system now' is highlighted.
Press the Power key to restart the device.
Note 5 reboots automatically without apparent reason
Problem: My Galaxy Note 5 is just a few months old but now it's restarting like hell many times a day. There are no error messages, it just turns off and turns back on without apparent reason. This is the first time that this happened so I'm really at a loss here. It just started doing this one day and never stops. The reboots happen many times a day regardless of what I'm doing. There was a time when I was composing and emails and it restarted. There was also a time when I was in the middle of a call and it got disconnected and when I looked at the screen, it was already displaying the logo. I'm tempted to bring it to my provider but I want to hear from you guys first. What can you suggest I would do to fix this? Thanks.
Troubleshooting: I am sure there was one situation or incident that could have caused this problem or triggered it, somehow. So, I need you to think hard and remember what you were doing when the first reboot happened. It is possible that you installed an app that triggered the problem and taking that into consideration, boot your phone in safe mode and follow what I suggested in the first problem.
On one hand, if you recently installed an update, it's also possible that some corrupt caches are causing the reboots. For that, you need to follow the troubleshooting in the second problem.
Now, since you already made up your mind to bring the phone in for checkup, you need to clear off your data and personal information and at the same try further troubleshoot to know if the problem is caused by corrupt data. Backup all your data first and then do the master reset before sending your phone in for repair. The procedure often fixes problems like this so it's worth all the hassles:
Turn off your Samsung Galaxy S6 Edge.
Press and hold the Volume Up, Home and Power keys together.
When the device powers on and displays 'Power on logo', release all keys and the Android icon will appear on the screen.
Wait until the Android Recovery Screen appears after about 30 seconds.
Using the Volume Down key, highlight the option, 'wipe data/factory reset' and press the Power key to select it.
Press the Vol Down button again until the option 'Yes — delete all user data' is highlighted and then press the Power key to select it.
After the reset is complete, highlight 'Reboot system now' and hit the Power key to restart the phone.
If the problem still continues after the reset, there is a chance it's a hardware issue; it could be a battery problem or the power IC has issues especially if the phone got in contact with liquid. You now need a technician for proper checkup and troubleshooting.
Fixing Samsung Galaxy Note 5 that's stuck on boot loop or can't boot up successfully
Boot up problems are symptoms of serious firmware issues and more often, they occur after an update. Still, the key to fixing this issue is knowing what the real problem or cause is because only then you'll be able to develop an effective troubleshooting procedure. Here are some of the causes and how to address them:
Corrupt caches — wipe the cache partition
Rogue app(s) — isolate the problem by booting the device in safe mode, determine which app is causing the problem, disable or uninstall it
Corrupt data — perform the master reset
Corrupt firmware — reinstall the current firmware
Corrupt ROM — reinstall the stock firmware, then reinstall the ROM
Liquid damage — turn off your phone, don't charge it, seek help from technician
Failed update — reinstall the firmware
The step by step procedures on how to boot the phone in safe mode, wipe the cache partition, uninstall apps and do the master reset can be found above. Reinstallation of the firmware may void the warranty of the device so if you're not sure about this, seek help from an authorized technician. But for those who are confident enough, just download the correct firmware from SamMobile.com, download ODIN (just google it), boot your phone in Download Mode and begin the flashing.
Connect with us
We are always open to your problems, questions and suggestions, so feel free to contact us by filling up this form. We support every Android device available and we are serious in what we do. This is a free service we offer and we won't charge you a penny for it. But please note that we receive hundreds of emails every day and it's impossible for us to respond to every single one of them. But rest assured we read every message we receive. For those whom we've helped, please spread the word by sharing our posts to your friends or by simply liking our Facebook and Google+ page or follow us on Twitter.