A phone as powerful as the Samsung Galaxy S5 is most likely to heat up after a prolonged use. It is because the battery, processor, RAM and display will accumulate heat. However, the amount of heat these components produce isn't enough to turn the phone from being warm to hot. Samsung engineers already spent hundreds of hours of testing prior to the release of the device.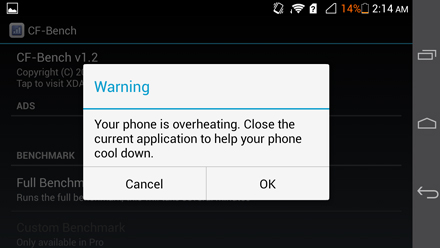 We received tons of emails from S5 owners and one of the most common problems they reported is the overheating issue after the most anticipated lollipop update. Read on to know if you have the same issue as the ones I addressed in this post.
For those who may be facing other issues with their Galaxy S5, feel free to email us at [email protected] and we will help you fix your problems.
Galaxy S5 overheating and draining battery after Lollipop update
Problem: Hi Droid Guy. I recently updated my Galaxy S5 to Android 5.0 Lollipop and since then I'm having problems with the phone overheating and draining the battery so quick. I fully charged the battery within 3 hours but what's weird is that the phone went from 100 percent battery life to 10 percent even if I'm not using it. I know it's not normal because the phone itself, both its front and back sides became very hot to touch like it's burning up. Do you think the update has caused me this trouble? If so, then what should I do to fix it? Any inputs would be much appreciated. Thanks. — Deborah
Suggestion: Although Android 5.0 Lollipop is said to be pretty smooth on the Galaxy S5 compared to other devices receiving the update, there are still some issues in the software that has impacted user experience. Among the common complaints include, forced app crashes, overheating, and battery drain. Overheating and battery drain are the most repetitive problems, which should have been addressed by minor versions (patches) rolled out by Samsung after the major firmware release.
Anyway Deborah, have you tried checking your phone's Wi-Fi if it's stable or not? Because this is what appeared to be the main reason why many S5 owners have experienced quick battery draining and overheating issues following the Lollipop update. Something in the Lollipop update has screwed up the phone's wireless functionality. When the Wi-Fi keeps disconnecting and reconnecting, the phone automatically searches and connects to a mobile data network available. And if it fails, it will scan and try to connect to the Wi-Fi network again. This results to the battery draining faster and the phone is overheating. To fix this problem, disable mobile data and smart network switch on your Galaxy S5. I have created a troubleshooting section containing the steps to perform these methods. Just scroll down to this page if you need help.
Galaxy S5 suddenly overheats and battery drains quicker than normal
Problem: I had my Galaxy S5 standby on my desk three days ago. Then when I picked it up, it was burning too hot to touch. I also noticed the battery is draining too fast that in less than an hour, it drains down to 50 percent from 100 percent. The phone is also noticeably slower than normal. I've had it since September of last year and had never encountered any major issues with it. It's only in the past few days with it's becoming almost unusable. I tried to scan it for any possible virus using the virus scanner I have but it says no virus found. Any suggestion on how to determine if it's an app that is running constantly, becoming rogue, or something like that? I'll be waiting for your response. Thanks in advance and more power to you guys! — Steve
Suggestion: Thank you for reaching us Steve! Have you tried to check the Battery usage from your phone Settings? Because things like these should promptly show up on the battery report. See which app is consuming most of your phone's battery power. If an app is consuming more than 50 percent of the phone's battery, it's not normal. Try to disable that app and see what happens afterwards.
If you suspect an application is making your phone this weird, then you can boot your phone into Safe mode to prevent third-party apps from running automatically. That way you can easily determine if an app is causing your problem. I also suggest you uninstall the anti-virus you have because smartphones like the Galaxy S5 don't actually need any virus protection.
Another possible culprit is the phone's battery, which likely has depreciated or worst already damaged. To make sure this is not causing you this trouble, try to remove the battery and see if it feels or looks bulgy. Also try to place the battery on a flat surface (both sides) and make sure it does not rock. If it does, then you should consider replacing your battery immediately.
Galaxy S5 overheating and working very slow after Lollipop update
Problem: After the Lollipop update, my Galaxy keeps getting worse like it's working on dial-up speed. I also noticed the screen gets extremely hot along with the back of the phone. I've read a number of similar issues with mine over the Internet. Some said a factory reset could fix the problem as what I've seen a lot around the forums with users claiming it helps. But I was reluctant to do the factory reset since Lollipop because I'm lazy and I have a lot of information to back up on my device. Do you think I should do the hard reset or is there any other thing I can do to get this problem solved? I would appreciate your response. — Thomas
Suggestion: Hi Thomas! You can try clearing the cache on your Galaxy S5 but if it doesn't help, then I'd say you too should consider doing a factory reset. Apparently, it has worked wonders for others so I think it's worth a shot. Yes, all your data will be wiped out during the process but it will give your device a fresh start with the new OS, and usually makes your phone act normal again and even better. I guess that is already worth the effort you will spend for creating back-ups of all your important data prior to the process.
After the factory reset, I also suggest checking on the Auto Update Apps option in the Google Play and make sure it is disabled. Install only the apps you need and update apps individually.
Galaxy S5 screen and back very hot and keyboard unresponsive
Problem: I got my Galaxy S5 since December of last year and it was working just fine. But recently, I notice the phone's screen and the back are getting very hot, making touching on the screen uncomfortable already. I can feel the screen that becomes hot even though I used the phone for just 5 minutes playing game or checking email. I also noticed that the keyboard won't respond in some instances, leaving it pretty much unusable. It's not acting this way before. I was thinking of taking it to the service people but meanwhile, any suggestions that I need to look into would be greatly appreciated. Thanks! — Caleb
Suggestion: Hi Caleb! Before you take your phone out for repair, try to perform a cache partition wipe on your phone. If you need help on how to wipe cache partition on the Galaxy S5, I've created a Troubleshooting Procedure section below this page containing a step-by-step guide on how to perform this method.
I also wonder if the problem started right after installing certain apps (third-party app) on your phone. Because there are also come cases like yours where an app is misbehaving, causing the phone to become unresponsive and/or overheats. You can try to disable or uninstall any apps you recently downloaded and then perform a soft reset or reboot your phone afterwards. See if it still does the same afterwards. Another way to determine if a third-party app is causing this problem is by booting the phone into safe mode. If the problem is gone while using the phone in safe mode, then apparently it's a third-party app that's causing conflict. Otherwise, you may consider performing a factory reset or master reset to give your phone a fresh start. Just be sure to back up all important files on your phone as they will also be removed during the process. Please refer to the steps on how to wipe cache partition and master reset your Galaxy S5, which I have demonstrated below this page.
Galaxy S5 overheats while charging
Problem: I'm so glad your site exists. Anyway, I've been bothered with a problem on my Galaxy S5 for over a few weeks already. I noticed that both screen and battery of my phone become hot when switched on and charging. I've read a forum post that's saying NOT to switch on the phone especially when charging as it could result to this problem. But I've been doing this thing for several times already and only this time when the phone heats up this much. Just so you know I got my phone around November of last year. Could it be the battery that's damaged or is it the charger? Both the battery and charger I'm using came with this phone so I think that should be okay. Looking forward to hearing your response. Thank you! — Robert
Suggestion: Your phone may get warm when charging, using GPS, using a lot of data over your network carrier or on Wi-Fi, or during long calls. The back of the Galaxy S5 can become warm or hot especially in heavy duty with high CPU usage. It usually occurs when playing games and when charging as the CPU must provide must power and generates heat, like a desktop or laptop. Given the smartphone components are built very close to each other, the device can become warm on the back in long an intensive use. That is normal though. Overheating however, is already different and indicates something is wrong on your device.
Common reasons as to why a device gets extremely hot or overheats when charging include using of third-party charger and battery. But since you've said you are using the original charger and battery, I want you to ensure there is no damage to both (battery and charger). Check the battery and make sure it's not bloated. Also try to use a different charger that is compatible with your phone just for the sake of testing. If the phone doesn't overheat, then it's likely the charger that is at fault. This time you may consider buying a new Samsung-approved charger for your phone. Also avoid exposing your phone to extreme heat or cold temperatures as these could also affect your device and the battery, making them feel unusually hot.
Aside from the battery and charger, other factors that may cause you this problem are running apps that are misbehaving. This is why it's highly recommended to power off the phone when charging. Doing so will also charge the phone faster. Thus, I strongly suggest you turn off your device while charging and then see what happens. Recalibrating the battery is also recommended in this case. Please refer to the steps below this page.
Galaxy S5 screen overheats, shuts down unexpectedly
Problem: Hi guys! I have my Galaxy S5 for over 5 months. It used to be working just fine until the other day when I noticed it feels hot and then shuts down by unexpectedly while using browsing something in the Internet. I've let it charge for a couple of hours and after that everything is fine. But then again, the problem went back when I was using it last night for about 2 hours or so. Rebooting the phone seems to alleviate the problem a little but for some reasons it keeps coming back. What do you think had caused my phone to act like this? I hope you can help me fix it before I schedule a visit to a service center. Thanks. — Stephan
Suggestion: Overheating issue is widespread among Galaxy S5 users. Yet, there are a number of available workarounds you can try on to deal with it. Basing on your provided details, it seems like the problem has something to do with the processes or apps you're frequently using on your device. For example, you've said that the first instance when you noticed your phone overheated and went dead was when you were browsing the Internet. Though you haven't mentioned for how long, it's likely the reason why such thing has occurred during that time. Also on the second instance, you said it happened when you were playing a game on your phone for about 2 hours.
Remember that with extended use, the device could become uncomfortably warm. Unnecessary apps running on the background could also put excess pressure on the phone. Try to check your phone's application manager and force close all running apps that are not needed. Another thing you have to consider especially if the problem manifested just recently is a rogue app. Uninstall or disable any app you have installed most recently and see if the problem goes away. Also ensure your phone is running the latest software version. Go to Settings->Device->Install system updates-> Check Now.
If all else failed to resolve the problem, then your last resort is to restore your phone to factory settings by performing a master reset. Be sure to create a backup of all your personal information beforehand, as they will be erased during the process. After the factory reset, test your device and see if the problem is gone. If it persists, then probably it's the hardware that is at fault. Your next options would be either to contact your phone carrier to escalate the problem, or take your phone to a Samsung-authorized service center for hardware checkup and/or repair.
Troubleshooting Procedures
The following are the procedures used to troubleshoot common problems with your Galaxy S5.
Disable Smart Network Switch on S5
Swipe down from the top of the screen with one finger.
Tap the Settings icon on the upper-right corner.
Tap the WiFi icon.
Tap the Menu icon on the upper-right corner of the screen.
Choose Advanced from the drop down.
Uncheck the box next to "Smart network switch".
Soft Reset Galaxy S5
While the phone is on, remove the back cover and pull the battery out.
Press and hold the power button for a minute.
Replace the battery and the back cover.
Turn the phone on and plug the charger in.
Let the phone charge overnight and find out in the morning if the problem was fixed.
If the problem remained, boot the S5 in safe mode and charge it overnight while in that state.
Boot Galaxy S5 into Safe Mode
Turn the device off.
Press and hold the Power key.
When 'Samsung Galaxy S5′ appears on the screen, release the Power key.
Immediately after releasing the Power key, press and hold the Volume down key.
Continue to hold the Volume down key until the device finishes restarting.
Safe mode will display in the bottom left corner of the screen.
Release the Volume down key when you see Safe Mode.
Wipe Cache Partition on S5
Turn off the device.
Press and hold the following three buttons at the same time: Volume Up key, Home key, and Power key.
When the phone vibrates, release the Power key but continue to press and hold the Volume Up key and the Home key.
When the Android System Recovery screen appears, release the Volume Up and Home keys.
Press the Volume Down key to highlight 'wipe cache partition.'
Press the Power key to select.
When the wipe cache partition is complete, 'Reboot system now' is highlighted.
Press the Power key to restart the device.
Master Reset Galaxy S5
Turn off the device.
Press and hold the following three buttons at the same time: Volume Up key, Home key, and Power key.
When the phone vibrates, release the Power key but continue to press and hold the Volume Up key and the Home key.
When the Android System Recovery screen appears, release the Volume Up and Home keys.
Press the Volume down key several times key to highlight 'wipe data / factory reset.'
Press Power button to select.
Press the Volume down key until 'Yes — delete all user data' is highlighted.
Press Power button to select and start the master reset.
When the master reset is complete, 'Reboot system now' is highlighted.
Press the Power key to restart the device.
Recalibrate Battery on Galaxy S5
Drain the battery completely until the phone shuts down. Ensure the battery won't turn on.
Remove the battery.
Wait for 10 seconds and then re-insert the battery.
When the battery is secured and is back in place, please connect the charger and charge the phone while the phone is off.
Wait until the phone is charged 100 percent then take the charger off.
Charge it again to get it back to a hundred percent.
Turn the phone back on.
Connect with us
We are always open to your problems, questions and suggestions, so feel free to send them at [email protected] We support every Android device available and we are serious in what we do. This is a free service we offer and we won't charge you a penny for it. But please note that we receive hundreds of emails everyday and it's impossible for us to respond to every single one of them. But rest assured we read every message we receive. For those whom we've helped, please spread the word by sharing our posts to your friends or by simply liking our Facebook and Google+ page or follow us on Twitter.