Epic Games is known for handing out top games and recently, the latest games that they're giving out for free is Cities Skylines. While the game has been out for several years now, it has a loyal fan base and its modding community is huge across Steam and other platforms.
Cities  Skylines is known to work well in Steam but some Epic Games players discovers that the game is not as stable in the Epic Games platform. In this guide, we'll share to you the tips on how to fix Cities Skylines crashing issues on Epic Games. You don't need to follow the exact order of solutions in this guide and you can skip the things that don't apply in your case.
How to fix Cities Skylines crashing on Epic Games?
If you're experiencing persistent and random crashes, black screen, or launch issues when playing Cities: Skylines on Epic Games, these are the solutions that you can try. Simply go through each of them and see which of the suggestions in the list will fix your problem.
Fix #1: Make sure that your PC can run the game.
Ideally, you're supposed to check the system requirements of any game you will install to avoid incompatibility issues and performance problems down the road.
If you simply grabbed the free copy of Cities Skylines from Epic Games and decided to install right away without checking the minimum and recommended specifications of the game, now is the time to do it.
Keep in mind that if your PC is not compatible with Cities Skylines, it may not load or the game may keep on crashing after it loads.
Below are the minimum and system requirements of the Epic Games version Cities Skylines.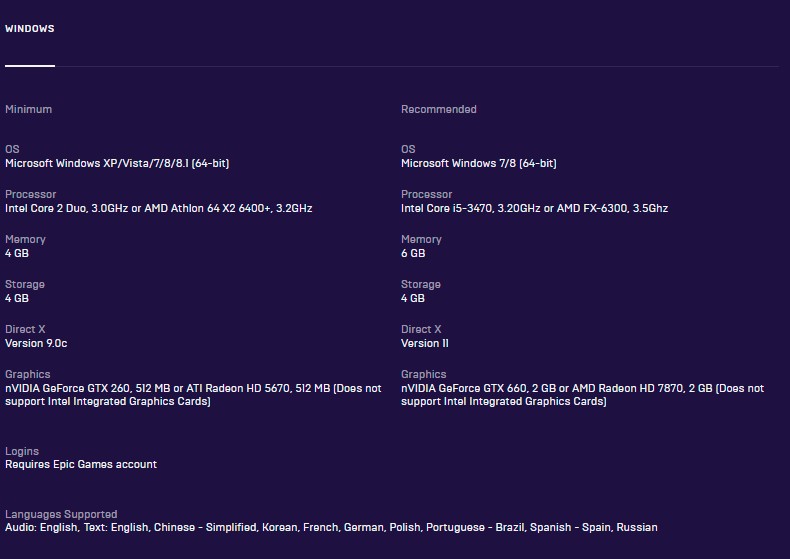 Minimum system requirements of Cities Skylines Epic Games version
OS: Microsoft Windows XP/Vista/7/8/8.1 (64-bit)
CPU: Intel Core 2 Duo, 3.0GHz or AMD Athlon 64 X2 6400+, 3.2GHz
RAM: 4 GB
GPU: nVIDIA GeForce GTX 260, 512 MB or ATI Radeon HD 5670, 512 MB (Does not support Intel Integrated Graphics Cards)
HDD: 4 GB
DirectX: 9
Recommended system requirements of Cities Skylines Epic Games version
OS: Microsoft Windows 7/8 (64-bit)
CPU: Intel Core i5-3470, 3.20GHz or AMD FX-6300, 3.5Ghz
RAM: 6 GB
GPU: nVIDIA GeForce GTX 660, 2 GB or AMD Radeon HD 7870, 2 GB (Does not support Intel Integrated Graphics Cards)
HDD: 4 GB
DirectX: 11
If your PC is old and not designed for gaming, the hardware components may struggle or fail to satisfy the system requirements of Cities Skylines.
If you try to play the freshly loaded game for the first time and it doesn't load at all, or if you have a crashing problem or a random freeze, you should investigate the likelihood of a hardware problem.
We recommend that you consider upgrading your hardware before doing any further troubleshooting.
Fix #2: Refresh the game files.
If there is an issue with the game data, you can try to rebuild it by using the Verify tool in the Epic Games launcher. If you are missing graphics or other game assets, or if you are experiencing crashes while playing a game, you may have Epic Games check that the game files are successfully installed, or that the local files are running their latest version.
Here's what you need to do: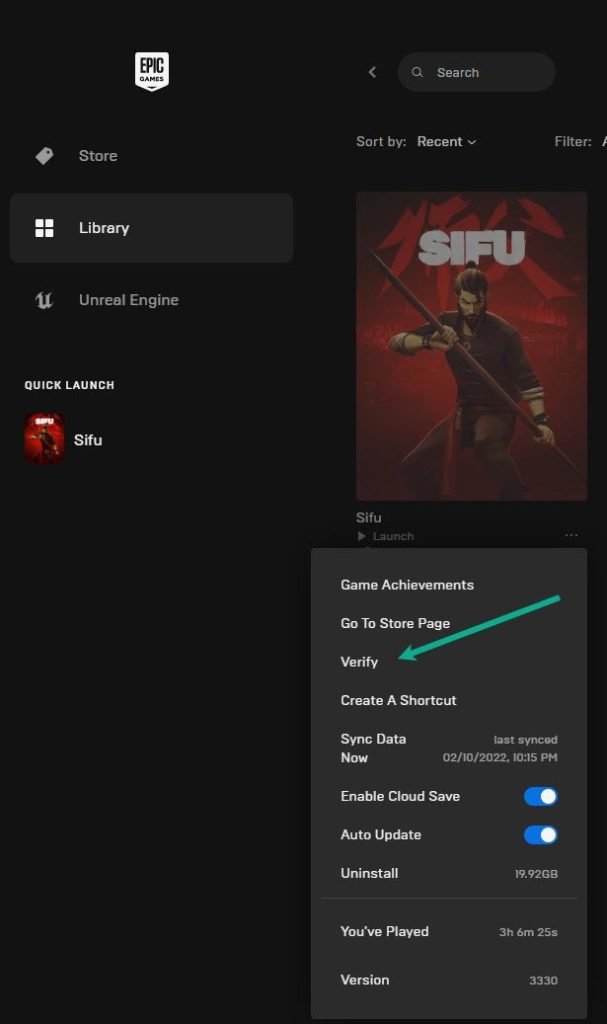 Close Cities Skylines (if you're running it).
Open Epic Game launcher.
Select Library on the upper left.
Below the game tile, click on the three-dots.
Click Verify.
Wait for the process to finish.
Launch Cities Skylines and check for the problem.
Fix #3: Install the latest graphics drivers.
Outdated GPU drivers are a common cause of many gaming issues. Graphics drivers, like game updates, are rife with bug fixes. This means that if an out-of-date driver is causing the issue, installing the most recent updates should resolve it.
Drivers are similar to small operating systems for a specific hardware component. In order for Windows OS to play games smoothly, the graphics card in particular requires upgrades.
All you have to do is go to the official website of your manufacturer and download the most recent graphics driver version.
The GeForce Experience app for Nvidia graphics cards may be updated via the official Nvidia website.
Meanwhile, AMD graphics card owners may get further information via the AMD website.
Once installed, try running Cities Skylines again.
Another method for keeping your drivers up to date is to manually search for GPU drivers. Here's how it works:
Press the Windows key on the keyboard.
Type in "control panel" and select Control Panel.
Change the View by dropdown to Small icons and click on Device Manager.
Once the Device Manager is opened, click the dropdown for Display adapters.
Find your display adapter and right-click on it.
Select Update driver.
Select Search automatically for drivers.
Fix #4: Close other apps.
If your Cities Skylines game crashes randomly, or if it won't launch when you try to open it, it may be caused by another application or program that's running in the background.
There are several programs that can interfere with your game and cause Cities Skylines to use a significant amount of your resources. In this scenario, the usual guideline is to guarantee that just the Cities Skylines game is operating. If you have any other applications open, just close them by opening the Task Manager (by hitting CTRL + SHIFT + ESC at the same time).
Fix #5: Run the game on Clean Boot.
You may reboot your Windows PC into Safe Mode and investigate which programs are causing the Cities Skylines game crashes. Here's how it works: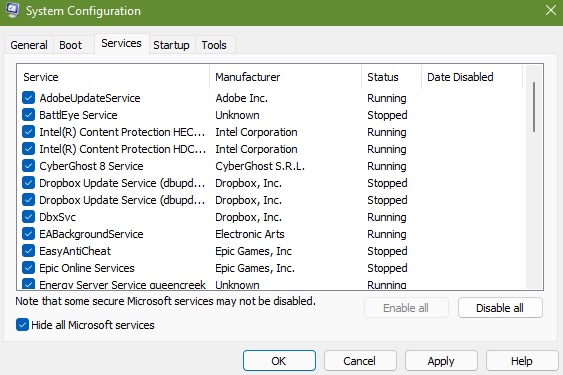 Press the Windows key.
Type in MSConfig and press Enter.
Open System Configuration app.
In the General tab, click Selective Startup.
Remove the check mark for Load Startup Items.
Ensure that Load System Services and Use Original boot configuration are checked.
Select Services tab and ensure that the Hide All Microsoft Services box is checked.
Click Disable all.
Click Apply, then OK.
Restart the PC.
A "clean boot" starts Windows with the absolute minimum of drivers and apps, allowing you to determine whether a background program is interfering with your game or application. This is similar to starting Windows in Safe Mode, but it provides you more control over which services and programs start up at startup, which may aid in narrowing down the root of a problem.
Fix #6: Run the vanilla version only.
Community-created contents or mods and assets may sometimes cause Black screen problems and occasional crashes with the base game. If you're using mods or assets, try to see what happens when you only play the base game without them.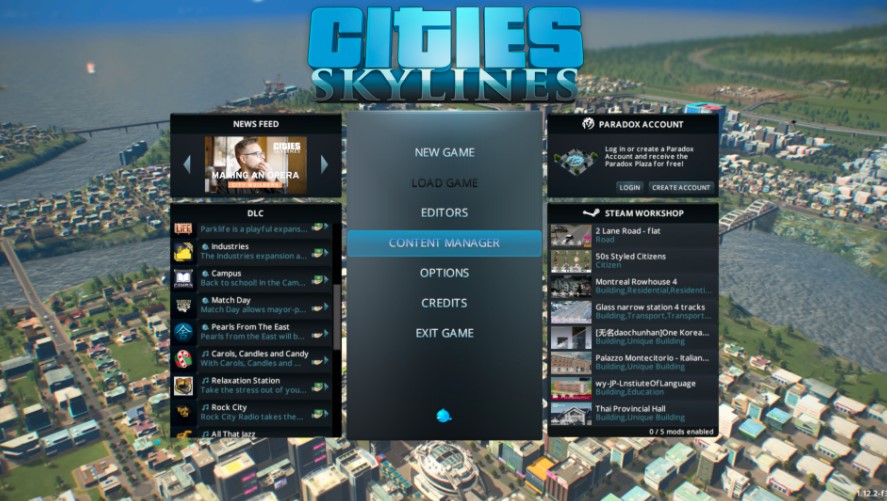 In order to disable any mod, you must go into the Main menu > Mods section > Content Manager.
If Cities Skylines work normally and the game crashes are eliminated without the mods, that means that you need to identify which of these mods is the culprit and never enable them again.
Fix #7: Don't use any Cities Skyline DLC.
Cities: Skylines' developers regularly release downloadable contents or DLCs. Just like mods and assets, DLCs may not work properly and cause crashes.
DLCs make this game more interesting over the years, although it can occasionally cause odd crashes.
If your game no longer crashes after disabling a specific DLC pack, you've found the source of the problem. Please contact the developers if you require assistance.
If deactivating DLC does not resolve your issue, go to the next solution.
Fix #8: Start a new game/delete old saved games.
For some people, the main reason for their game crashes may not be DLCs or third party contents such as mods or assets but a corrupted saved game. This can occur if the saved game being loaded has become corrupted for some reason.
To check if you're dealing with a possible corrupted saved game, simply create a new game and observe the game for a few hours.
If Cities Skylines work normally and won't crash, you can assume that the old saved game has been damaged.
Unfortunately, there's no way to fix a corrupted saved game. All you can do is to start over and hope that it won't happen again in the future.
Fix #9: Run the game in lower graphics settings.
If you're running an old machine and it barely meets the minimum system requirements, it may be struggling to run Cities Skylines. Try running Cities Skylines in lower graphics settings to see if that will improve the situation and eliminate the crashing issue.
Fix #10: Play Cities Skylines in Windowed Mode.
By playing Cities Skylines Epic Games edition in Windowed mode, several gamers were able to resolve the random crashes. You can try this approach and see if it will fix the problem.
To change the display mode of the game, simply press ALT+ENTER while in the game to do so.
Fix #11: Delete and reinstall Cities Skylines.
The final fix that you can try is to erase Cities Skylines and reinstall it afterwards. This solution may work if the cause of the problem is a glitch that lies deep within the software and not merely with the game files.
To delete a game in Epic Games, follow these steps: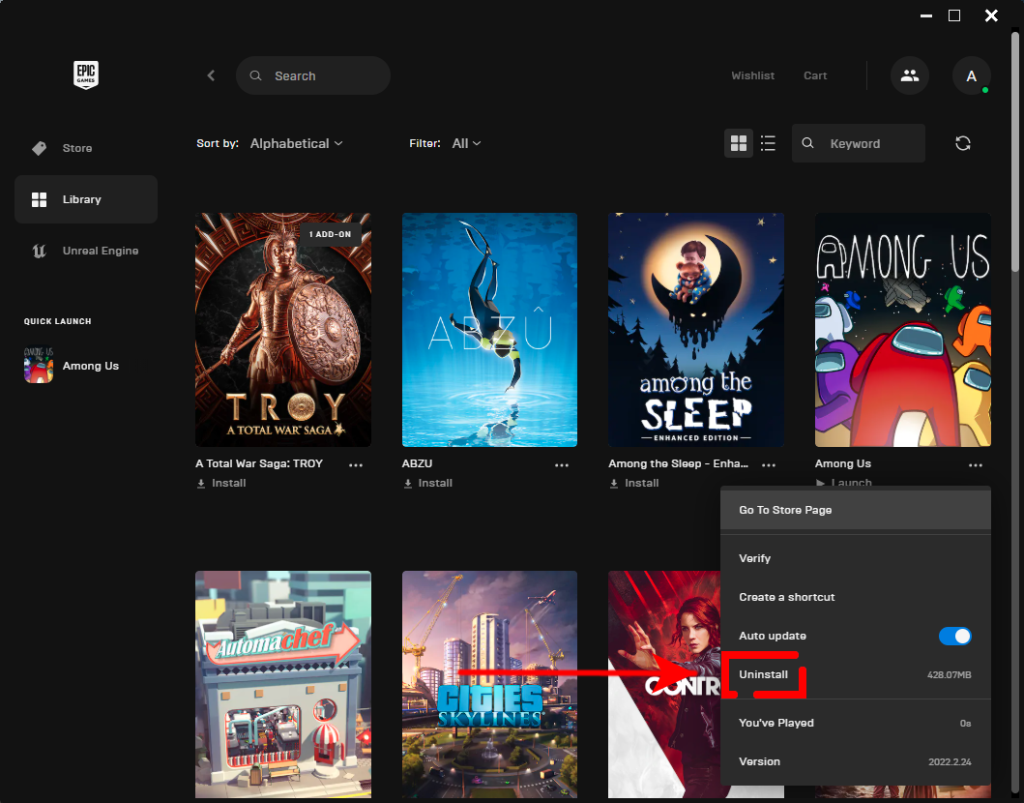 Launch Epic Games launcher.
Click Library on the left panel.
Click the three dots underneath the game tile.
Click Uninstall.
Once the game has been deleted, go back to Epic Games, find the game in your Library, then click Install.
OTHER INTERESTING ARTICLES YOU MAY LIKE:
Visit our TheDroidGuy Youtube Channel for more troubleshooting videos and tutorials.