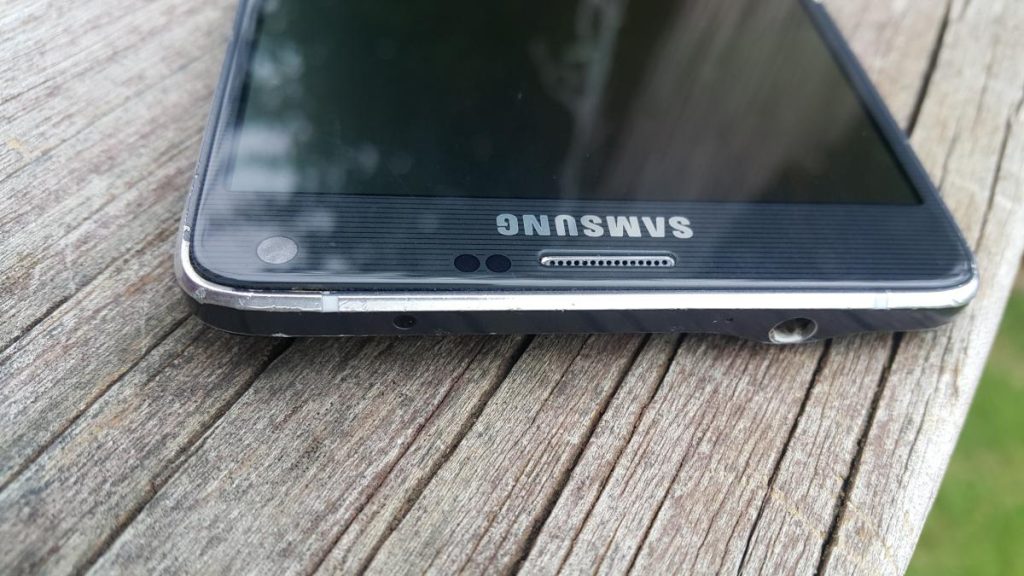 Hello there #GalaxyNote4 users! Welcome to another episode of our Note 4 troubleshooting series as we discuss 7 more issues and their respective solutions. Remember, you can also visit our main Galaxy Note 4 troubleshooting page anytime if you can't find anything useful here.
If you are looking for solutions to your own #Android issue, you can contact us by using the link provided at the bottom of this page, or you can install our free app from Google Play Store.
When describing your issue, please be as detailed as possible so we can easily pinpoint a relevant solution. If you can, kindly include the exact error messages you are getting to give us an idea where to start. If you have already tried some troubleshooting steps before emailing us, make sure to mention them so we can skip them in our answers.
---
Problem #1: Galaxy Note 4 S Pen not working on screen, no sound during calls or when speaker is used
Good Morning. I own a Samsung Note 4 device and was using it for over a year now. First the S Pen stopped working on the screen but will work on the Back button and the Menu (both buttons by the Home button). I sorta ignored.
Also, when I make a call I realized I must tap the speaker area where my ear must be to enable sound. It worked like this for several months but yesterday all sound (call and loud speaker) has stopped. I use my Bluetooth headset and it works perfectly. I originally thought it was a software issue and factory reset the phone. The sound came back and went after about 3 hours. Can you suggest what is the problem and maybe a DIY fix? Thank you much. —  Antonio
Solution:  Hi Antonio. First of all, we want to make it clear that we don't provide DIY fixes here. If you think you can do hardware repairs if you have a good guide, kindly look for other websites such as iFixit that can give you what you want.
Secondly, if your phone was physically damaged (dropped or got wet), stop looking for software fixes and focus on finding hardware DIY solutions instead. A hardware issue can't be solved by doing a software procedure.
For your S Pen problem, the first thing that you want to try is to test the screen while using the S Pen. This can done by accessing your Note 4's service menu. Simply dial "*#0*#" on your phone's dialer app and do a few tests including Wacom, hovering tests, and touch tests  (some carriers disable the service menu intentionally). These tests should tell you whether or not it's the S Pen that's having the issue or the phone itself.
If the result of such tests is inconclusive or if you are not able to access the service menu, you can then troubleshooting the device by following this brief guide from Samsung.
Thirdly, we think an app is the main cause of your audio problem. If sound worked right after a factory reset but then stopped a few hours later, it's probably because you simply re installed a problematic app causing it. To see if we're right, boot the phone to safe mode by following these steps:
Turn off the phone completely.
Press and hold the Power key and the Volume Down key.
When the phone starts to boot, release the Power key but continue holding the Volume Down key until the phone finished restarting.
Safe mode will be display at the lower left corner; you may release the Volume Down key now.
Observe the phone for a few hours to see if there's a difference.
Booting to safe mode is not a solution in itself but rather a means. If the issue won't occur while your phone is in safe mode, that's proof that one of the apps is to blame. Make sure to uninstall third party apps until the issue is completely gone.
Problem #2: Some parts of Galaxy Note 4 touch screen not responsive
Hello! I have a Samsung Note 4. I have NEVER dropped it. It's always protected by a heavy duty otter box case, no water damage.
Two weeks ago, I woke up from a nap, went to go text someone, and some keys on the keyboard have stopped working (when the phone is vertical, which is how I always use my phone even to text). The number 9 and the letter 'O' do not work at all, the letter k I have to tap the screen really hard for it to respond, and the letter L is super sensitive where if I just tap it I get 3 L's.
I tried using another keyboard app (same outcome). Today, I did a factory reset thinking it would fix the problem, but the keyboard is still funky. Is there a way to fix the problem (like replacing the screen) or do I need to retire the phone? confused because I have never had issues before, phone is approximately 3 years old. — Stephanie
Solution: Hi Stephanie. You may have a touchscreen issue at hand. To check if that's the case, we suggest that you do a test similar to what we tell Antonio to do (above). Simply pull up the service menu and select the Touch box to start testing the screen. Tap the part of the screen that you think may not be working as expected and see if it fails to register your touch at first tap. If you think some parts of the screen is no longer as sensitive as the rest, you should either have the phone repaired or replaced.
Problem #3: Galaxy Note 4 won't turn back on
My Samsung Galaxy Note 4 shuts down on its own out of the blue and it won't start up again, although it attempts to start up when I press and hold Volume down+Power+Home keys  at the same time, and restart the phone like that. I have this problem on/off for past 4 months. Wipe cache was able to reboot my phone when all this initially happened; it doesn't turn back my phone recently! I was able to turn the phone on 5 days ago after trying multiple times pressing Volume down+Power+Home keys same time, it turned on, but only lasted 2-3 days then it died again. Not able to turn it back on again, no matter what I do.
Something strange happens. If I hook the phone to my laptop, battery shows 100% but if I disconnect the phone from laptop and attempt to turn the phone ON , nothing usually happens, doesn't even respond, is completely dead.
As I mentioned before it died before and doing wipe cache partition seemed to temporarily fix it, but as 1-2 months passed by, it died again and nothing seems to work ( restarting the phone by pressing Vol Down key+POWER+HOME keys only worked for 3 days, after which it died again, and nothing seems to work anymore this time around).
HELP , please, I am tired of this phone on/off for so many months….it feels like NOT having a reliable phone! No idea if battery is the problem or a hardware problem! — Alexandra
Solution: Hi Alexandra. This may be a battery problem but before you get a new one, we suggest that you first try two basic software troubleshooting (if you can turn the phone back on of course). These software troubleshooting are: battery recalibration and factory reset.
To recalibrate the battery, you can do the following:
Use the phone by playing games or doing tasks to hasten power discharge, until the phone turns itself off.
Turn the phone on again and let it turn itself off.
Charge the phone without turning it back on.
Wait until the battery says it fully charged to 100%
Unplug the charger and turn the phone on.
If the phone says it's not 100% anymore, turn it off, plug the charger back in and wait until 100% charge is reached.
Unplug the charger the turn the phone on again.
Use the phone until you drain the battery down to 0.
Repeat the cycle once.
For steps on how to factory reset your Note 4, kindly refer to these steps:
Create a backup of your important files such as photos, videos, etc.
Turn off the Galaxy Note 4 completely.
Press and hold the Volume Up and the Home keys together, then press and hold the Power key.
When the Note 4 vibrates, release both the Home and Power keys but continue holding the Volume Up key.
When the Android System Recovery shows on the screen, release the Vol Up key.
Using the Volume Down key, highlight 'wipe data / factory reset' and press the Power key to select it.
Now highlight 'Yes — delete all user data' using the Vol Down key and press the Power key to begin the reset.
When the master reset is complete, highlight 'Reboot system now' and hit the Power key.
The Note 4 will restart but it will be longer than usual. When it reaches the Home screen, then begin your setup.
If your phone remains dead or no longer displays signs of turning on (no LED light, no sound, no vibration), go ahead and try a new battery.  If a new battery won't help either, you can assume that there's a hardware error involved. In this case, you should send the phone to Samsung or to an independent service center.
Problem #4: Galaxy Note 4 turns itself off when battery level is low
Hello. I bought my Samsung Galaxy Note 4 at early 2015. Some months ago, the battery starts to show problems. When it discharges to about 20%, my phone becomes laggy and hot, then the battery percentage will drop very quickly until it shuts down at 0%. Most of the time it won't charge even though I'm charging it (the charging sign is there but the percentage is still dropping). Since last month, the problem worsens as it begins to discharge very quickly at about 50% instead of 20%! When I feel the phone is laggy I know I have to charge it or it will just shut down in maybe a minute or so. At this point even when I'm charging it, it will continue to drop to about 2% before the percentage increases again. If I continue to use my phone, it will shut down at 20-40% and when I switch on again it shows 0%. The charging time is rather fast as I am using the original fast charger. Now it seems like my phone has only 50% of its battery instead of 100%. I'm not sure if it is the problem with the battery or the system. Thank you. — Nancy
Solution: Hi Nancy. Your issue may be similar to Alexandra's above — bad battery. Try to recalibrate the battery first and see if that changes anything. Sometimes, Android operating system may lose track of the actual battery level causing a problem like yours so it's good if you can retrain it.
If battery recalibration won't help, do a factory reset and observe the phone for a day without installing any app or update. If the battery continues to drain faster than normal, you can bet it's problematic. To fix the problem, simply replace the battery.
Another good way to check if a battery is damaged is by doing an ocular check. If you'll see the sides bulging, that's a sure sign of physical damage.
Problem #5: Galaxy Note 4 "unfortunately system UI has stopped" error
For the last 3 years I have had my Note 4 it has worked great. Two days past the day I made my final payment on it, the thing started acting up. My son's Note 4 did the same thing (turning off at 18%, hesitating to respond, freezing up) and purchasing a new battery and memory card worked for him. So I did that for me. The battery is great, but I still deal with my Note 4 shutting down when I try to see a text message, or taking a long time to respond, or not opening up when I swipe at the start, or giving me an "unfortunately system UI has stopped" message. I don't understand what is going on with my phone. I haven't installed anything new or different, other than the system update.        Christina
Solution: Hi Christina. The "unfortunately system UI has stopped" error can mean anything but in a lot of cases we encountered, it's a sign that the system cache or the software has a conflict. If you haven't tried it yet, we suggest that you try wiping the cache partition first, then do a follow up factory reset if nothing changes. Below are the steps on how to do each of them.
How to wipe the cache partition of a Note 4
Turn off the Galaxy Note 4 completely.
Press and hold the Volume Up and the Home keys together, then press and hold the Power key.
When the Note 4 vibrates, release both the Home and Power keys but continue holding the Volume Up key.
When the Android System Recovery shows on the screen, release the Vol Up key.
Using the Volume Down key, highlight the option 'wipe cache partition' and press the Power key to select it.
When the wiping of the cache partition is finished, highlight 'Reboot system now' and hit the power key.
How to factory reset a Note 4
Create a backup of your important files such as photos, videos, etc.
From the Home screen, tap the Apps icon.
Launch Settings and scroll to 'User and Backup' section.
Tap Backup and reset.
If you want, you can tick the checkboxes next to Automatic restore and Back up my data.
Tap Factory data reset.
Touch Reset device.
You may be asked to enter your PIN or Password.
Tap Continue and then Delete all.
Problem #6: Galaxy Note 4 won't power on after installing an update
This morning there was an update for my Galaxy 4 Note. I tried to install the update but the phone shut off. I took the battery out for a few minutes and restarted the phone. It was still showing that the update needed to be installed so i tried again. The phone again shut off but now it won't turn on. I have done a soft reboot, i left the battery out of it for about an hour, took the battery and the SIM card out, and now I'm trying to charge it (the LED light isn't coming on) but it still won't turn on. im not sure what android version it is and i am unable to even check at this point. IDK what else to try but I am so lost without my phone. PLEASE HELP!! — Kristen
Solution: Hi Kristen. If your phone has suddenly refused to turn back on, one of the following must be happening:
there's an unknown software problem that prevents the device from booting up
the power button is broken
the charging port is damaged and won't take any charge
battery has reached its end-of-life
there's an unknown hardware problem on the motherboard
At this time, the only thing that you can do is to try to see if you can boot the phone up to alternate modes. If you can do that, there's a chance that you might be able to turn the phone back on by doing follow up troubleshooting. If the phone remains unresponsive, there one of the four possible hardware issues must be true. In that case, your only hope of reviving the phone is by sending it to Samsung or to a third party service center for repair.
Below are the steps on how to boot your Note 4 to alternate modes:
Boot in Recovery mode:
Charge the phone for at least 30 minutes.
Press and then hold the Home and Volume UP keys, then press and hold the Power key.
When the Samsung Galaxy S7 shows on the screen, release the Power key but continue holding the Home and Volume Up keys.
When the Android logo shows, you may release both keys and leave the phone be for about 30 to 60 seconds.
Using the Volume Down key, navigate through the options and highlight 'wipe cache partition.'
You can either wipe the cache partition or do a factory reset when in this mode.
Boot in Download Mode:
Charge the phone for at least 30 minutes.
Press and then hold the Home and Volume DOWN keys, then press and hold the Power key.
When the Samsung Galaxy S7 shows on the screen, release the Power key but continue holding the Home and Volume DOWN keys.
Wait until the Download screen appears.
If you can boot the phone in download mode but not in other modes, that means that your only way out may be to flash a stock or custom firmware.
Use Google to look for a guide on how to do it.
Boot in safe mode:
Charge the phone for at least 30 minutes.
Press and hold the Power button.
Once the 'Samsung Galaxy S7' logo appears, release the Power key and immediately press and hold the Volume Down button.
Continue holding the button until the phone finishes rebooting.
Once you see the text "Safe mode" at the bottom left corner of the screen, release the Volume Down button.
The only difference of safe mode from normal mode is that the former prevents third party apps from running. If you can boot the phone in safe mode but not in normal mode, uninstall all apps until the issue (that prevents you from booting normally) is eliminated.
Problem #7: Bluetooth headsets volume are too low when connected to Galaxy Note 4
Hello. I believe this happened after the update/patch before last (over a month ago). Suddenly, the volume on my blue tooth device Jawbone Era) was very, very low. I thought my Jawbone went bad, so also tried it with my Blue Ant but this didn't work either. I updated the drivers on both devices and performed a soft and hard reset on the Jawbone, as advised by the Jawbone tech support personnel, to no avail. I have also cleaned the cache in my phone, suspended activity on all of the apps that didn't come with the phone and finally, reset the phone to its original factory settings but nothing has helped solving the issue. I bought another head set, a bluedio, but after pairing it no sounds come out of it. P.S. This event might have occurred after I paired my phone with a UE blue tooth speaker. I removed that speaker from my phone but the volume on my devices didn't get any better. — Jleal64
Solution: Hi Jleal64. If you've already factory reset all devices involved (your headsets and phone) and the issue remains, there might be an incompatibility issue with the current firmware running in your phone with the headsets you're using. Although manufacturers are supposed to follow standard protocols in designing their Bluetooth device, the Bluetooth universe right now is simply too big that every now and then, hiccups can occur. There's really no way for an end user to fix Bluetooth issues other than do the generic troubleshooting steps such as pairing and unpairing, restarts, and resets. If those procedures won't work, you're out of luck.
Another possible reason why this is issue is happening can be attributed to some unknown operating system bug in your phone. The update you installed may be the culprit. This means that the operating system may be coded poorly or inefficiently causing Bluetooth functionality to malfunction. Sadly, there's no way to know this for sure but again, the only available solutions are things you already did. If your headsets' software are running up-to-date firmware, your only recourse is to hope that a new Android patch will be released soon to address this problem. If you haven't checked it yet, try to see if your headsets' firmware are updated and if not, to install them from the manufacturer's website. Consult the manual for said headsets to know how and where to download an update.
---
Engage with us
If you are one of the users who encounters a problem with your device, let us know. We offer solutions for Android-related problems for free so if you have an issue with your Android device, simply fill in the short questionnaire in this link and we will try to publish our answers in the next posts. We cannot guarantee a quick response so if your issue is time sensitive, please find another way to resolve your problem. 
If you find this post helpful, please help us by spreading the word to your friends. TheDroidGuy has social network presence as well so you may want to interact with our community in our Facebook and Google+ pages.