One of the favorite things we love most about our smartphones are the cameras that are equipped on them. In fact, it's one of the reasons many people upgrade their phones. The new iPhone might be virtually the same year after year, but if it has a new camera, folks are going to upgrade. They capture detail so perfectly, letting you create a memory that you can look back on years from now. But, sometimes, you can't always get that perfect memory from where you're standing on the ground; trying to find some elevation to get that stunning shot of the skyline can prove difficult sometimes.
---
At A Glance:

Top 5 Drones That Work With Your Phone
---
* If you buy through links on our site, we may earn an affiliate commission. For more details, please visit our Privacy policy page.
That's where advancements in technology come in, specifically consumer drone technology. A drone equipped with a great camera can get you those shots that'll "wow" your family and friends. Follow along below, and we'll show you our top 5 drone picks that are not only affordable, but work with your smartphone and take great photos.
Top 5 Drones That Work With Your Phone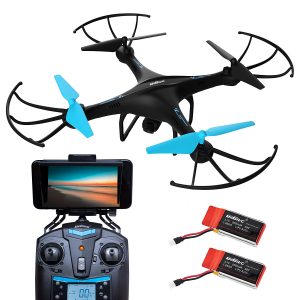 The Force1 Blue Jay is a little over double the price and less portable compared to the last two drones on our list, but it has a lot of features that makes it worth it. Now, this drone only has a 720p camera, but it still takes crisp looking photo and video when you activate the drone's "altitude hold" and "headless" mode simultaneously. Using these features gives the drone more stability, and therefore, a much better photo.
This drone comes with a remote control, but also uses your smartphone at the same time. Using the remote control, you can navigate the drone from here to there. But, adding your smartphone into the mix, you can draw/trace a route using their app, and the drone will follow it. This drone comes with an extra battery so that you can get even more flight time out of it.
Compatible with both Android 5.0 and iOS 10.2 above, the DJI Mavic Pro 2 can be enjoyed by smartphone & tablet users worldwide. You can directly control DJI Mavic Pro 2 with your smartphone through the app as well as take photo (20 MP) and video (H.264, 4K HD)   from there as well.
That photo and video is saved on your phone, but with the DJI Mavic Pro 2 you also have the option of using the included standard controller instead with 135 minutes of battery life that conveniently works with DJI GO 4 App on your smartphone device.
It's actually a pretty large drone (9.8″L x 9.7″W x 4.5″H) , but folds up nicely into a portable size. It certainly doesn't fold up enough to fit in your pocket like previous drones, but enough so that it doesn't take up too much space in the car if you're on a trip or something.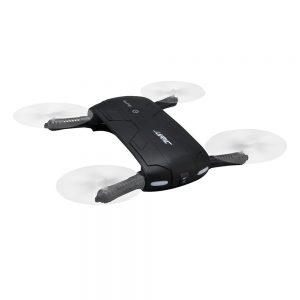 The Folding Quadcopter drone from ToyPark is a great choice for those just wanting to see what consumer-grade drones are all about. This particular drone has a 2.4GHz 6-axis flight control system in order to prevent interference and emit a more power signal, and thus more accurate operation with controlling it from your smartphone.
This drone is equipped with high-definition cameras so that you can not only take great photos up in the air, but video as well. It's controlled through an app on your smartphone (iOS and Android), which will give you access to features like taking photos, video, moving the drone here and there, etc.
This drone can be purchase it in Black or Pink at the Amazon link below.
4. HaMi Foldable Mini Drone
The HaMi Foldable Mini Drone looks and feels the same as the option from ToyPark (probably due to the same manufacturer), but has some notable differences that make the option from HaMi just a little bit more affordable. This drone is very portable, allowing you to fold up the wings so that you can put the drone in your pocket for use on the go.
The HaMi Foldable Mini Drone has a few downgrades with it. For example, instead of the high quality camera that comes with the ToyPark choice, you only get a 720p shooter. You can still take photos, video and control the drone in different directions with an app that is installed on your smartphone. It also has an "altitude hold" option, which keeps flight steady for a safe and secure landing.
5. Rabing Foldable RC Drone
Rabing's Fodlable RC Drone is a great option for those who don't only want to take take great photos, but also get an immersive VR experience. This drone is equipped with a 720p high-definition camera, allowing you to take high quality photos from the sky. However, if you pick up a separate VR headset (not included), you can also enjoy seeing what the drone sees from the sky in an immersive VR headset.
And, of course, you get the usual features for optimal drone use, such as being on a 2.4GHz frequency so that other radio signals can't interfere with its operation. This is a quadcopter, but it can be folded up so it fits in your pocket as well. Rabing offers real-time video transmission with this drone, whereas some previous drones have a slight delay.
Top 5 Drones That Work With Your Phone Verdict
Many of these drones ultimately complete the same purpose–getting you up in the air so that you can take a stunning photo. That said, your choice of drone should come down to portability and camera quality. If you want something with great portability and camera quality, both the Rabing Mini Foldable RC Drone and ToyPark Folding Quadcopter Drone are great choices. On the other hand, if you don't care about portability, but would like a more premium-looking drone, the Force1 Blue Jay is also an excellent option.
* If you buy through links on our site, we may earn an affiliate commission. For more details, please visit our Privacy policy page.