In this tutorial, you will learn how to do the Galaxy Note 20 hard reset, and understand the difference between this method and the usual factory reset procedure. It's important that you know how to do this method as you may need it when your phone cannot boot up successfully.
There are two common ways to factory reset your Samsung Galaxy Note 20. You can either do the most common method by going into the Settings menu and look for factory data reset, or you can reboot it into the Recovery Mode and select the wipe data/factory reset option, which is, by the way, what we're going to show you in this post.
While both are apparently the same, we often refer the first method as 'factory reset' while the latter as 'hard reset.' The first one is the safest and easiest method to reset Samsung Galaxy devices. Safest is a sense that you won't be able to reset your device without first entering your security lock as well as the password to the Google account that's set up on your phone.
The second one is still very risky especially if you weren't the one who set up your phone for you and you didn't know the Google ID used in setting it up. Even if you can successfully hard reset your Galaxy Note20, you will be asked to enter the Google account and its password. If you don't know that, you will be locked out of your device, which renders it unusable. This security feature is present in Android 10 and the previous versions.
Galaxy Note 20 Hard Reset
But assuming that you're simply trying to hard reset your phone Galaxy Note 20 using this method, then here's what you need to do: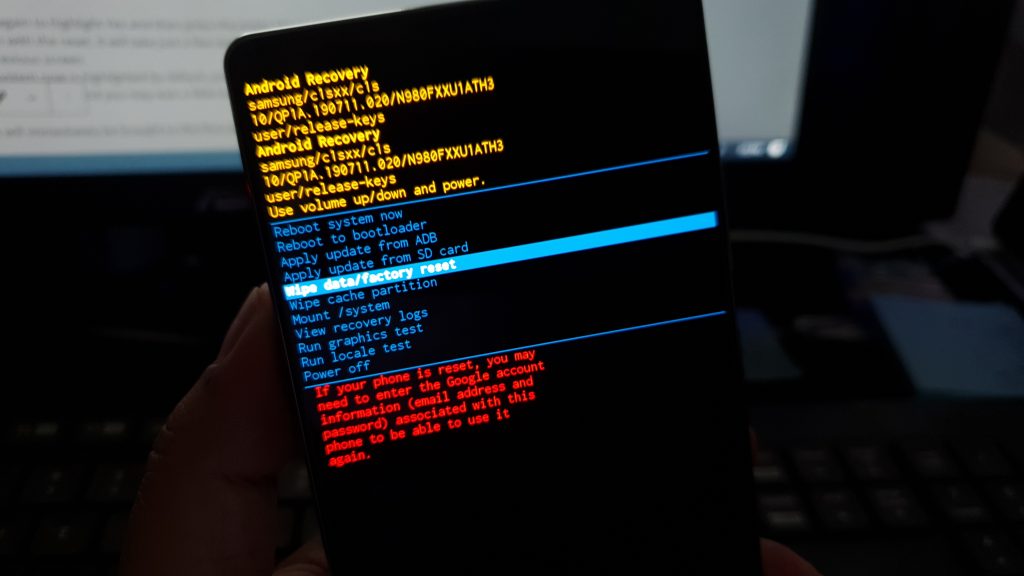 Press and hold the Volume Down and the Power button for a couple of seconds or until the Power options show. Tap Power off to shut down your device. Wait until your Samsung Galaxy Note 20 to vibrate because that's the sign that it's turned off completely.
Press and hold the Volume Up and the Power button, and release them when the Galaxy Note20 shows on the screen. Now wait until your phone boots to the black screen with blue and yellow texts on it. That's a sign that your device has successfully booted up in Recovery Mode.
Using the Volume Down button, highlight the option 'wipe data/factory reset' and then press the Power key to select it.
Use the Volume down button again to highlight Yes and then press the power key to select it.
Your Galaxy Note 20 will begin with the reset. It will take just a few seconds and once it's completed, you will be brought back to the previous screen.
On the next screen, Reboot system now is highlighted by default, just press the Power button to select it and your Galaxy Note20 will then reboot, and you may wait a little longer for this reboot to finish.
Once the reset is finished, you will immediately be brought to the first page of the set up process, which prompts you to choose a region. If you reach that page, it means that the hard reset was successful and that your Samsung Galaxy Note20 is now ready to be set up again.
This method to reset Samsung Galaxy device is available in Android 10 and previous versions.
We hope that we've been able to help you one way or the other. Please support us by support us by subscribing to our YouTube channel. We need your support so that we can continue creating helpful contents in the future.
ALSO READ: