Your phone has to be connected to the network to be able to send and receive text messages or SMS. At least, that's one of the reasons why a basic feature like this fails sometimes.
Aside from network problems, there are also times when your device encounters minor glitches in the system that affects some of its services including mobile network features.
But the thing about SMS issues is that they can often be fixed by doing the most basic troubleshooting steps. Besides, you can always call your service provider for help.
Common Causes Why Galaxy Can't Receive SMS
For you to be able to successfully fix this problem, you need to understand the reason why it happens in the first place.
That means you'll have to look into some factors that might have caused the problem including the physical state of your phone, it's operating system as well as some of its services.
Here are the common causes of this problem:
Minor system glitch
For problems that occur without apparent reason or cause, it has to be just a result of a minor system glitch.
You have to rule out such a possibility first because if that works, then you don't have to do the other troubleshooting procedures.
After all, refreshing the memory of your phone is easier to do that most of the procedures in this guide.
Poor signal reception
In case the problem occurs only when you're in a certain spot or place, then it's obvious that it has something to do with the reception.
As mentioned earlier, your mobile phone has to be connected to the network to be able to send and receive SMS.
If this is the case with your device, then you don't have to worry too much about it because there's no problem with it and the problem will probably be fixed once you're in the area with good reception.
Problems with phone's wireless services
Another possibility that your Samsung Galaxy M52 5G might have some issues with some of its wireless services that needs to be addressed.
You also have to check if the Airplane Mode is enabled because if it is, then that's the reason why you're not receiving SMS message.
Account-related issues
Another thing you have to look into is the possibility that your account doesn't have enough credits to use the service or is barred from using it.
For that though, you need to call your service provider and inquire about the status of your account, your SIM card and the network itself.
Most of the problems with messaging can be fixed by your provider, so after doing a few of these procedures and the problem occurs, you should employ its help.
Your phone has to be reset
This is going to be the last resort in case everything else fails to fix the problem.
A factory reset often fixes minor and serious issues including problems with wireless services.
But you have to backup your important data and files before doing it because they will be delete and you may not be able to recover them.
Fixing Galaxy M52 That Can't Receive SMS
Based on the possibilities mentioned above, here are the things you should do to try and fix the Galaxy M52 that can't receive text messages:
First solution: Force restart your phone
Before anything else, try refreshing and updating the memory of your phone by doing the forced restart.
It's a simulated battery removal that often fixes most of the minor issues you can encounter on your phone.
It's possible that you can't receive SMS messages due to a minor system glitch, and this procedure can be what you need to fix it.
Here's how it's done:
Step 1: Press and hold the Volume Down button and the Power key for 10 seconds.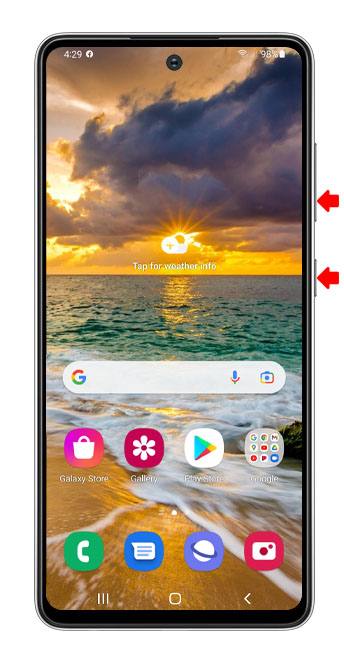 This will trigger your phone to shut down and power back up.
Step 2: When the Samsung logo appears on the screen, release both keys and allow your M52 to continue the boot process.
After the reboot, try to see if your Galaxy M52 5G is still not able to receive SMS.
Second solution: Check the signal indicator
The next thing you have to do is your device is still not able to receive text is to check if it's getting a good reception.
The signal indicator at the status bar will tell you if it's a reception issue or not. If you're only getting 1 bar of signal, or two, then that might be the reason why messages aren't received or arrive late.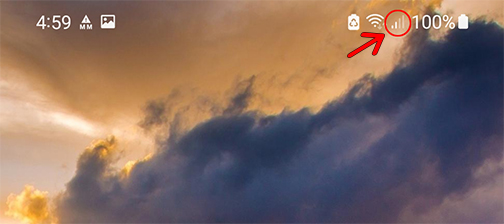 Moving to an open spot with good signal reception will often fix problems like this and if that's the case with your device, don't worry about it because there's no problem with your phone.
However, if you're in a place that you know gets a good reception and your phone shows otherwise, then there can be an issue with it.
Third solution: Reset network settings
Resetting the network settings will fix wireless problems with your phone. In fact, if the problem occurred out of the blue and doesn't get fixed with the previous solutions, this might be the only thing that can fix it.
You don't have to backup your device data as they won't be deleted. However, your Wi-Fi and Bluetooth connections will be gone after this but aside from that, there's no other.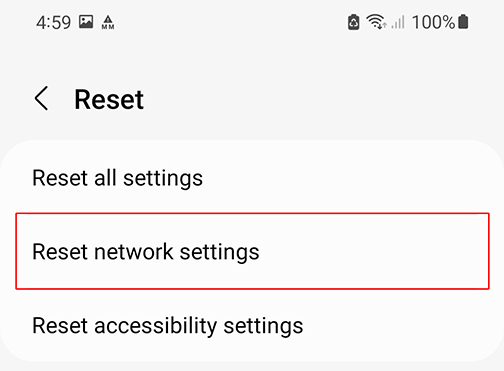 Here's how you reset the network settings on your phone:
Step 1: Launch Settings.
Step 2: Scroll down to the bottom of the screen and tap General management.
Step 3: Tap Reset at the bottom of the screen.
Step 4: Tap Reset network settings.
Step 5: Tap the Reset settings button and enter your security lock.
Step 6: Tap Reset to proceed.
Once the network settings reset is finished, try to see if your phone can now receive SMS.
Fourth solution: Call your service provider
After doing the first three solutions and your phone is still not able to receive SMS, then it's possible that the problem is with your account.
Try calling your service provider to know more about the problem. If it's an account issue, then it will be fixed easily.
Most of the time, account issues are due to unsettled bill, which you can file a dispute about.
It is also possible that there's currently an ongoing outage in your area that affected the messaging features of your phone.
No matter the issue is as long as it's not with your phone, your service provider should be able to help you fix it.
Fifth solution: Factory reset your phone
Your last resort will be to factory reset your device, especially if it's not an account problem or an outage.
But before the reset, create a back up of your files by manually copying or downloading them to your computer.
You can also use Android data recovery software to help you create a backup of your files or recover data that you've lost during the reset.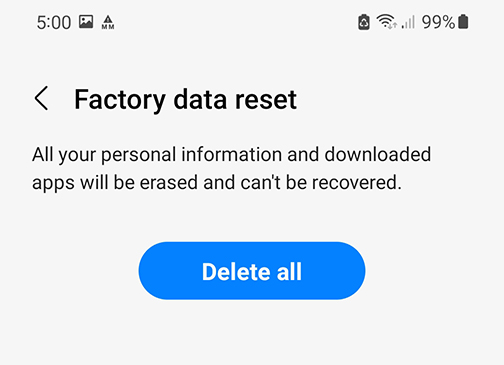 When you're ready, follow these steps to reset your phone;
Step 1: Launch Settings.
Step 2: Scroll down to the bottom of the screen and tap General management.
Step 3: Tap Reset at the bottom of the screen.
Step 4: Tap Factory data reset.
Step 5: Scroll down and tap the Reset button.
Step 6: Enter your security lock if prompted.
Step 7: Lastly, tap Delete all and follow on-screen instructions to proceed.
After the reset, set up your phone as a new device and the problem should already be fixed after that.
We hope this guide can help you.