Learn how to troubleshoot the error message "Unfortunately, Messages has stopped" on a #Samsung Galaxy S7 Edge (#Galaxy #S7Edge).
Know what to do to prevent your phone from automatically converting SMS to MMS.
Here's what you need to do if you cannot send a text message to a certain person.
How to workaround a problem involving your S7 Edge that doesn't play the notifications sound when new messages arrive.
Learn how to fix your phone that automatically deletes text messages and when deleted texts reappear.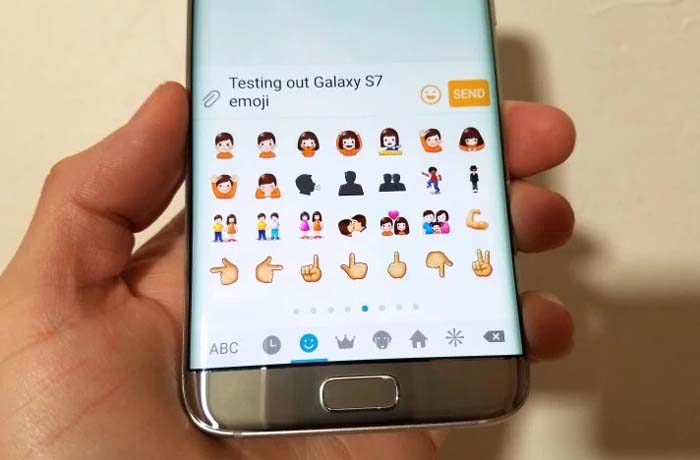 Among the most common texting related issues with the Samsung Galaxy S7 Edge is the error "Unfortunately, Messages has stopped" which may pop up when the messaging app crashes for some reason. While it's clear the error message speaks of the Messages app crashing, it's a pre-installed app and it might just one of the symptoms of a firmware issue.
Aside from the error message, I addressed several texting related issues in this post so continue reading to learn more about them. If you contacted us before regarding this problem, try to browse below to see if your concern has been addressed. If not, then visit our troubleshooting page to browse for problems we already solved. Feel free to use our solutions and troubleshooting procedures if you find issues that are similar to yours.
In case our solutions don't work for you or if you need further assistance, then you may contact us by filling up our Android issues questionnaire. All we need is information. As long as you provide with necessary details about your problem, we can help you.
Q: "When I'm texting, one dialog box is pop-up and showing the message that 'Unfortunately, Messages has stop.' After some messages had been sent out with slow speed, the dialog box show up on the screen. Please help me to fix this issue. I tried to reset my phone in one time, but this issue is still exist."
A: It might be just a simple app crashing issue especially that you never indicated what caused it, when it started and how. You probably don't know the reason why this error keeps popping up. The first thing you have to do is to troubleshoot the Messages app; you need to clear its cache and data.
From the Home screen, tap the Apps icon.
Find and tap on Settings.
Touch Applications and then Application manager.
Swipe to ALL tab.
Find and touch Messages.
Touch the Force Close button first.
Then, tap Storage.
Tap Clear cache and then Clear data, Delete.
Please note that you may lose all your messages by following the steps above and there's not guarantee that the problem will be solved, however, it's a necessary move. In case the error still pops up, you need to isolate the problem. Try to discover if it is somehow connected to any of your downloaded apps, so boot your phone in safe mode:
Press and hold the Power key.
As soon as you can see the 'Samsung Galaxy S7 EDGE' on the screen, release the Power key and immediately hold the Volume Down key.
Continue holding the Volume Down button until the device finishes rebooting.
You may release it when you can see 'Safe mode' in the bottom left corner of the screen.
If the error still pops up in safe mode, it means that either one of the pre-installed apps is causing the issue or it could be a firmware-level problem. In this case though, you need to reset your phone.
Backup your data.
Remove your Google account.
Disengage screen lock.
Turn off your Samsung Galaxy S7 Edge.
Press and then hold the Home and Volume UP keys, then press and hold the Power key.
NOTE: It doesn't matter how long you press and hold the Home and Volume Up keys, it won't affect the phone but by the time you press and hold the Power key, that's when the phone starts to respond.
When the Samsung Galaxy S7 Edge shows on the screen, release the Power key but continue holding the Home and Volume Up keys.
When the Android logo shows, you may release both keys and leave the phone be for about 30 to 60 seconds.
NOTE: The "Installing system update" message may show on the screen for several seconds before displaying the Android system recovery menu. This is just the first phase of the entire process.
Using the Volume Down key, navigate through the options and highlight 'wipe data / factory reset.'
Once highlighted, you may press the Power key to select it.
Now highlight the option 'Yes — delete all user data' using the Volume Down key and press the Power button to select it.
Wait until your phone is finished doing the Master Reset. Once completed, highlight 'Reboot system now' and press the Power key.
The phone will now reboot longer than usual.
Q: "When texting using the installed messaging app occasionally the app sends the text as mms. There appears to be no reason why it does that, it has done it when sending just text or text and emoji even though a previous text with similar content to the same recipient went as a text. Can the mms function be turned off? My carrier charges for mms but not texts so I don't actually want mms enabled."
A: The safest way to "turn off" or disable MMS is to disable mobile data. Or, you may change the setting under Messages and disable "Auto Convert to MMS."
Nowadays, text with pictures, emojis, special characters or group messages are considered MMS.
Q: "Unable to send text messages to one person. Can receive her text messages but she does not receive mine. She has already been to the AT&T store and I have already been to Verizon and no one can figure it out."
A: Send a text message to yourself to see if it goes through and actually receive it. If you can, then the problem is with her phone, not yours. Ask her to check if your number was blocked in her phone. I'm sorry but that's the only thing we can tell you about it since we don't know what here phone is in the first place.
Q: "I know own longer receive notifications that I have gotten a new text message. I checked all of my setting and notifications and push notifications are on. I still get alerts from SnapChat and others like that, just not from my text messages."
A: Messages' notifications may have been blocked for some reason. Follow the steps below to unblock it:
From the Home screen, tap the Apps icon.
Find and tap on Settings.
Touch Applications and then Application manager.
Swipe to ALL tab.
Find and touch Messages.
Q: "I was with AT&T but a couple of days ago I switched over to Straight Talk. I am not able to send/receive mms. I changed the APN settings and it worked for the first day. I've talked to Straight Talk and they gave me all new APN information. After changing the settings, I'm still not able to do mms. Any suggestions?"
A: It still has something to do with the APN settings in your phone and no one can help you better than Straight Talk people. So, call tech support again and tell them it's not working for you. There's one trick to this and unfortunately, only your provider can do it; your account just needs to be deactivated and reactivated to get the services working.
Q: "I am having an issue with text messages deleting them self and then there are times where entire text conversations are reappearing in my messages and they had been deleted for days. I did a master reset on my phone about a week ago and it didn't resolve any issues. I don't know what to do."
A: After you did the master reset, for sure you have no messages yet, right? How could the problem occur if there are no messages in the inbox or even if you have a few, how often does the messages get deleted and reappear? We need more information about the problem to be able to pinpoint what the issue is.
I suggest you do the master reset again and send a message to your own number and see if that message gets deleted and reappear. Also, try to check if the date and time in your phone are correct.
Q: "Just changed from T-Mobile iPhone 5s (ugh! No problems but husband is idiot trying to save $ monthly!) to Sprint got new Samsung Galaxy S7 Edge phones (nice phone but so much tech stuff 2 learn and I'm better than many. lol).
Anyway thank you for helping! I downloaded Zedge ringtones/notifications I liked and added. Seems I hear ok but text messages icons on screen don't alert when new text message received. How to fix please? I turned phone off/on and didn't help."
A: It seems the notifications for text messages have been blocked, so follow the steps below and unblock the notifications.
From the Home screen, tap the Apps icon.
Find and tap on Settings.
Touch Applications and then Application manager.
Swipe to ALL tab.
Find and touch Messages.
Q: "I will send multiple messages to my boyfriend but he doesn't receive any."
A: Try to send a text message to your own number, if it goes through and you can receive it, then the problem is with your boyfriend's phone, not yours. Otherwise, contact your service provider since you haven't provided us with enough information to come up with a solution.
Connect with us
We are always open to your problems, questions and suggestions, so feel free to contact us by filling up this form. This is a free service we offer and we won't charge you a penny for it. But please note that we receive hundreds of emails every day and it's impossible for us to respond to every single one of them. But rest assured we read every message we receive. For those whom we've helped, please spread the word by sharing our posts to your friends or by simply liking our Facebook and Google+ page or follow us on Twitter.