Being stuck on the logo during boot up is often a sign that your phone is experiencing a firmware issue regardless of what the model of your phone is. But recently, it seems that many of our readers who own the Samsung Galaxy S7 Edge keeps getting this problem and it seems it keeps repeating randomly. But just because your phone got stuck on the logo doesn't mean it's a serious problem. We've already seen a lot of issues like this in the past that were fixed by doing the basic troubleshooting.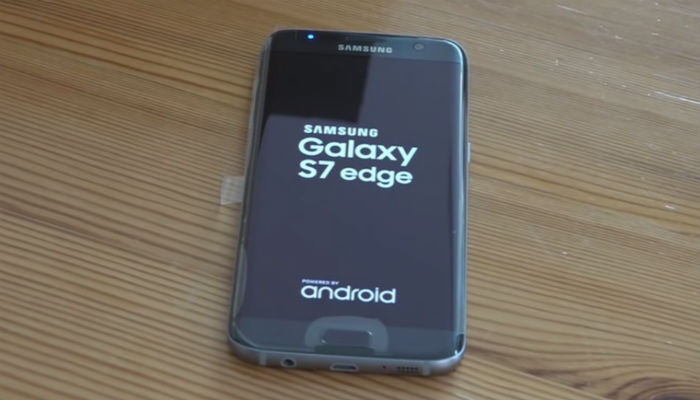 In this post, I will help you troubleshoot your phone that has this kind of problem. We will try to tackle every possibility and rule out each of them until we can arrive at a point wherein we can easily pinpoint what the problem really is all about. So, if you have this phone and are currently bugged by a similar problem, continue reading below as this post may be able to help you.
But before anything else, if you have another issue with your phone, drop by our S7 Edge troubleshooting page as we have already addressed hundreds of issues reported by the owners. Odds are that there are already existing solutions on our website or at least, there are similar problems we already fixed. So, try to find ones that are similar or related to your problem. If you need further assistance, however, feel free to contact us by filling up our Android issues questionnaire.
How to troubleshoot your Galaxy S7 Edge that's stuck on the logo
Problem: My Samsung is not responding at all it's only going to the screen that displays samsung Galaxy S7 Edge and nothing else. There is no blue light, or anything. when I hold down both volume keys and home key at the same time the screen shows the battery then continues to blink that one screen. I tried to hook it up to a computer, and charger but nothing seems to happen. Need help asap.
Solution: In this type of issue lots of factors we should consider why this is happening on your phone now. As you indicated that your device is able to turned on once you pressed those combination of keys but failed to boot up completely, then this is the clear indicator that this is just a software problem. However, to make sure what prevents your phone from booting-up completely all you need to do is to perform the basic troubleshooting procedures.
Step 1: Charge your Phone
Before everything else, it is imperative that your phone has enough energy stored in the battery to make sure that all hardware components will be powered up and to see if there were no hardware issues caused the problem. This time, connect it to the charger and  leave for 10-20 minutes and see if will respond. If so, then, the battery might be drained during that time and that may be the reason your phone is unable to turned on. However, while it is connected to the charger for several minutes and your phone doesn't have any response, there is a chance that the charger or the battery itself is defective.
In this instance, use another USB cable and connect it to your computer to verify if the issue is triggered by the cable or the charger itself. However, if both cable and charger are not defective, there is a chance that this is a software-related issue triggered it. And you can proceed to the next method.
Step 2: Forced reboot your device
While it is connected to charger you can perform the forced reboot procedure on your phone. Through this method the memory will be refreshed and all glitches that might caused the issue will be resolved. Just press and hold and the Volume and Down keys together for 10 seconds until the device reboots. But if your phone still unable to power on you can follow the next procedure.
Step 3: Boot in Safe mode to verify if there's an app that triggered the problem
It is because of several apps had been installed it's not far that one of it might create conflict in the system and prevents the device to turn on. In this android environment all downloaded applications won't be loaded and only the pre-installed apps will run in the system. Meaning, through this method we will figure it out if there's a culprit triggered the problem. This is how to boot in safe mode:
Press and hold the Power key.

As soon as you can see the 'Samsung Galaxy S7 EDGE' on the screen, release the Power key and immediately hold the Volume Down key.

Continue holding the Volume Down button until the device finishes rebooting.

You may release it when you can see 'Safe mode' in the bottom left corner of the screen.
If your phone boots up while in this mode, then there's an app you need to uninstall for that might caused the issue. However, if the issue persists while in this state all you need to do is to jump to the next procedure.
Step 4: Try to boot up in Recovery mode and wipe cache partition
Most of the time, due to outdated or corrupted caches in the directory the device could no longer recognized it and caused the system to crash without apparent reason. In this instance, we have to remove all files stored in the cache partition so that your phone can create updated caches that is compatible to the system.
Turn off the device.

Press and hold the Volume Up key, Home key, and Power key at the same time.

When the phone powers on, the Android System Recovery screen appears approx. 30 seconds later.

Release all of the keys.

Press the Volume down key to highlight "wipe cache partition."

Press the Power key to select.

Press the Volume down key to highlight "yes" and press the Power key to select.

When the wipe cache partition is complete, "Reboot system now" is highlighted.

Press the Power key to restart the device.
Step 5: Try starting up in recovery mode and doing the master reset
Assuming your phone successfully booted up in recovery mode and after deleting the system caches and the phone still got stuck on the logo, then it's time to reset your phone as it's clearly an issue with the firmware. So, try to follow the steps to reset your phone.
Turn off your Samsung Galaxy S7 Edge.

Press and then hold the Home and Volume UP keys, then press and hold the Power key.

NOTE

:

It doesn't matter how long you press and hold the Home and Volume Up keys, it won't affect the phone but by the time you press and hold the Power key, that's when the phone starts to respond.

When the Samsung Galaxy S7 Edge shows on the screen, release the Power key but continue holding the Home and Volume Up keys.

When the Android logo shows, you may release both keys and leave the phone be for about 30 to 60 seconds.

NOTE

:

The "Installing system update" message may show on the screen for several seconds before displaying the Android system recovery menu. This is just the first phase of the entire process.

Using the Volume Down key, navigate through the options and highlight 'wipe data / factory reset.'

Once highlighted, you may press the Power key to select it.

Now highlight the option 'Yes — delete all user data' using the Volume Down key and press the Power button to select it.

Wait until your phone is finished doing the Master Reset. Once completed, highlight 'Reboot system now' and press the Power key.

The phone will now reboot longer than usual.
Connect with us
We are always open to your problems, questions and suggestions, so feel free to contact us by filling up this form. This is a free service we offer and we won't charge you a penny for it. But please note that we receive hundreds of emails every day and it's impossible for us to respond to every single one of them. But rest assured we read every message we receive. For those whom we've helped, please spread the word by sharing our posts to your friends or by simply liking our Facebook and Google+ page or follow us on Twitter.