There have been a lot of random restart issues we received from Samsung Galaxy S6 (#Samsung #GalaxyS6) owners and it's alarming. I have gone through reading those messages and I can group them into three:
Random reboot after firmware update
Device keeps restarting after it shut off on its own
Frequent restarts without apparent reason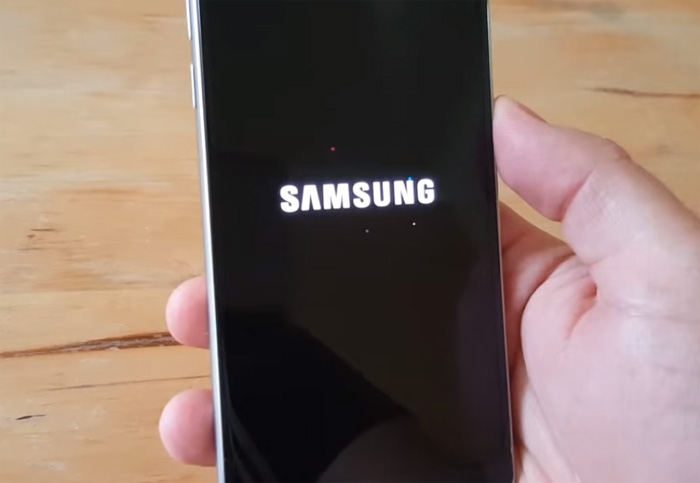 If any of these problems happen to you, here's what you need to do:
If the phone started to randomly reboot after an update, it's just some corrupt caches that's causing the problem. Wiping the cache partition should be the first thing you do and if it fails, backup your data and do the master reset.
In case your S6 shut down on its own without apparent reason and started to restart, it might be a battery issue. Try to see if the phone can stay turned on if kept plugged in.
For frequent restarts that occurred out of the blue, try booting the device in safe mode. If it still restarts in that state, then it's a firmware problem. Wipe the cache partition, then master reset if the former didn't fix it.
Now, for other power and battery related issues I cited in this article, here's the list. Click on the link to jump to a problem…
In case you have other issues with your phone, visit our troubleshooting page and look for problems similar to yours. You may then use the solutions we provided. If they don't work, fill up this questionnaire and hit submit to contact us.
---
S6 keeps restarting on its own or power down without apparent reason
Problem: Lately, my phone has been restarting by itself, then it would just power down. I've also realized that the connectivity bar is blank (usually its white). I have pulled out the SIM card and done a wipe cache partition but the problem still occurs. I was wondering what I can do, without having to do a factory reset (I wasn't able to back up any personal info. Since the screen would turn on for a few seconds then go blank).
Troubleshooting: It's difficult for us to actually suggest a fix for this problem simply because we don't know what exactly happened to your phone. If, by any chance, it got wet or suffered from liquid damage, don't try to troubleshoot it, instead send it in for repair or further checkup.
But assuming it didn't incur any damage and this problem just started out of the blue, it may be just an app or a firmware issue. To rule those possibilities out, try booting the phone in safe mode:
Turn off your Galaxy S6.
Press and hold the Power key.
When 'Samsung Galaxy S6' appears, immediately release the Power key and then press and hold the Volume Down button.
Continue holding the Volume Down button until the phone finishes the restart.
When you see Safe Mode on the lower left corner of the screen, release the button.
If the device still reboots on its own, then it's a firmware issue and there's no other procedures you could try to fix this problem than master reset. But before that, try to connect your phone to your computer to, first, see if you can back up your data before the phone restarts and second, to see if it still reboots even with a stable power source helping the battery power up the components.
There's a chance it's a battery issue and if you connect your phone to a computer, it might just stop the restarts temporarily. In this case, all you need to do is buy a new battery for your device, let the tech replace it for you and all your data will be saved.
Galaxy S6 screen turned black due to physical damage
Problem: A couple of days ago I dropped my phone while driving my bike. There was a crack near the volume up button but other than that there is nothing wrong with the screen. At first the phone was partially unresponsive sometimes working and sometimes not. However a few minutes later a purple light on the side of the phone appeared which kept becoming bigger spreading over the phone. By now the phone was completely unresponsive so I tried a reboot, which didn't help. By now my whole screen is black and when I try to turn it off i can only hear the sound but not see anything. Please help me!
Suggestion: Apparently, the display itself is damaged and not just the digitizer. That said, you need to have it replaced and basing on your description, I think you can't use warranty for it. Just send it in for repair and the tech will tell you if the display panel needs replacement and how much you're going to spend for it.
S6 keeps showing the Power sharing notice and docking warning
Problem: From yesterday I have been facing a problem. Samsung gear VR automatically starts up with a blank screen and a cross mark at the bottom left. My S6 is stuck have to perform a soft reset to get back even after doing that it goes back to the same app and I'm unable to do anything. Performed a factory reset and the POWER SHARING POPS UP and another message DOCK IS CONNECTED. I PERFORMED a factory reset twice still the same problem persists. Please help.
Related Problem: I just plugged my phone into my normal charger, which is what I've used since I purchased the phone 18 months ago. The phone does not charge and a message appears stating "unable to charge, use the original charger"  I am already using the charger I received with the phone.
Answer: It looks like a pin or two in the USB port is misaligned and touching others. You can try to use a toothpick to straighten them out but if you feel uncomfortable with it (or fear you can mess up your phone even more), let a tech do it for you.
Random apps from Google Play Store popping up
Problem: I have random apps from Google Play Store that I do not have installed popping up when I unlock phone and even when the phone has been in use for a bit no matter what I'm doing even if just staring at the home screen. Also not just apps pop up random sites saying I won something. Please help really annoying just got this phone beginning of February.
Answer: You must have installed an app that brought along these ads, all you got to do is find that app and uninstall it and by the way, those pages that keep popping up telling you to install certain apps are actually ads. If there's something that's telling you that you won something and asking about your information, that's a phishing scam and don't ever give out any of your information.
If can't find the culprit, then just backup all your data and do the factory reset:
Go to Settings.
Tap Backup and Reset.
Tap Factory Data Reset.
Read the warning and tap Reset Device.
S6 froze, won't charge and won't turn on
Problem: My phone got hot and froze, so I let it sit and basically 'cause I didn't know that I could just hold the power button and the other thing to make it fixed and it just shut off. I put in the charger and the screen lit up but it won't tell me what percentage that and it's just won't work. I have it on the charger and it shows the low battery symbol and its been there for a couple hours now but it doesn't tell me the percentage and I can't turn it on.
Answer: Sounds like it's just a system crash. Just press and hold the Volume Down and Power keys together for 10 to 15 seconds and the phone will reboot. If there's not enough battery left to power up the components, at least, the screen will flicker. You can then try plugging it in and it would charge this time.
Straight Talk Galaxy S6 can't update firmware
Problem: I have a Straight Talk Samsung Galaxy S6 and I am having troubles with updating my phone. It says it is at android version 5.0.2 and it won't let me update my Straight Talk Galaxy S6 to the new version of the update it keeps saying software update is unavailable. Try again later and I've been trying to do this since I got the phone at Walmart.
Answer: If it's a Straight Talk variant you got, then it's not supposed to be updated. Your service provider doesn't support firmware upgrades and if you read the fine prints in the terms and conditions, it's mentioned there. Your only option is to have the phone rooted (bye bye warranty) and install a custom ROM.
Galaxy S6 doesn't charge or can't completely charge the battery, fast charging not working
Problem: My phone, Galaxy S6 is not charging. In 8 hours from 9% to 88% it got charged when it was on flight mode. It's not showing fast charging instead cable charging when I plugged in Samsung fast charger.
Suggestion: Try booting the phone in safe mode and see if it charges there and if so, it means some of your downloaded apps are draining the battery quicker than they're expected to. Sadly, we can't pinpoint the culprits since we don't know the apps you've installed. It would be wise to start your troubleshooting with apps you installed before the problem started. Or, you can just backup your data and do the master reset:
Turn off your Samsung Galaxy S6.
Press and hold the Volume Up, Home and Power keys together.
When the device powers on and displays 'Power on logo', release all keys and the Android icon will appear on the screen.
Wait until the Android Recovery Screen appears after about 30 seconds.
Using the Volume Down key, highlight the option, 'wipe data/factory reset' and press the Power key to select it.
Press the Vol Down button again until the option 'Yes — delete all user data' is highlighted and then press the Power key to select it.
After the reset is complete, highlight 'Reboot system now' and hit the Power key to restart the phone.
If, however, the phone still discharges the battery quicker in safe mode and refuses to fast charge, it's more likely a firmware issue and still master reset is necessary.
Galaxy S6 won't charge due to water damage
Problem: My phone has water damage and has been in a bowl of rice overnight. This morning I turned the phone on, it came on fine but went off as battery was dead now it won't charge. Please help.
Answer: When it comes to water damage, we really can't tell the extent of the problem. In your, it seems that the power IC was the one affected by it that's why it refuses to charge. But here's what I want you to do about it: press and hold the Volume Down and Power keys for 10 to 15 seconds. Even if the phone won't boot up, the screen should, at least, flicker. After that, you can plug it in to charge and it should. If it's not the case, then you really have to send it in for repair.
Fully-charged S6 turned off and won't turn back on
Problem: Phone was fully charged and turned off.  Unable to turn it on and no indication when plugged into charger. I want to retrieve  photos  in gallery. Help please.
Related Problem: Phone has been rebooted after it turned itself off and would not turn back on, now says it has zero battery and will not charge.
Answer: It's just a system crash, I think. Try pressing the Volume Down and Power keys together for 10 to 15 minutes, it should reboot. You may also follow the instructions I cited in this troubleshooting guide.
S6 ran out of battery but reached 42% after a few minutes of charging
Problem: My battery ran out while I was practicing my guitar with an app. I stuck my phone on a fast charger, waited until it was at 5%, and turned it back on. Upon turning my phone back on, I suddenly had 42% battery. It's not really a problem, but… what the heck just happened?
Answer: You may be have the fastest charger on the planet… but I think it's just an inaccurate battery reading. Try using the phone with 42% battery and see how long it'll last. Or, you may try to reboot the phone to see if the reading changes.
Another procedure you can do to rectify this is to delete the system cache:
Turn off the device.
Press and hold the following three buttons at the same time: Volume Up key, Home key, and Power key.
When the phone vibrates, release the Power key but continue to press and hold the Volume Up key and the Home key.
When the Android System Recovery screen appears, release the Volume Up and Home keys.
Press the Volume Down key to highlight 'wipe cache partition.'
Press the Power key to select.
When the wipe cache partition is complete, 'Reboot system now' is highlighted.
Press the Power key to restart the device.
Connect with us
We are always open to your problems, questions and suggestions, so feel free to contact us by filling up this form. This is a free service we offer and we won't charge you a penny for it. But please note that we receive hundreds of emails every day and it's impossible for us to respond to every single one of them. But rest assured we read every message we receive. For those whom we've helped, please spread the word by sharing our posts to your friends or by simply liking our Facebook and Google+ page or follow us on Twitter.