More often, when your #Samsung Galaxy S6 Edge (#GalaxyS6Edge) plays the notification sound, it's accompanied by an icon on the status bar, which gives the owner an idea what the notification was all about. However, we did receive a lot of emails from our readers lately complaining about their phones that keep playing the notification sound even if there are no messages.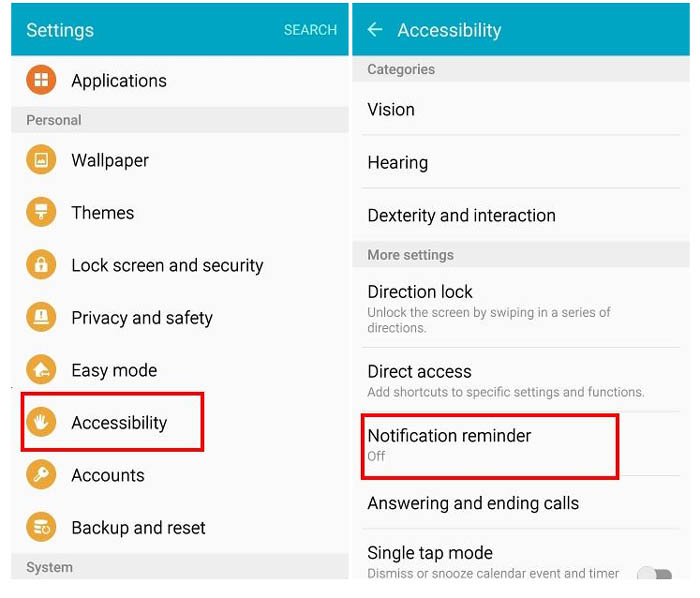 We did look into it thinking it might be yet another bug in the firmware or simply a glitch that needs to be addressed. It's not. The fact is, it's not even a serious issue as it was caused only by a feature that the owner may have enabled unknowingly. Read on to know to stop this very annoying issue. You may also go through the list of the problems I included in this article in case you have other sound issues with your S6 Edge.
If you have other issues and need further assistance, do not hesitate to contact us by filling up this questionnaire. We are always willing to help you but please do provide as much information as possible so it would be easier for us to help you. Don't forget to include details of the problem, when and how it started, and things like that.
You may also browse through our S6 Edge troubleshooting page. We already addressed a lot of problems with this phone so there's a chance we already provided solution to your problem before. Try finding issues that are similar to what you have and use the solutions we suggested.
---
S6 Edge keeps playing the notification sound even if there are no messages
Problem: Hi guys. I really hope you can help me with this very annoying problem of mine. First off, my phone is a Samsung Galaxy S6 Edge I bought last month. After a few weeks, there were about 3 firmware updates that I had to download. Now my phone seems possessed as it sounds off out of the blue even if there are no messages. There are no icons on the top of the screen. The most annoying thing is it does this every 2 minutes I think. How can I stop this? Thanks to you all!
Related Problem: A couple of weeks ago I installed the 5.1.1 version for my s6 edge from telcel in Mexico since then I have been having trouble with the sound from notifications it doesn't stop when I see the notification and if it there's another one it keeps sounding with two different songs because I have different music for my notifications and it stops only when I open settings I have it in vibration right now thanks a lot for your help.
Related Problem: My Samsung is really annoying! It makes a sound, I don't know what sound but a sound from one function or some thing. The power button have been sticky for a while but got worse today. I don't know if these problems have anything in common but maybe you guys do. The sound do also stop my music from playing.
Solution: This is Samsung's way of making sure you're not forgetting any unread notifications from apps you installed. While incoming messages and calls are characterized by their respective notification sound or ringtone, they are often accompanied by icons that will appear on the status bar.
However, if the notification sound played because of an app, it's simply a reminder that there's a notification you need to read. The sound will be played depending on the frequency the notification reminder was set. Sometimes, it is also accompanied by a vibration. If it's more of an annoyance than help to you, then you have two options:
Disable Notification Reminder
If you can't remember turning this feature on, then there's no point in keeping it as is. You can easily disable it under Accessibility settings:
Tap the apps icon and look for Settings.
Tap the Settings icon.
Scroll down to find Accessibility (it's under Personal section) and tap on it.
Tap Notification reminder to open its settings page.
Tap the toggle switch from On to Off to disable it.
After doing this, you won't be able to hear those annoying notifications sounds again unless you receive messages and/or calls.
Turn off Notification reminder for specific apps
This is your second option and probably the best if you the one who enabled the feature in the first place. You can actually set which apps are allowed to notify you and which ones need to be silent. Following the same steps as above, there's a section under Notification Reminder settings that says Select applications. It's in that section that you can turn off the feature for the apps you don't want to bug you. Just toggle the switch beside the app from On to Off and you're set.
Lastly, if you don't want to disable the feature completely, you may set the Reminder interval to 1, 3 or 5 minutes instead of 15 or 30 seconds.
I hope this helps.
S6 Edge doesn't play notification sound for text messages
Problem: I've had my phone for over a month with no issue. Out of nowhere my phone decided to stop notifying me of any texts. No sound at all, even with all sounds on. I've looked up everything to fix it and nothing is working. I can hear the ring tone for calls and the speakers work perfectly fine. Can't figure out how to get the text sound notification back.
Troubleshooting: Have tried using a custom notification sound for text messages? If so, try reverting to the default ones and if it works when you receive messages, then the problem was with the custom sound.
Moreover, make sure the volume of the notification is set to audible level: go to Settings > Applications > Messages > Notifications > Notification Sound > press the Volume Up button.
Also, make sure the notification itself is enabled. Go to Apps > Settings > Notification settings > enable Notifications.
Custom message tone doesn't work on Galaxy S6 Edge
Problem: I have changed a few contacts to have a specific message tone but doesn't work, they all come up as the default tone. Just wondering what to do to get this to work.
Troubleshooting: More often, the reason why the phone couldn't play the custom ringtone is because it couldn't find it. I'm not really sure if you are using a custom ringtone or the default ones. If it were the latter, then I suggest you do the factory reset, otherwise, the problem might be with the file format of the ringtones you want to use.
Music plays through speaker instead of headphones when notification sounds off
Problem: When I'm listening to music through my headphones, my music continues to play through my speaker instead of my headphones during the brief moment of a notification sound. No issue when my phone is on vibrate. But I feel like my music should stay in my headphones while my notification plays through the phone speaker.
Answer: You're not the only one having this problem and it's actually a bug. There's nothing we can do about it since the problem is with the firmware. Let's just hope that a minor bug like this will be addressed by Samsung in the upcoming updates.
Strange sound occurs when headset is connected to S6 Edge
Problem: Using the Samsung original earpiece, whenever I connect my the earpiece to my handphone (s6 edge-5.1.1) there is always a sound that seems to be "reconnecting" and my music momentarily stops and creates a sound. I could not record the sound as it only happens when the earpiece is connected. Also, it happens once in a while, so I couldn't check if it was the earpiece problem. As far as I'm concerned, it only happened recently. Please help me. Thanks!
Troubleshooting: Try booting your phone in safe mode, connect the headset and play music. Try to see if the sound still plays when all third-party apps are disabled. If so, then I suggest you backup your data and do the master reset as it might be a firmware problem. Otherwise, you just need to find the app that might be causing it. If you don't have a clue which one, then the reset is the most effective solution to this kind of problem.
Connect with us
We are always open to your problems, questions and suggestions, so feel free to contact us by filling up this form. This is a free service we offer and we won't charge you a penny for it. But please note that we receive hundreds of emails every day and it's impossible for us to respond to every single one of them. But rest assured we read every message we receive. For those whom we've helped, please spread the word by sharing our posts to your friends or by simply liking our Facebook and Google+ page or follow us on Twitter.