You don't have to connect your phone to a computer all the time but there are times when you really have to move large files to your machine to free up some space in your phone and that's when you find it necessary for your phone to be able to connect to it. Some of the owners of the Samsung Galaxy S6 Edge+ have been complaining since their phones can no longer connect to their computers.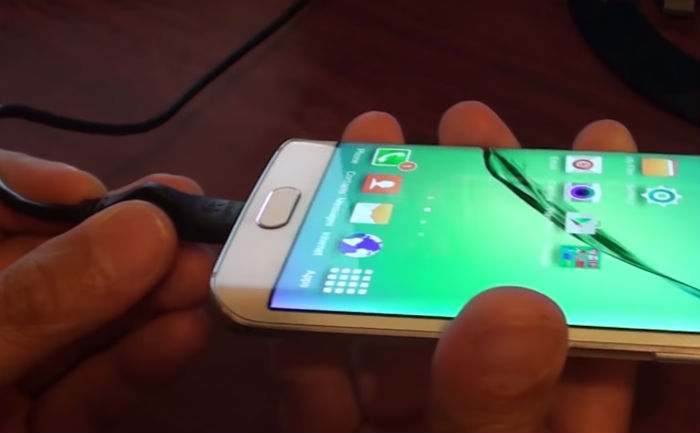 I will walk you through in troubleshooting your Galaxy S6 Edge+ to see if we can make it connect to your computer without any problems. We will try to determine every possibility and rule them out one by one until we can pinpoint what the problem really is, what causes it and what need to be done to fix it. If you're one of the owners of this phone that's having this same problem, then continue reading below as this post may be able to help you.
Before anything else, make sure you drop by our S6 Edge+ troubleshooting page as we have already addressed or answered a lot of problems that were reported to us by our readers who own this phone. Try to find problems that are similar to yours and use the solutions we suggested. Should you need more help, contact us by filling up our Android problems questionnaire.
How to troubleshoot your Galaxy S6 Edge+ that can't connect to PC
Problem: I have a Galaxy S6 Edge+ and it's been with me for over a year now. Ever since I got it, I never encounter any issues with it but recently I noticed that it became really slow and I wanted to reset it. However, I have a lot of files in it so I wanted to make a backup and when I tried connecting it to my computer, it doesn't get connected nor detected. Can you help me with it, please?
Troubleshooting: There are a few things we can try to make your phone connect to your computer so if this is really the problem with your S6 Edge+, go through the steps below…
Step 1: Try charging your phone
We are not trying to replenish the battery of your phone if it's still almost full. Instead, we're trying to find out if it's still capable of doing so because if it charges fine, then you can rest assured that the problem isn't with the cable nor the charging port and we might be able to fix it without any help from a tech.
If, however, the phone isn't charging, you better solve the charging issue first prior to solving the other issue.
Step 2: Make sure your phone has the proper USB settings
Pull down your notification bar and see if you have the USB options icon and if you can see one, then at this point the problem is already solved. You just have to touch the USB options icon and select Media Device (MTP). If it's the first time you're connecting the phone to the computer, the latter may still take a few minutes to install necessary drivers. However, if you don't have the USB options icon, try these things:
Unplug the USB cable from your Galaxy S7

Power off your phone

Wait 20 seconds

Power it back on

Plug the USB cable back into your phone

Check to see if the USB options icon appears
Step 3: Make sure necessary drivers are installed on your computer
You can actually download the drivers for your phone from Samsung website but since you're trying to connect your phone to a computer to transfer data, I suggest you install Smart Switch. It's an official Samsung application to bridge your phone and your computer and it comes packed with all necessary USB drivers for all Samsung devices including your S6 Edge Plus.
You may need to reboot your computer after installing the program so that changes will take effect. I suggest that prior to the reboot, you disconnect your phone from it. Once the computer becomes active, plug the cable to the USB port and let it detect and recognize the phone. If successful, you can then transfer the files you want to transfer.
Step 4: Reset your phone to bring it back to its default factory settings
After doing the steps above and the problem still persists (especially if the phone charges), then it's time to reset your phone as it might be an issue with the firmware that affects the phone's capability to connect to a PC. But before the reset, make sure you backup all your files and data as they will be deleted. Then, disable the factory reset protection so you won't be locked out of your device after the reset
How to disable the Factory Reset Protection on your Galaxy S6 Edge+
From the Home screen, tap Apps.

Tap Settings.

Tap Accounts.

Tap Google.

Tap the Google ID email address. Repeat for each Google email address.

Tap MORE.

Tap Remove account.

Tap REMOVE ACCOUNT to confirm.
How to perform the Master Reset on your Galaxy S6 Edge+
Turn off your Samsung Galaxy S6 Edge+.

Press and then hold the Home and Volume UP keys, then press and hold the Power key.

When the Samsung Galaxy S6 Edge+ shows on the screen, release the Power key but continue holding the Home and Volume Up keys.

When the Android logo shows, you may release both keys and leave the phone be for about 30 to 60 seconds.

Using the Volume Down key, navigate through the options and highlight 'wipe data / factory reset.'

Once highlighted, you may press the Power key to select it.

Now highlight the option 'Yes — delete all user data' using the Volume Down key and press the Power button to select it.

Wait until your phone is finished doing the Master Reset. Once completed, highlight 'Reboot system now' and press the Power key.

The phone will now reboot longer than usual.
If the problem still persists after the reset, it's time to bring your phone to a shop to have it checked by a technician.
Connect with us
We are always open to your problems, questions and suggestions, so feel free to contact us by filling up this form. This is a free service we offer and we won't charge you a penny for it. But please note that we receive hundreds of emails every day and it's impossible for us to respond to every single one of them. But rest assured we read every message we receive. For those whom we've helped, please spread the word by sharing our posts to your friends or by simply liking our Facebook and Google+ page or follow us on Twitter.