The "Unfortunately, Settings has stopped" error is not exclusive to Samsung Galaxy S4. In fact, it can happen to any Android phone in the market as it involves the service that handles all settings (default or user-specified) in a phone. The thing about this error is that it can be caused by a third-party app, pre-installed app, firmware glitch, or a hardware that won't function.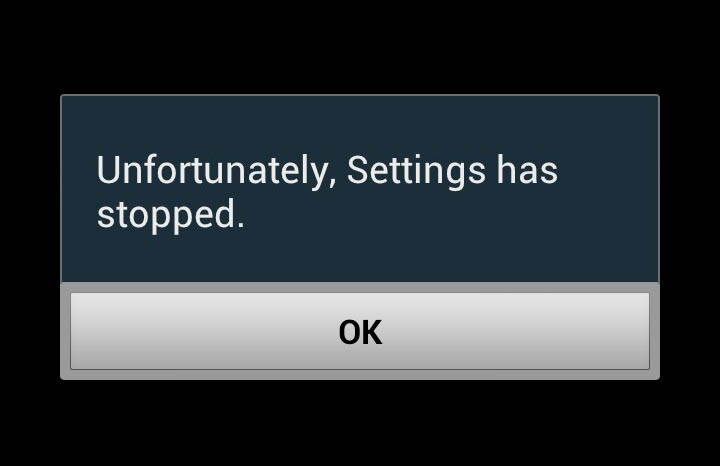 That said, you may encounter this error message after you installed a third-party app, updated a built-in app, updated the firmware to latest version or dropped your phone on the floor. In other words, you wouldn't know when this problem happens or how it would occur. But one thing is for sure though, when it pops up, there are some serious issues with your phone.
In this post, I will walk you through troubleshooting your phone in case this error happens to you. The purpose of this troubleshooting is to know what triggered the error. Once you know the cause, you can do necessary procedures to try to fix the problem. However, there's no guarantee you can fix it on your own. It may be necessary to have a technician check your device especially if the problem involves a hardware that's not functioning like it should.
If, however, you have other issues with your phone, visit our Galaxy S4 Troubleshooting page as we've listed hundreds of problems we already addressed. Try the solutions we gave and if they didn't work for you, email us at [email protected] and we will help find fixes to your problems. There's one thing we ask though to help us figure out what your problem really is–information. The more information you provide about the problem, the more accurate our solutions are.
Settings crashed after installing apps on Galaxy S4
Problem: Hi guys. I have an issue with my relatively old Galaxy S4. I did install some apps yesterday and I thought everything was fine. While I installed them yesterday, I only got time to test them today but when I opened two apps, there was this error message that popped up; "Unfortunately, Settings has stopped." There are also times when I'm not using any app and this error will show up on the screen. It's not just annoying, it also interrupts with what I'm doing because my phone will hang after that. Can you help me figure out a solution for this problem, please? — Angelina
Troubleshooting: Hi Angelina. If you're certain that the error message started to pop up after you installed those apps, then it could be that one or two of them is causing the problem. There's one way to find out if it's the third-party apps that's causing it–boot your phone in safe mode.
Turn the device off completely.
Press and hold the Power button.
Once the Samsung Galaxy S4 logo appears on the screen, release the Power button.
As soon as you release the Power button, press and hold the Volume Down key.
Continue holding the Volume Down key until the phone has completed the reboot process.
If you can read 'Safe Mode' at the bottom left corner of the screen, release the Volume Down key. Otherwise, repeat the process until you can boot the phone to Safe Mode.
Once the phone is in safe mode, all third-party apps will be temporarily disabled including those you recently installed. If one of them is causing the problem, the error message should not pop up in this state and if such is the case, uninstall the most recent apps you installed and try reinstalling one after another while being observant to know which one causes the Settings service to crash. However, if the error pops up in safe mode, there's no other option but to backup your data (if possible) and reset your phone.
Settings stopped downloading Play Store updates
Problem: I was recently notified that there was an available update for some of my apps including the Play Store. I let the phone automatically download and installed the updates but after everything was updated, an error message showed up, "Unfortunately, Settings has stopped." Not really sure what the cause was or which app is causing the problem but I'm sure the error started after the update. Can you help me out in fixing this problem or getting rid of the error message please?
Troubleshooting: It could have been easier if you included the name of apps you updated prior to this problem but I understand if you can't provide it now because it's difficult to trace which app was updated on that specific date. But based on reports of users who have also encountered this error in the past, it's more often the Play Store updates that cause this issue. That said, it is logical enough to clear those updates off the app and see what happens.
From any Home screen, tap the Menu key.
Tap Settings.
Tap the More tab.
Tap Application manager.
Swipe left or right to go to the All tab.
Scroll to and tap Google Play Store.
Tap Uninstall updates.
If the problem remained after you did that, then there's no other option but to reset your phone.
Settings stopped for no apparent reason at all
Problem: Hi. For some reason, my Galaxy S4 is showing an error message that says Settings has stopped and I really can't do anything about it. When it pops up I can't use my phone because it hangs for a few seconds and then lags. There were even times when the phone automatically reboots after the error popped up. I hope you can help me because I don't know what to do right now. Thanks. — Weng
Troubleshooting: Hello. It's difficult to troubleshoot a problem when there's not enough information available. But as far as troubleshooting is concerned, let's take a safer route in isolating the problem. The first thing you need to do is boot your phone in safe mode and see if the error still pops up in that mode. If so, then it's the firmware that might have an issue. However, if the error message disappeared in safe mode, one of your apps may have gone haywire and created a conflict in the system. Finding the actual app may take time but disabling apps starting from the most recent installation is the only way to know the culprit without going through the hassles of backing up your data.
But you should know that master reset often fixes issues like this either its triggered by just an app or it's a problem with the firmware itself. It's up to you to choose which procedure to take.
Switch your phone off.
Hold down the Power, Volume Up and Home buttons at the same time for about 10 seconds. Release them when the Android logo appears on the screen. This will bring up the unlock/reset menu.
To navigate through this menu, use the volume up/down buttons to scroll up and down and the power button to confirm selections.
Scroll down and select Wipe Data/Factory Reset.
Scroll down and select Yes – Delete All User Data.
When prompted, scroll to and select Reboot System Now. The phone will then reboot to its factory settings.
Settings crashed after a firmware update on Galaxy S4
Problem: There was an update recently, I think it was lollipop. After I downloaded it and rebooted my phone, an error keeps popping up that I can't do anything. It says, "Unfortunately, Settings has stopped." I curious to know what this error message means and why it keeps popping up. Frankly, it's very annoying and if I'd known this will happen after the update, I never should have downloaded it in the first place. If you guys know how to fix this problem, please help me. Thanks.
Troubleshooting: It probably just because some data got corrupted during the update process. The Settings service's data are all saved inside the data partition so if it started to happen after a firmware update, then only solution I can think of is a master reset. However, it is always recommended you wipe the cache partition first before doing the reset. So, follow these steps first:
Turn off the device.
Press and hold the following three buttons at the same time: Volume Up key, Home key, Power key
When the phone vibrates, let go of the Power key but continue to press and hold the Volume Up key and the Home key.
When the Android System Recovery screen appears, release the Volume Up and Home keys.
Press the Volume Down key to highlight 'wipe cache partition.'
Press the Power key to select. The phone will automatically restart after the cache is wiped.
After this procedure and the problem remained, perform master reset but don't forget to backup all your important data first.
Connect with us
We are always open to your problems, questions and suggestions, so feel free to send them at [email protected] We support every Android device available and we are serious in what we do. This is a free service we offer and we won't charge you a penny for it. But please note that we receive hundreds of emails every day and it's impossible for us to respond to every single one of them. But rest assured we read every message we receive. For those whom we've helped, please spread the word by sharing our posts to your friends or by simply liking our Facebook and Google+ page or follow us on Twitter.