If the firmware starts to act up on your phone, you'll be experiencing a lot of trouble and that's exactly why we received a lot of complaints from our readers who own #Samsung Galaxy Note 4 (#Note4) units. Issues like this, however, are considered "minor" than hardware problems because there's still a chance they can be fixed by proper troubleshooting.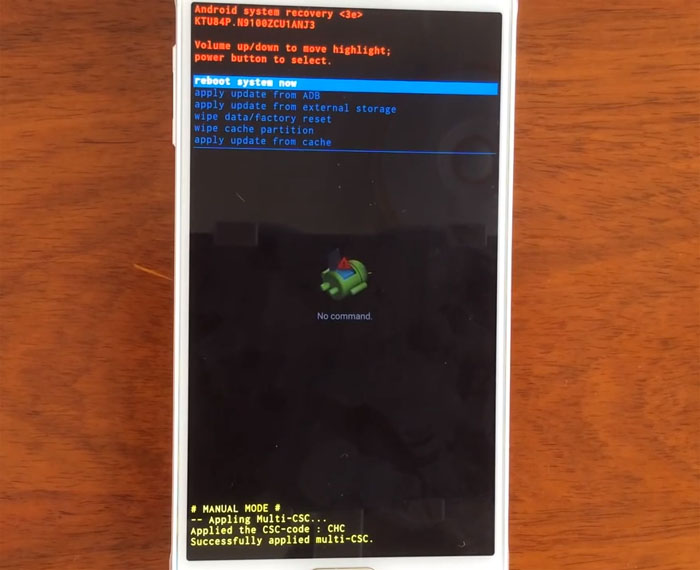 Step 1: If you're one of the owners who are currently dealing with a firmware issue with your Note 4, try to check these troubleshooting tips:
Step 2:If the phone can't boot up successfully after an update, then it's probably the old system caches that cause the problem. Delete them and the device will work fine again. You can do so by booting the phone in recovery mode and choosing 'wipe cache partition'.
Step 3:In cases wherein the phone freezes and becomes unresponsive without apparent reason, it's a sign that the system crashed. To deal with it, remove the battery, place it back in and try to boot your phone up again.
Step 4:For issues that leave the phone unresponsive after installing some apps, all you need to do is boot it in safe mode and either disable or uninstall apps you recently installed.
Step 5:For unexplained firmware issues, all you have to do is master reset. However, try to back up your data and files first as they'll be deleted.
I hope these tips can help you.
For owners out there who have other issues, visit our troubleshooting page where we list down every problem we address each week. Find issues that are similar to yours and use the solutions we provided. If they don't work or if you need further assistance, fill up this form and hit submit to contact us directly. But please makes sure to include all relevant information about your problem.
---
Note 4 keeps rebooting on its own, sometimes enters recovery mode
Problem: Phone reboots on its own. Sometimes does not turn back on. Seen error with green icon of not normal reboot. Done 3 factory resets without adding apps. Still reboots or shuts down. Phone works great without SIM card. All updates have been done. Started giving me problems on 2/4. Was using pen a lot at the time. Changed SIM card. Didn't work. Battery is old, but that's about the only thing I haven't changed. No evidence battery is problem. About to give up I guess, and just use it like a tablet. AT&T people have no answers.
Troubleshooting: I don't think the SIM card has something to do with this problem. So, here's what I think you should do:
Remove the battery and place it back again. If the phone turns on by itself without you pressing the Power key, then the problem is with that Power key–it's stuck. Pressing it multiple times may fix it but if not, then have someone to check it out for you.
Try wiping the system cache by booting into recovery mode and choosing 'wipe cache partition' option. For minor firmware glitches, this procedure is very effective.
Lastly, if both procedures failed, then try the master reset through the recovery mode and if it fails either, it's time you have someone check it for you.
How to do master reset on Note 4
Turn off the Galaxy Note 4 completely.
Press and hold the Volume Up and the Home keys together, then press and hold the Power key.
When the Note 4 vibrates, release both the Home and Power keys but continue holding the Volume Up key.
When the Android System Recovery shows on the screen, release the Vol Up key.
Using the Volume Down key, highlight 'wipe data / factory reset' and press the Power key to select it.
Now highlight 'Yes — delete all user data' using the Vol Down key and press the Power key to begin the reset.
When the master reset is complete, highlight 'Reboot system now' and hit the Power key.
The Note 4 will restart but it will be longer than usual. When it reaches the Home screen, then begin your setup.
Note 4 can't update as it says the firmware is up-to-date
Problem: I have tried to update my used Note 4 but when I search for updates in the settings it says that my phone is up to date. I know that is not the case since a friend of mine had the exact same model of phone and has a newer version. I still have an older Android version and I do not know if I can't update the phone because it is used or if it has something to do with my mobile company.
Related Problem: I have a Verizon Samsung Galaxy Note 4 running 5.0.1, but I switched to AT&T because my company switched carriers. I am wondering if there is a way to upgrade my phone to 5.1.1. Verizon says it's available, and I thought maybe I could upgrade using the upgrade manager (obviously OTA is not an option), but the upgrade manager says that my OS is up-to-date. Any suggestions? I put a custom ROM on my old S4, but it don't see any easy path for doing so on the Verizon Note 4, but maybe I'm missing something.
Related Problem: I got this phone a year ago from Rent A Center and was told it would soon receive the OTA Lollipop update. I have checked the software update search section of my settings many times but still have no update available. I have never manually flashed an update and am scared to try asking I am still paying off this phone. It is an N910T, and I add minutes monthly through Net10. The notification panel says that I my carrier is AT&T. Any help with this issue would be wonderful, and thank you so much for your time.
Suggestion: You actually have a few options to try to update your phone:
Use Samsung Smart Switch to pull down the update. Just install it to your computer, connect your phone via USB, and run the program. If there's an available update for your phone, you will right up as you'll see the button with "Update" on it.
Flash the stock firmware to your phone using Odin. Just download the firmware and Odin to your computer, run Odin, connect your phone and you can go from there. While there's a risk in doing this, it's actually the shortest route to updating your phone without depending on your provider.
Root your phone and install custom ROM based on that latest firmware. If you want something different, this is your best bet, however, there are also risks involved.
If you don't want to use any of these, then I suggest you call your provider and inquire about the update.
Note 4 software update fails, device downloads the firmware completely but can't install it
Problem: The past couple updates of my phones operating system have been unable to install after downloading. Through the install process the AT&T logo will come up with a percentage bar and it will get to 1% and then I will see the Android logo and it says error and then the phone restarts and a message comes up that says installation failed.
Related Problem: I have tried to update the Android operating system on my phone a number of times. Each time I try it says update failed. I have even formatted the phone and done a factory reset.
Solution: There's a very easy solution to that–use Samsung Smart Switch. All you need is a computer and then download the Smart Switch from Samsung website. Once you've successfully installed the program, connect your device to your computer. You should be able to see the "Update" button once the computer has detected your phone and the Smart Switch has recognized it. Just hit that button and let the program do its thing. That's it!
In case access to a computer is not possible, here's what you need to do:
Go to the Application Manager, find Download Manager and clear its cache and data.
Connect to a reliable Wi-Fi network and try downloading again. It should work this time.
Another option you have is to manually install the recent firmware directly on your device using Odin. You need to manually download the firmware and use the program to flash it to your device.
Note 4 keeps turning on and off after installing a puzzle game
Problem: Hi. my Note 4 it's in a kind of freezing. After installing  a puzzle game  it's just go off and from that time it keeps going on and off by itself at a 10-second interval. When it's coming on it shows just the black page with the Samsung Note 4 logo and it's making 2 vibration. I have removed the memory card and  tray a hard factory reset but after showing the blue recovery booting on the top left of the screen it's just going off and on again. Any other option? Thanks.
Solution: Try pressing the Power key many times because it's stuck. That's the reason why the phone turns on and off on its own. Even if you remove the battery and place it back in, the device will turn on without you touching the Power key. If you can't fix this problem by pressing the Power key multiple times, there's a chance the switch has been damaged. So, let the technician take care of it for you. If it was just a stuck button, it can easily be fixed otherwise, it needs to be replaced.
Note 4 doesn't recognize the SIM user puts in it
Problem: I know that the Galaxy Note 4 from Verizon is supposed to be unlocked so that it can work on other carriers I recently purchased one and every SIM card that I place in my phone says that the device doesn't recognize the SIM card and I'm currently trying to switch the service over to metro pcs and I'm lost I don't know what to do please help.
Answer: Does the phone says no SIM detected or it simply doesn't get any service? If it says that SIM card not detected, try checking the position of the SIM card when you placed it in. If you're absolutely sure you placed it corrected and this issues still occurs, then it's possible the SIM card tray has issues. You need a tech to take a look at it. For all other SIM issues, please call the provider.
Note 4 frozen after Android 5.1.1 lollipop update
Problem: After I updated to Lollipop 5.1.1 it either frozen, keep restart. I do both soft and hard reset still won't work.  When I do hard reset holding the up V key, P key and H key, and it bring to little Android guy up and it try to installing software update then it said unresponsive then bring me to the page I scroll down to wipe out and reset. Still the same issue after do hard or soft reset.
Answer: I'm actually curious to know if the master reset was a success because if not, the first thing you should do is wipe the cache partition. For updates that led to random reboots and other issues, deleting the caches of the previous system often works. Having to do the master reset is the last option. However, if that too failed, you can still install the firmware manually by using the Odin tool. If you're not confident in doing that yourself, then you can always seek help from a technician.
Note 4 shows up several pop up ads, Facebook & messaging app freezes
Problem: Hey guys, everyday my phone will have at least 4 popups which disturb my phone activity, sometimes they will be "you've won this" or others will be ads for mail order brides. I don't know how this would have started, but it's very frustrating! Also, Facebook and my messages apps seem to have to "load" before they become functional, so there is like a 30 second freeze, or are just very slow initially! First world problems right? Any help would be great! — Jake
Troubleshooting: I don't know the apps you installed on your phone but I'm certain that those pop up ads are embedded in one of the apps. About the apps that freezes, I think it's not just an app issue but a general performance issue. So, here's what I think you should do:
For pop ups, try to go to the Battery usage screen and list down all the apps running by the time those ads pop up. One of them is the culprit. You need to determine which one and uninstall it. I understand it would be difficult as you may have a lot of apps but don't include the pre-installed or native apps.
As to the Facebook and messaging apps freezing, try clearing their caches and data to see if that would make a difference. If not, then it's time you did the master reset. Of course, you have to backup all your data as they'll be deleted.
Connect with us
We are always open to your problems, questions and suggestions, so feel free to contact us by filling up this form. This is a free service we offer and we won't charge you a penny for it. But please note that we receive hundreds of emails every day and it's impossible for us to respond to every single one of them. But rest assured we read every message we receive. For those whom we've helped, please spread the word by sharing our posts to your friends or by simply liking our Facebook and Google+ page or follow us on Twitter.