The Samsung Galaxy A7 is probably one of the best mid-range devices available in the market today as Samsung beefed it up with really impressive specs and features. However, just like any other smartphones, it's not free from problems and errors and since this model already existed since 2015 (with new editions released each year), we have already received quite a lot of complaints from users who encountered problems while using it. Among the issues we received are power-related problems like not charging and not turning on.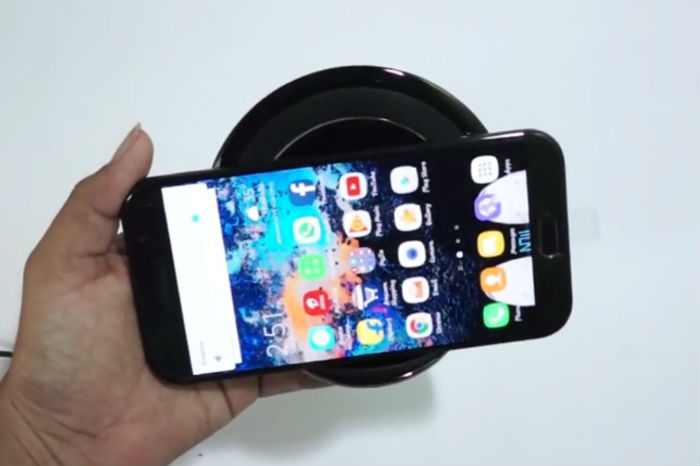 In this post, I will deal with the not charging problem of the Galaxy A7 since charging is one of the most important processes that need to work no matter what. This phone has a monster battery (3600 mAh) and it could last for a few days if used for texting, calling and browsing. But such hardware will be rendered useless if the device won't charge. So, let's try to take a closer look into this problem to know if there's something we can do about it.
We will try to take into consideration the possibilities and rule out each of them until we arrive at a point wherein it would be a lot easier for us to determine what the cause of the problem is. If you own a phone like this and are currently bugged by a similar problem, then continue reading below as this post may be able to help you.
But before we actually jump to our troubleshooting, if you have other issues with your device, then try to visit our Galaxy A7 troubleshooting page for we have already addressed the most commonly reported issues with this device. Try to find issues that are similar with yours and use the solutions and workarounds we suggested. If they don't work for you or if you need more help, then feel free to contact us by filling up our Android issues questionnaire. Just give us the information we need and we'll help you solve your problem.
How to troubleshoot your Galaxy A7 that no longer charges
Charging problems are often complicated as it may be due to an issue in the hardware or perhaps, the firmware is having some problems as well. The most challenging part is to determine which is which and that's what this post is all about. Before we proceed with the steps, try to read one of the problems that best describes this issue…
Problem: Hello droid guy. I have a Galaxy A7 smartphone I bought in March this year. I didn't have any issues since then but recently my phone just stopped charging and I don't have a clue why it's doing this. As of now, I only have 8% battery so I may not have that much time before the phone turns off due to lack of power. If you guys can help me with this, please do as I have a lot of things stored in my phone. I would surely appreciate your effort. Thanks.
Troubleshooting: At this point, your best bet is to bring the phone to the store and let the tech take a look at it. That's what users should do especially that your phone still has a warranty. But of course, for those who need to travel for a few hours just to reach the nearest shop, we do recommend some basic troubleshooting below to see if you can fix the problem on your own without having to spend a few hours on the road and to save you from a lot of trouble explaining to the next what the problem with your phone is. Try to go through the steps and see if one of them fixes the problem.
Step 1: Reboot your phone in Safe mode and charge
Before we actually do something, I just want to know if this problem is caused by one of the apps you installed or downloaded. We've seen a lot of issues that led to this problem that were caused by some apps. It is imperative you do this step first because if this is the case with your phone, then you can fix the problem easily.
Now, this is how you run your Galaxy A7 in Safe mode…
Turn the device off.

Press and hold the Power key past the model name screen.

When "SAMSUNG" appears on the screen, release the Power key.

Immediately after releasing the Power key, press and hold the Volume down key.

Continue to hold the Volume down key until the device finishes restarting.

Safe mode will display in the bottom left corner of the screen.

Release the Volume down key when you see Safe Mode.
While your device is in this state, try to connect it to the charger that's plugged into the wall outlet that you know works. If it does charge in this mode, then our suspicion that one or some of the third-party apps is causing the problem. You then need to find that app, clear its cache and data or uninstall it. I don't know what the apps you recently installed were but you should start from there. You may need to do uninstall more than one app to fix this issue.
How to clear app cache and data on Galaxy A7
From the Home screen, tap the Apps tray.

Tap Settings > Apps.

Tap the desired application in the default list or tap 3 dots icon > Show system apps to display pre-installed apps.

Tap Storage.

Tap Clear data and then tap OK.

Tap Clear cache.
How to uninstall apps from the Galaxy A7
From the Home screen, tap the Apps tray.

Tap Settings > Apps.

Tap the desired application in the default list or tap 3 dots icon > Show system apps to display pre-installed apps.

Tap the desired application.

Tap Uninstall.

Tap Uninstall again to confirm.
By the way, if your phone charges fine in safe mode, I suggest you let it fully-charge first before doing any troubleshooting procedures just to make sure you won't run out of battery.
Step 2: Turn your phone off and try to charge it
You need to do this if your phone still won't charge even in safe mode. This won't fix the issue but will give you an idea as early as now if the problem is with the hardware. It's also one way of replenishing the battery faster as there would be no interference from the firmware and apps that run when the phone is turned on.
The if the problem is only with the firmware, then the phone should be able to charge properly if it's turned off. If the phone charges while powered down, then allow it to charge its battery before continuing your troubleshooting.
Assuming you've already fully-charged your phone, keep it plugged in and then turn it on to see if it continues to trickle charge. If the charging stops, then at this point you need to reset your phone because clearly the charging stopped when the firmware started running. But before the reset, you need to backup your files and data as they will be deleted and then follow these steps:
Back up data on the internal memory. If you have signed into a Google account on the device, you have activated Anti-theft and will need your Google credentials to finish the Master reset.

From the Home screen, tap the Apps tray.

Tap Settings > Cloud and accounts.

Tap Backup and restore.

If desired, tap Back up my data to move the slider to ON or OFF.

If desired, tap Restore to move the slider to ON or OFF.

Tap the back button to the Settings menu and tap General Management > Reset > Factory data reset.

Tap Reset.

If you have screen lock turned on, enter your credentials.

Tap Continue.

Tap Delete all.
However, if your phone still refuses to charge even if it's powered down, move on the next step.
Step 3: Connect your phone to a computer to see if it gets detected
This step is actually hitting two birds with one stone as you could determine if the problem is with the charger or the cable. All you need is a desktop computer or a laptop.
Computers produce not more than 1 Ampere of electric current while your phone's charger usually produces at least 2 Amps for normal charging but 1 Amp of current would be enough to make your phone responds to it. So, if it does recognize it's being attached to a computer and shows the charging icon, then the problem is with your charger because clearly, your phone still charges.
However, if it doesn't get detected by your computer and it doesn't show the charging icon, then there's a possibility that the problem is with the cable. But before we actually make it as our conclusion, try to check both ends of the cable to see if there's some kind of lint, debris or any obstruction that may prevent proper contact between connectors. Also check your phone's charging port for the same reason. If you see something in the port, try to clean it out using a cotton swab or give it a blast of compressed air.
If the port shows no sign of obstruction, then move on to the next step.
Step 4: Reset your phone
If the problem started without apparent reason and that using new charger didn't help, then it's time to reset your phone. However, try to backup your important files and data if possible and after which, try these steps:
Turn off the device.

Press and hold the Volume Up key and the Home key, then press and hold the Power key.

When the Android logo displays, release all keys ('Installing system update' will show for about 30 – 60 seconds, then 'No command' before showing the Android system recovery menu options).

Press the Volume down key several times to highlight "wipe data / factory reset.

Press Power button to select.

Press the Volume down key until 'Yes — delete all user data' is highlighted.

Press Power button to select and start the master reset.

When the master reset is complete, "Reboot system now" is highlighted.

Press the Power key to restart the device.
After this and the phone is still not charging, bring it to the shop and let the tech handle the problem for you.
Connect with us
We are always open to your problems, questions and suggestions, so feel free to contact us by filling up this form. This is a free service we offer and we won't charge you a penny for it. But please note that we receive hundreds of emails every day and it's impossible for us to respond to every single one of them. But rest assured we read every message we receive. For those whom we've helped, please spread the word by sharing our posts to your friends or by simply liking our Facebook and Google+ page or follow us on Twitter.