Blurry camera is among the most common camera-related problems with the Samsung Galaxy S6 (#Samsung #GalaxyS6) and we did receive a lot of complaints about this specific issue. The thing is, it can be just a minor app or firmware problem which can be fixed by simply clearing the caches or it can be a major hardware issue.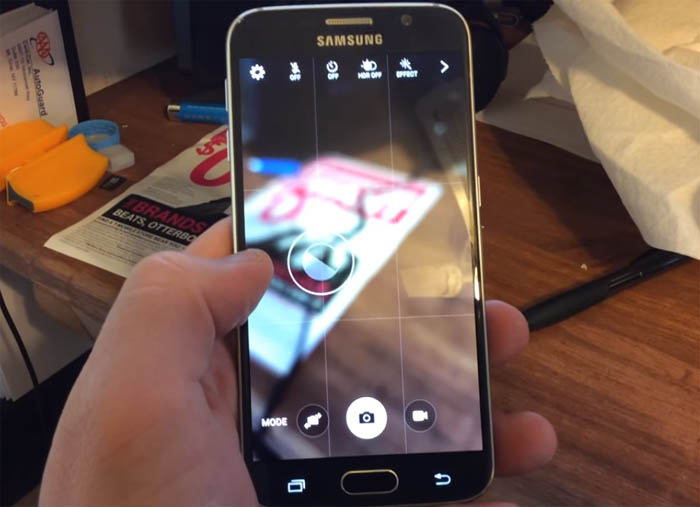 Read on to learn about these problems and how to tackle them in case you encounter one of them in the future. Click on the link below to go to a specific issue…
Before anything else, if you have other issues, visit our troubleshooting page for we've already addressed hundreds of Galaxy S6 problems before. Try to find issues that are related to yours and use the solutions we provide. You can also contact us directly by completing this form.
---
Camera is blurry, user has to snap several shots to correct the issue
Problem: My camera is blurry I have to take about 20 pictures before it comes in focus if then. it was working fine when I got the phone but for the last 3 months or so its been doing this. I have reset the defaults and nothing is helping. Same thing when I try to do videos. But when I change the mode to do selfies it works fine. Please help!
Answer: If you haven't removed the camera lens protective film yet, then please do. While it's clear enough not to interfere with the sensor's normal operation, it can incur some bubbles over time. If there's no film on the lens and if you're using a third-party camera app, then please try using the stock app and compare the performance. If the same thing happens, try booting the phone in safe mode:
Turn off your Galaxy S6.
Press and hold the Power key.
When 'Samsung Galaxy S6' appears, immediately release the Power key and then press and hold the Volume Down button.
Continue holding the Volume Down button until the phone finishes the restart.
When you see Safe Mode on the lower left corner of the screen, release the button.
If it's still blurry, then it's time you consult a technician about it.
Related Problem: I just read your article about how to fix a Samsung Galaxy S6 blurry camera focus problems and other camera related issues and my issue is the camera settings. I was glad to read that you addressed my problem which is that the camera settings quickly flashes when I try to access it. I did the recommended suggestions but I am still having the same problem. I was able to get it to stay for a little while but subsequent attempts have failed. I would appreciate any help you may have.
Galaxy S6 front camera returns "Warning: Camera Failed" error
Problem: So similar to some other posts you have done, my front camera doesn't work and i get the "Warning, Camera Failed" before the camera app shuts down. However, sometimes the front camera does work, and I am able to take a picture or two, but if I switch to check the photo then try go back to front camera, it crashes again.
Troubleshooting: If it occurred after an update, then it's more likely a firmware issue, although a hardware problem is also possible. To rule out the former, backup all your data and do the master reset:
Turn off your Samsung Galaxy S6.
Press and hold the Volume Up, Home and Power keys together.
When the device powers on and displays 'Power on logo', release all keys and the Android icon will appear on the screen.
Wait until the Android Recovery Screen appears after about 30 seconds.
Using the Volume Down key, highlight the option, 'wipe data/factory reset' and press the Power key to select it.
Press the Vol Down button again until the option 'Yes — delete all user data' is highlighted and then press the Power key to select it.
After the reset is complete, highlight 'Reboot system now' and hit the Power key to restart the phone.
Without installing apps, try using the front camera again to see if it still shows the same error and if so, then it's a hardware problem. You need to visit a technician for it.
Camera takes pictures but every other shot goes dark
Problem: Each time I take a picture the 1st 1 is ok. I take a second shot and it goes dark.. every other photo I take it goes dark and hard to see. I have reset settings, changed brightness, changed a few things in settings and nothing seemed to work?
Answer: Try using the stock camera app if you're using a third-party and see if the problem still persists. If so or if you've been using the stock app, then try clearing the cache and data:
From any Home screen, tap Apps.
Tap Settings.
Scroll to 'APPLICATIONS,' then tap Application manager.
Swipe right to the ALL screen.
Scroll to and tap Camera.
Tap Clear cache.
Tap Clear data, then OK.
If the problem remained after the procedure, then do the master reset.
Camera can't play video taken by the stock camera
Problem: When I select a video to play that I recorded, I get a black screen with "Can't play video."
Troubleshooting: If you can play videos using a video player, then the problem could be in the camera app or Gallery. Try clearing the caches and data of these two apps. If the problem remained, try wiping the cache partition (deleting system cache):
Turn off the device.
Press and hold the following three buttons at the same time: Volume Up key, Home key, and Power key.
When the phone vibrates, release the Power key but continue to press and hold the Volume Up key and the Home key.
When the Android System Recovery screen appears, release the Volume Up and Home keys.
Press the Volume Down key to highlight 'wipe cache partition.'
Press the Power key to select.
When the wipe cache partition is complete, 'Reboot system now' is highlighted.
Press the Power key to restart the device.
If this doesn't fix the problem, then you need to reset your phone.
Related Problem: Last night I was able to watch all of my recorded videos. Now none of them will play. I copied the video files to my laptop and they play fine there. They just won't play on the device now. Any Ideas? Thanks!
Phone died and was reset, now it can't send video texts
Problem: My phone just died, it wouldn't turn on. I took it to Verizon store and they reset it causing me to lose everything. Now I can't even send a video text. it says too long and the video looks like a bunch of compressed squares. Please help me. Thank you!
Answer: In fairness to Verizon rep, they did a good job in bringing your phone back to life. I think reset was their only choice to fix the problem. Now, about not being able to send videos as attachments to text, there's a limit as to how much data is allowed to be sent via mobile data. You should talk with Verizon rep to get some information. The problem you have is because the video is compressed.
Unable to delete blurry photos on Galaxy S6
Problem: Unable to delete blurry photos. When displaying blurry photo, it is displayed for about 5 seconds, during which time I cannot get menu with delete option to display. Then, camera switches to camera mode, out of the mode where past photos are displayed.
Answer: What you're seeing are thumbnails. Just clear the cache and data of the Gallery app and they should disappear:
From any Home screen, tap Apps.
Tap Settings.
Scroll to 'APPLICATIONS,' then tap Application manager.
Swipe right to the ALL screen.
Scroll to and tap Gallery.
Tap Clear cache.
Tap Clear data, then OK.
Connect with us
We are always open to your problems, questions and suggestions, so feel free to contact us by filling up this form. This is a free service we offer and we won't charge you a penny for it. But please note that we receive hundreds of emails every day and it's impossible for us to respond to every single one of them. But rest assured we read every message we receive. For those whom we've helped, please spread the word by sharing our posts to your friends or by simply liking our Facebook and Google+ page or follow us on Twitter.