Are you getting the annoying error code 6 and DIVER when playing COD Modern Warfare or Warzone? The complete error reads: "Download Failed. Download has failed. Do you wish to retry? Error code DIVER. If issues persist, please contact Activision support quoting the error code." In this article, we'll show you how to fix this error.
What does Code 6 in Call Of Duty Warzone mean?
Error code 6 in Call Of Duty Warzone is an indication that the game client is unable to download and install an update. It has been observed mostly among PC gamers of COD Warzone although there have been a few Xbox One and PS4 users experiencing the same issue as well.
Both errors, 6 and DIVER, seem to have the same trigger, which is a failed update so their set of possible solutions are the same. Some PS4 users have reportedly been getting Error Code 6 right after downloading an update successfully so it may also be a random bug.
Causes of COD Warzone error 6
Below are the possible reasons why you are getting error code 6 when playing COD Warzone.
Failed game or system software updates.
There's no clear guidance from Activision as to what may be the real reason for error code 6 and DIVER. After scouring the web and forums, we noticed that the common denominator of both errors have something to do with updates. Some people receive the error before the update is completed while others may get it after the newly installed updates.
Fault in PC or console network settings.
Error code 6 may also be caused by a fault within your computer's or console's network setup or settings. Some players said that switching from wifi to cellular data helped fix error code 6 on their PC.
Corrupted game files.
Damaged game files can lead to all sorts of problems including certain errors. You should consider deleting and reinstalling the game if the error keeps on showing up after you've successfully installed the latest updates, or tweaked your network settings.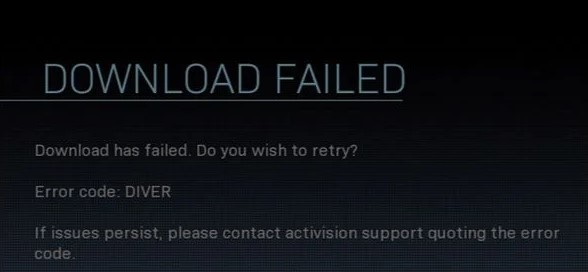 How to fix COD Warzone error code 6 (DIVER)
Error code 6 and DIVER have been observed in both Call Of Duty Modern Warfare and Warzone. To fix any of these errors, follow this set of solutions.
Fix #1: Check for server issues.
Although error code 6 is not primarily caused by any particular server trouble, you should consider checking for any on-going server issues if you experience this error during an update. Try to visit the official Activision support page to know if there's any current server outage or maintenance.
In case there's any issues with the servers, consider downloading the update later on and see if the COD Warzone error code returns.
Fix #2: Power cycle your router.
COD Warzone error code 6 may be caused by an unresponsive network equipment. Make sure that you turn off your modem or router, unplug it from the power source for 30 seconds, and plug everything back in.
Fix #3: Disable the Windows Firewall.
If you're playing Call Of Duty Modern Warfare and Warzone on PC, another possible solution that you can do is to turn off your Windows Firewall. Disabling the firewall may help especially if the game client is being blocked from connecting to the server.
Make sure to turn the Windows Firewall after this troubleshooting step.
Fix #4: Download the update via a hotspot or cellular data.
Some players who experienced COD Warzone error code reported to have fixed it on their end by switching to cellular data connection instead of the normal internet connection you are using. So, if you normally connect your PC, PS4, Xbox One, or any other console to your wifi, try to use a cellular data connection before downloading the game or system update again.
Fix #5: Delete and reinstall COD Warzone.
If none of the solutions above has helped, you should consider deleting and reinstalling the game.
Keep in mind that this is a drastic solution as it requires you to download the entire game and updates, which is well over a 100GB. 
OTHER INTERESTING ARTICLES:
Visit our TheDroidGuy Youtube Channel for more troubleshooting videos and tutorials.