A recent report indicated that ASUS' new phone, the ROG Phone 2, will feature an update display. A new report is now confirming that along with some information on other aspects of the smartphone. Firstly, it has now been officially confirmed via a social media post that the ROG Phone 2 will feature a 120Hz display. This is a significant bump from the 90Hz display that we saw with the predecessor.
The company's post on Weibo also showed the difference between a 90Hz display and a 120Hz display, illustrating why the ROG Phone 2 will be big news for the mobile industry. Although ASUS has sold its ROG products such as laptops at steep prices, the ROG Phone was quite moderate in terms of pricing. Something similar is hoped with the ROG Phone 2, although there's no word on when the handset is expected to break cover.
Another exciting bit of information coming out of this report is that the ROG Phone 2 will also feature the recently launched Qualcomm Snapdragon 855 Plus chipset on board, officially making it the most powerful smartphone out there. Since gaming is the main focus with the ROG Phone 2, the extra bit of speed and performance could surely help. However, we won't be surprised if the difference between a Snapdragon 855 and Snapdragon 855 Plus is purely statistical.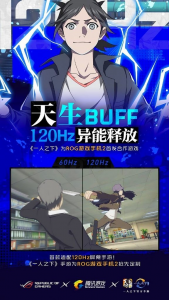 Will you pick up the ASUS ROG Phone 2 when and if it is sold in your region?
Source: ASUS
Via: Android Police