Apex Legends is a surprise battle-royale game and so far, it has millions of loyal fan following. While Apex Legends is generally stable across all platforms, some PS4 players are reporting that they are getting the "unable to connect to EA servers" error from time to time. 
In this troubleshooting guide, we'll show you how to fix this problem.
What happens when you get "Unable to connect to EA servers" error?
"Unable to connect to EA servers" error is a common error among all EA titles that indicates loss of connection to the gaming servers. For Apex Legends, this means that the game is unable to connect to a matchmaker, or it has lost an active connection to the server that hosts the current game.
"Unable to connect to EA servers" usually shows up when the game attempts to connect to a matchmaker but it's also been known to occur when Apex Legends game has been disconnected from the PlayStation Network, or from EA's gaming servers.
Causes of PS4 Apex Legends "unable to connect" error
The Apex Legends "Unable to connect" error can happen because of several reasons. If you're playing this game on the PS4, below are the possible reasons why the problem shows up:
EA servers are down.
EA game servers can sometimes fail due to outage, maintenance, or high traffic. If you were able to play Apex Legends without any problem on your PS4 before, it's possible that there's an active server issue going on at the moment.
PSN services have issues.
Sony's own PlayStation infrastructure may sometimes affect games. For example, if PSN is currently undergoing maintenance for servers that hosts its accounts, you may be unable to play online games such as Apex Legends since you will be needing your PSN account.
Unresponsive router.
If you leave your router running for several days or weeks, it may freeze or become unresponsive. If this occurs in the middle of your battle-royale match, Apex Legends will lost connection to the server.
Slow internet connection.
Make sure that the download and upload speeds in your PlayStation 4 are fast enough to maintain a solid connection to the game servers. If your home internet is slow or keeps disconnecting, this can be the reason for the Apex Legends "unable to connect" error message.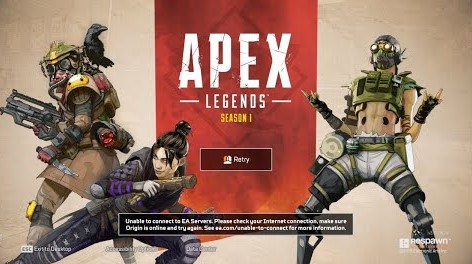 How to fix PS4 Apex Legends "Unable To Connect To EA Servers" error
Below are the solutions that you can try to fix Apex Legends "unable to connect" error on your PS4:
Fix #1: Restart the console.
Refreshing your PS4 may get rid of random or minor bugs. Make sure that you close the game first, then turn the PS4 off normally. Once you've done that, unplug it from the power source for 30 seconds to clear its system cache. Then, plug it back in to check for the problem.
Fix #2: Check the server status.
If the Apex Legends "unable to connect" error ist still there, the next fix that you can do is to see if there's any problem with the servers. There are a number of things that you can do.
First, you want to ensure that the PlayStation Network is up and running. To do that, visit the official PlayStation server status page.
If your console's network are fine, the next step is to check the official Apex Legends Twitter account as it offers first hand, real-time information about game concerns such as any current server issues.
You can also make use of third party server outage detectors like Downdetector.
Fix #3: Power cycle the router.
If the servers are clear and there's no known issues with the game servers at all in the news, it's time that you focus your troubleshooting in your own network. You can start by troubleshooting the router.
First, you want to ensure that you reboot the router. Just turn it off normally, unplug it from power for 30 seconds, then turn it back on.
You can also check if your router needs to update its firmware. If you have no idea how to do this, use the manual that came with it, or consult the router manufacturer. If your router was provided by your Internet Service Provider, get help from them on how to update the firmware.
Fix #4: Troubleshoot your home internet connection.
If you continue to experience the Apex Legends "unable to connect" error, you want to ensure that the issue is not coming from your internet connection being slow.
Run a speed test on your PS4 to know the download and upload speeds are. You must have at least 5 Mbps of both download and upload in order to maintain a good connection when gaming.
If the speed test result are all good, you also want to know if your connection is disconnecting at a regular interval or randomly. If you are on wifi, try to connect your PS4 directly to router with a LAN cable to see if that will fix the problem.
Troubleshooting an intermittent connection problem can be tricky as there are many factors that you must consider. Get help from your ISP if you think that your wifi or wired connection keeps disconnecting.
Fix #5: Use a different DNS.
Some Apex Legends players were able to fix this error by doing changing the DNS settings on their console. If none of the solutions above has helped so far, be sure to try this trick to see if it helps.
OTHER INTERESTING ARTICLES:
Visit our TheDroidGuy Youtube Channel for more troubleshooting videos and tutorials.