Is the YouTube TV app not working on your Vizio TV? There are several factors that can cause this problem such as a poor internet connection, server outage, YouTube TV app glitch, or even an error on your Vizio Smart TV. To fix ,this you will need to perform several troubleshooting steps.
Vizio is an American company first founded in 2002 and is based in California. The company offers several TV models that are competitively priced and have several good features such as having a great picture quality. There are various models to choose from ranging from the regular LED TV with Full HD display up to the 75 inch Vizio Smart TV with a QLED display.
Why is YouTube TV not working on my Vizio smart TV?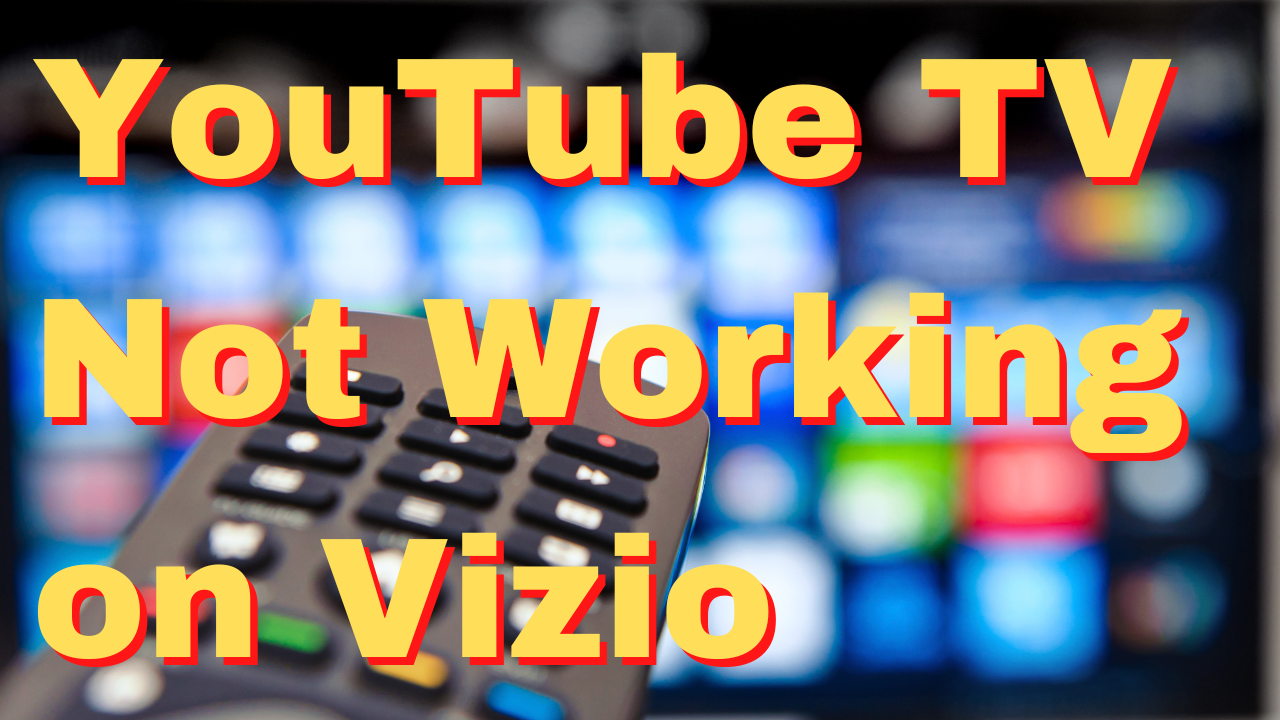 One of the issues that you might encounter when using the YouTube TV app is when it does not work on your Vizio Smart TV. This can be a frustrating experience especially if you want to watch your favorite live channel.
Here's what you can do to fix the YouTube app app issue on Vizio Smart TV.
Solution 1: Power cycle your your Vizio TV
The first thing you need to do when you are having an issue with the YouTube app on Vizio Smart TVs is to do a power cycle. This is basically just restarting your Vizio Smart TV which will allow it to refresh its operating system as well as its apps.
Power cycle Vizio Smart TV
Turn off the Vizio smart tv.
Remove all the devices plugged into your Vizio smart tv.
Unplug the Vizio Smart tv from the power outlet.
Press the physical power button on your Vizio smart tv for about 30 seconds.
Wait for 10 minutes.
Connect the previously disconnected devices to your Vizio Smart tv.
Plug the Vizio Smart TV into the power outlet.
Turn on your Vizio Smart tv using your remote control.
After performing the steps listed above try to check if the YouTube TV app is now working on Vizio Smart TV.
Solution 2: Check your internet connection
The first thing you need to do when the YouTube TV app is not working on your Vizio TV is to check the internet connection. You need to make sure that your Vizio TV has access to a fast internet speed so that it can stream your favorite live TV channels.
You can check the internet connectivity using some of the popular online speed checker tools.
Checking your internet speed
Open a browser on your Vizio TV.
Go to speedtest.net. This is an online speed test tool that is free to use.
Click on Go. This will start the speed test.
In order to prevent any YouTube TV app issues you should have a stable internet connection. The results should match your subscription plan from your internet service provider.
The recommended internet speeds are as follows:
4K: 20 Mbps
HD 1080p: 5 Mbps
HD 720p: 2.5 Mbps
SD 480p: 1.1 Mbps
SD 360p: 0.7 Mbps
If you have a slow internet then you can check if the network problem is caused by your equipment.
Turn off your Vizio TV.
Unplug your Modem and Router from the power source.
Wait for a minute then plug your modem and router back into the power source.
Wait until the lights turn back on.
Turn on the Vizio TV.
Reconnect your Vizio TV to the internet.
Here's what you can do to get a stable Wi-Fi internet connection.
Try to disconnect other devices connected to the Wi-Fi router while you use the YouTube TV app. This will allow the Vizio TV to use the maximum internet bandwidth.
Move the Vizio TV closer to the router . This will allow the device to get a much stronger Wi-Fi signal.
If you have a dual band router try to connect to the 5Ghz band instead of the 2.4.
Solution 3: Check if YouTube servers are down
There are times when the YouTube server will be offline due to an outage or a scheduled maintenance causing issues when you open the Vizio TV YouTube App. You won't be able to stream YouTube TV shows when this happens.
You can check if the YouTube server is down or not by using the DownDetector website. In case an outage is reported then you will have to wait for this to be fixed before you can use the YouTube TV app.
Solution 4: Clear the Vizio TV YouTube App Cache
One of the factors that can cause the YouTube TV app to fail to work on your Vizio Smart TVs is due to a glitch in the app itself. Force closing the app then opening it again will usually fix this problem.
Force close YouTube TV app
Press the V button or the home button on your remote.
Select System from the menu.
Go to Apps.
Click System Apps.
Select the YouTube TV app.
Click Clear Cache.
Press OK.
Open the app then check if the Vizio YouTube app works.
Solution 5: Reinstall the YouTube TV application
Vizio TV owners will usually experience YouTube TV app issues if the app itself is corrupted. In order to fix this you will need to uninstall the app then install a fresh version.
Reinstalling Disney app
On your VIZIO TV remote, press the Home button.
Select YouTube TV from the Apps menu and tap and hold the center button.
Select Uninstall or Delete YouTube TV App from the pop-up menu.
Go to the apps section of your VIZIO Smart TV and search for the YouTube TV app, then install it.
Wait for the app to download and install on your VIZIO smart tv, then connect with your login credentials.
Try to check if the YouTube not working issue still occurs.
Solution 6: Factory reset your Vizio TV
Sometimes a corrupted TV settings or a glitch in the TV software can cause this problem. In order to fix this you will need to perform a factory reset. This will allow your TV to go back to its factory defaults.
Reset to factory settings
Using the Vizio remote, navigate to the menu.
Go to Settings, then System, and finally OK.
Select "Reset TV to factory defaults".
If you do not have the parental code, when requested for a password, enter 0 0 0 0 0.
Choose "Reset" and hit OK.
Allow your television to switch off.
Once the restart operation has been completed you will need to setup the TV.
Install the latest version of YouTube application on Vizio TV then check if the issue still occurs.
Frequently Asked Questions
How do I download YouTube TV app on my Vizio Smart TV?

The app is usually pre-installed in your TV however you can get it by pressing the V button on your Vizio remote control to access the SmartCast Home screen. Then look for the YouTube TV app under the "Apps" section and select the icon to launch it.

Why can't I get Disney plus on my Vizio Smart TV?

You should try updating your TV firmware as the old firmware version might not support the app yet.

Why is the YouTube app on Vizio TV buffering when I play content?

This is most likely caused by a slow internet connection speed. You need to improve the connection speed, especially the download speed, in order for you to properly stream 4K content.

My Vizio TV is not connecting to the WiFi network

You should make sure to enter the password of the Wi-Fi network correctly. If another Wi-Fi network is present then try connecting the Vizio TV to it.

What is the recommended internet speed to enjoy YouTube TV?

4K: 20 Mbps
HD 1080p: 5 Mbps
HD 720p: 2.5 Mbps
SD 480p: 1.1 Mbps
SD 360p: 0.7 Mbps