Are you experiencing the YouTube Music not downloading issue? There are several factors that can cause this problem such as a very poor internet connection, corrupted YouTube Music app cache, or even an outdated app just to name a few. You will need to perform several troubleshooting steps to fix this problem.
YouTube Music is the music streaming service of Google that allows users to listen to their favorite songs as well as watch music videos. This service is the successor to the now discontinued Google play Music service. It's free to use as long as you don't mind the ads played after every a few songs. A premium subscription gives you an ad- free experience as well as the ability to download songs for offline listening.
Why are my YouTube Music songs not downloading?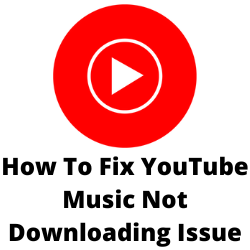 One of the issues that you might experience when using the YouTube Music app is the music not downloading issue. This can be a frustrating experience especially if you plan on listening to your playlists without a Wi-Fi or mobile data connection.
Here's what you can do to fix the YouTube Music not downloading issue.
Solution 1: Check your internet connection
The first thing you will need to do in this case is to make sure that your smartphone has a good internet connection. You need to make sure that the download speed in particular is fast as this will enable you to get the songs much quicker.
You can check the status of your internet speed with the help of online speed test checkers such as speedtest.net.
Checking your internet speed
Take note of the ping, download, and upload results. These results will determine if your connection is good.
If you have an unstable Wi-Fi network connection then you can check if it is caused by your networking equipment by following these steps.
Turn off your phone.
Unplug your Modem and Router from the power source.
Wait for a minute then plug your modem and router back into the power source.
Wait until the lights turn back on.
Turn on your phone.
Reconnect your phone to the internet.
Here's what you can do to avoid any possible network issues.
Try to disconnect other devices connected to the WiFi router while you use the YouTube Music app. This will allow the device to use the maximum internet bandwidth.
Move closer to the router when you use the YouTube Music. This will allow the device to get a much stronger WiFi signal and improve the connection speed.
If you have a dual band router try to connect to the 5Ghz band instead of the 2.4 GHz band.
You should also try turning off the Wi-Fi switch of your phone then use the mobile data of your cellular network. This way your phone will be using the data connection from your network.
Make sure that you have enough data credits on your account. If you use mobile data then you have to make sure that you don't have a slow internet connection. It's best to have a 4G LTE or even 5G signal on your phone.
Solution 2: Restart the YouTube Music app
One of the easiest solution to this problem is to restart the YouTube Music app. It's possible that the problem is caused by a temporary glitch in the app preventing the downloading of your playlist. To fix this just restart the app.
Force close YouTube Music app
Open the Settings menu.
Select Apps & Notifications.
Select App Info.
Find YouTube Music and select it.
Tap the force Stop icon.
Tap Ok to continue.
Open the pap again then check if the YouTube Music not downloading issue still occurs.
Solution 3: Check storage permission
There's a possibility that the YouTube Music app is not given permission to use your phone's storage. You need to give the app permission in order for it to download all the songs that you have selected.
YouTube Music app storage permission
Open Settings.
Go to Apps.
Go to Manage Apps.
Select YouTube Music.
Tap App permissions.
Make sure that storage is selected.
Solution 4: Check download settings
YouTube Music has a setting that allows it to only download music if the smartphone is connected to a WiFi network. If your smartphone is currently using a 4G or 5G data connection and the downloads don't work then it's likely that this setting is enabled. Try turning off this setting then check if the YouTube Music not downloading issue still occurs.
Turn off download over WiFi only switch
Open YouTube Music.
Tap your profile pic.
Select Settings.
Select Library & Downloads.
Disable the Download over Wi Fi only switch.
Solution 5: Clear app cache files
Another reason why downloading a song will fail is because of a corrupted cached data stored by YouTube Music. Most apps will store the most commonly used data to the cache memory since this will help improve the overall user experience. Sometimes though, this cache can become corrupted which can lead to issues.
In order to fix this you will need to clear cache files of YouTube Music.
Clear cache YouTube Music
Open Settings.
Tap Apps. Select All apps.
Select YouTube Music from the list of available apps.
From the App info screen, open Storage.
Tap Clear cache.
Solution 6: Update YouTube Music
You need to make sure to use the latest version of YouTube Music since this will come with several bug fixes and have new features. Updating the app to the latest version will most likely fix the download playlist error you are experiencing.
Update YouTube Music on Android
Access Play Store app .
At the top right, tap the profile icon.
Tap Manage apps & device. Apps with an update available are labeled "Update available."
Tap Update.
Solution 7: The song was removed
One reason why you can't download a particular song is if it has been removed by Google. This can happen if it is not the original song and only a copied version.
Make sure that the song was not deleted and that it is accessible in your country or region.
Solution 8: Do a clean reinstall of YouTube Music
In case the issue persists then this might already be caused by a corrupted app. you should uninstall YouTube Music then install a fresh version from the Google Play Store.
Frequently Asked Questions
Can I download songs even if I don't have a YouTube Music premium subscription?

You will need to have a premium subscription in order to download songs to your smartphone.

What do I get when I subscribe to a premium plan on YouTube Music?

You will enjoy an ad-free listening experience. You will also be able to download videos and music to watch and listen to offline. Aside from this, the app will work in the background, and you will also have access to YouTube Originals.

Do I need an internet connection to use YouTube Music?

Yes since this is a music streaming service. you can however download your playlists for offline listening.

Is YouTube Music similar to Spotify?

It is similar to Spotify in a sense that both are music streaming services.

Can I still listen to my downloaded songs offline when my YouTube Music premium subscription ends?

Unfortunately, you won't be able to listen to your downloaded songs offline when your YouTube Music premium subscription ends.