Overseas travel is, unfortunately often associated with excessive charges and high roaming rates. This is especially true in Europe, where you encounter a large number of different carriers as you travel across individual regions. This is where an international SIM card will help you immensely, especially when used with the dual SIM phones.
Editor's Choice
Traveling to Europe and looking for phone and data connections? We recommend the Orange Holiday Europe prepaid international Sim card. Works in 30 of the largest countries in Europe.
Purchasing a local SIM card may be a good solution for some instances, but certainly not for traveling across Europe. You will quickly get tired of constantly changing your SIM card, and the people you try to stay in contact with will have to play a guessing game when determining which number they should use to contact you.
A much better alternative is to purchase an international SIM card that you can use in all of the countries that you will be visiting, thus keeping the same number and never worrying about extra charges. Even though there are many international SIM card providers, one stands out as the best choice for traveling in Europe. We are talking, of course, about Mobal and their new Europe Plus SIM.
Best SIM Card For Europe Travel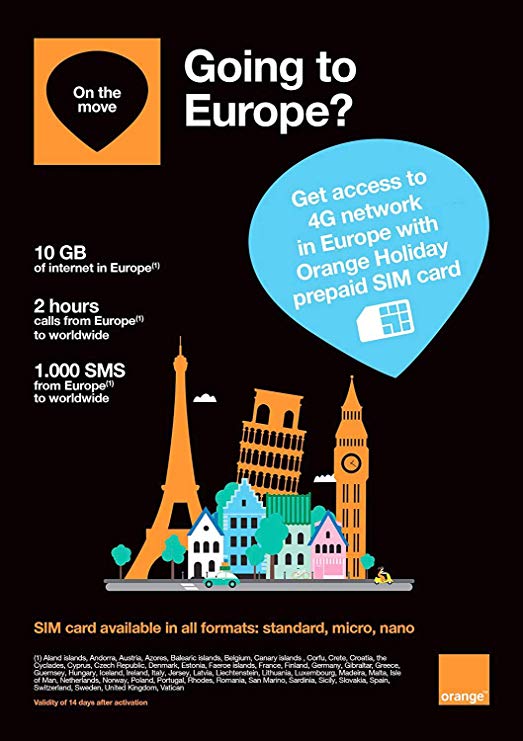 Our number one favorite option is the Orange Holiday SIM. Easily the best SIM card that you can buy for any sort of European travel, they provide tourists 4G LTE data across 30 popular European destinations. You'll get fast, reliable data almost anywhere in Europe, but particularly around the larger cities, just like in the US.
Orange's Holiday SIM has a whole 10GB of data to use, 1,000 SMS messages, and two hours of talk time. That's way different than many local and international SIM cards since many European options are going the data-only route.
The card only lasts 14 days after activation, but you can call them up or go online to add more days if you decide to extend your stay.

The ThreeUK SIM Card for international European travel is an excellent choice as well. This SIM card will allow you to call UK numbers, as well as EU numbers, while you are traveling around Europe. This is one of the more affordable choices — putting you on Three UK's network. You get 12GB of data to use, 3000 voice minutes, and 3000 texts.
There are 71 different destinations in Europe that this SIM card covers, but some popular options you can expect to use it include the UK, Italy, France, Spain, Germany, Brazil, Australia, New Zealand, Hong Kong, and Singapore.
It's easily re-loaded with data; however, you can use this one in a phone only — there are no tethering or personal hotspot features attached to this SIM card. So, unfortunately, you won't be able to use it to power your laptop or PC's Internet.
* If you buy through links on our site, we may earn an affiliate commission. For more details, please visit our Privacy policy page.
Europe Plus SIM
Founded in 1989, Mobal is one of the world's longest-running cell phone providers and a provider of the bestselling international phone in America. Their fair approach to customer support already convinced thousands of international travelers, who appreciate that they never have to worry about hidden fees and surprising data caps. These travelers know how great it is to be able to easily connect with friends and family from any place they visit.
Mobal Europe Plus SIM service comes with 1GB of free data and unrestricted tethering. You can use your international Internet connection to connect online with your laptop or tablet. All you need to do is create a portable hotspot, and you are all set.
Unlike with roaming, there's absolutely no reason to worry about accepting incoming phone calls because they are entirely free in over 130 countries. The same is also true for text messages that you send to your loved ones and business partners.
Outgoing call rates cannot rival local providers, but 30¢ per minute in all countries beats roaming, and the added convenience tips the scale in Mobal's favor. After all, how else could you keep a single US phone number?
The service itself doesn't require you to sign any contract. You simply pay a fee for every month you want to use the service and stop spending when you don't need it anymore. The SIM card itself works with all devices and mobile operating systems. You will, however, have to pay for additional data. You get 1GB of free data to start you off, though.
Cellhire is another excellent choice that will enable any GSM phone — think the phone's from company's like AT&T and T-Mobile — to use data in Europe during your travels. It gives you fast 4G data roaming speeds in thirty different European countries. Your first purchase will provide you with 4GB of total data to use that is only valid for 30 days. The significant downside here is that once you use it up or that thirty days is over, you are unable to add more — you'll have to buy a completely separate SIM to use Cellhire again. It mainly operates as a throwaway SIM card.
Unfortunately, Cellhire only offers data for phones — you won't get any calling or texting capabilities out of this one.
O2 has a pretty good international SIM card setup, as well. O2 offers a couple of different packages, allowing you to choose your level of data, talk, and text.
This particular SIM card that we're looking at will give you a whopping 20GB data to use in the UK with 4G LTE, and then an additional 20GB data while roaming in Europe, but with a 3G connection. This card works in most EU countries — there are very few that aren't supported.
And finally, we're looking at Keepgo's Global Lifetime SIM card. Their goal is to give you data, phone, and text wherever you go in the world, including many of the European nations. This one will provide you with a 1GB mobile data credit that stays valid for 1 year; however, once you use it up, Keepgo does allow you to add more easily — this isn't a throwaway SIM like the Cellhire.
Now, it can be a throwaway — as the SIM expires after a year. However, with each data refill, the validity of the data or plan is extended an additional year, so you could keep this one SIM card going for as long as you want.
This one does come with some SIM adapters to make sure the SIM card is compatible with all phone types — i.e., regular SIM sizes, nano-SIM, etc. Keep in mind that Keepgo's SIM cards only work on GSM phones.
What about International Cell Phones?
Most unlocked GSM phones will work with international sim cards. The top-tiered phones, such as the newer generation iPhones and unlocked Samsung Galaxy phones, will work. T-Mobile phones generally are also unlocked, and if for some reason your T-Mobile phone is locked, simply ask them to open it for you, it will be done without question.
Unless you have an iPhone, CDMA phones do not work well with international sim cards, so if you have a phone from Verizon Wireless, your best bet is to try to get Verizon to unlock the phone for you, or try one of these cheap global gsm phones below.
* If you buy through links on our site, we may earn an affiliate commission. For more details, please visit our Privacy policy page.
How to Get Started
When you order your international SIM card, you have to wait 2-5 days before you receive it in your mail. Alternatively, you can pay for a priority shipping option and have it in your mailbox next business day by 10:30 am.
The next thing that you need to do is to activate the SIM card via the included activation link and leave for your European adventure.
Each month of use is billed individually, which means that you never pay for something that you won't use.
An International Sim Card Versus Roaming
To remain at least somewhat relevant, carriers have implemented more palatable pricing structures and removed some of the many outdated restrictions placed on their customers.
Sadly, even with these welcomed changes, international roaming still isn't a viable option for most people. Those who are traveling to just a single country are much better off purchasing a local SIM card, and others can save lots of money by paying for a proper international SIM.
AT&T
The least friendly of the bunch is AT&T with their overage charges and high costs of data. The basic package includes 120MB of data and per minute calls. Things get a little better with the other option that provides for 800MB of data and 35 cents per minute calls.
T-Mobile
On the other hand, T-Mobile leverages its international network by offering customers free international data roaming in over 140 countries. The only problem is that the free plan is limited to 2G speeds.
It is the cheapest plan with fast internet speeds for 100MB of data to use for one day. When customers download more than the allocated amount, speeds become limited to 128 Kbps.
Sprint
Sprint closely mimics T-Mobile's model by offering free 2G data roaming in 60 countries around the world. Extra connection speed costs the same as with T-Mobile.
Verizon
Last but not least, is Verizon with their improved TravelPass service. Customers pay a one-time fee each time they want to connect to a different network. Voice and data usage is then billed as normally. This has a daily cost, except for Canada and Mexico, where the price is lower.
Things to Consider Before Traveling
Modern technology isn't always travel-friendly. Different countries and regions use different standards, and your particular phone may not work outside the country you brought it in. Furthermore, operators like to lock their customers to their network to keep them from leaving for a competing provider.
Is Your Phone Unlocked?
You may have heard that about the concept of carrier locks, but there's a good chance that you are unsure about what it really means. When you purchase a phone from a carrier, there's a good chance that the phone will be configured to work only on their network to prevent you from using a rival carrier's plan.
Some smartphones are explicitly sold as "unlocked" (often for a premium price), which means that you are free to use the phone on any network. These days, most carriers offer at least some way how customers can unlock their phones. It's often not very straightforward, and it sometimes even costs money.
Whatever the case may be, you need to make sure that your phone is unlocked before you begin your travels. One of the simplest ways to do that is to head over to IMEI.info, input your IMEI number in the search field. You can get this number by dialing *#06# on your device.
Does Your Phone Support GSM Networks?
Mobile phones operate on two primary technologies: CDMA and GSM. Both CDMA (Code Division Multiple Access) and GSM (Global System for Mobiles) are methods used by various radio communication technologies to facilitate wireless communication.
In the United States, AT&T and T-Mobile use GSM networks, while Sprint and Verizon Wireless use CDMA. This somewhat complicates things because the rest of the world uses GSM.
If that wasn't enough, GSM has 4 different frequencies, each used in a particular region. Europe operates on GSM-900 and GSM-1800, but North America uses 850 MHz and 1900 MHz communication bands.
Your phone has to support the particular frequency of a local carrier to work correctly. Some phones come with so-called quadband support, which means that they can be used anywhere in the world.
You need to consult the manufacturer's specifications to ensure that your phone is fully compatible.
Verdict
It's improbable that roaming prices would reach acceptable levels in the foreseeable future. Operators don't have enough incentive to change their flawed business models, and customers have to deal with the consequences.
Fortunately, international SIM cards, such as the Europe Plus SIM from Mobal, provide an excellent, cost-effective alternative for savvy travelers. We highly recommend you check just how much you could save and imagine what it would be like to travel without worrying about paying ridiculous sums of money.

* If you buy through links on our site, we may earn an affiliate commission. For more details, please visit our Privacy policy page.