Learn how to fix your #Samsung #Galaxy S7 Edge (#S7Edge) whose screen keeps #flickering without apparent reason or cause.
How to troubleshoot your phone that executes touch commands on its own or keeps opening random apps.
What to do if your phone's screen goes black or blank out of the blue and won't respond when Power key is pressed.
Read more questions and answers in the later part of the article to know what other owners experience with their units.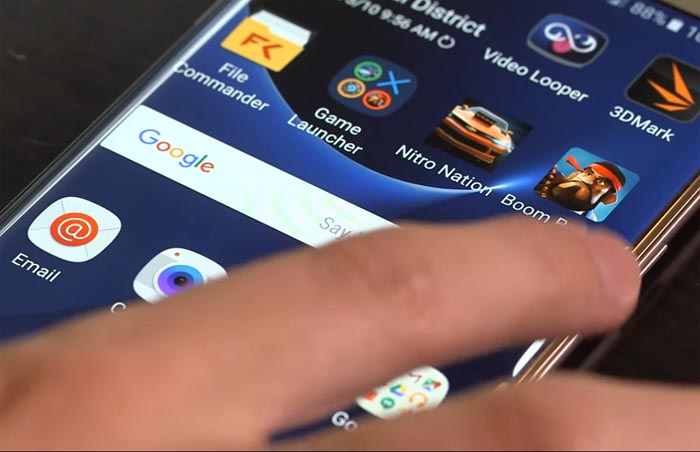 The screen plays a big role in making the Samsung Galaxy S7 Edge one of the best Android phones in 2016. It packs the company's proprietary Super AMOLED display with all its latest technologies that make the picture more vivid not to mention it's more power-efficient. Unfortunately, even with all those new features, owners still encounter problems with the screen.
In this post, I will tackle the three most commonly reported screen problems with the Galaxy S7 Edge as well as some questions that our readers asked us. Continue reading to know more about these issues and how to fix them just in case you'll encounter one of them in the future.
For those who have other issues with the S7 Edge, visit our troubleshooting page as we already addressed several problems. Find ones that are related or similar to yours and use the solutions we provided. If they don't work or if you need further assistance, feel free to contact us by completing this questionnaire. Please include more details as much as possible so we can help you better.
Galaxy S7 Edge screen keeps flickering
Screen flickering issues may be caused by hardware, firmware or app problems and you can tell which is which by doing some thorough troubleshooting procedures. However, it is only applicable to us technicians simply because average users can't do something with the hardware.
So, if your phone started to flicker after a few weeks since the date of purchase, there's only one thing you can do before you send it in for further checkup and repair–master reset.
If the problem is fixed by it, then it must have been a firmware or an app issue, otherwise, it's a hardware problem and it needs to be properly checked by an authorized technician. Here's how you do the master reset:
Backup your data.
Remove your Google account.
Disengage screen lock.
Turn off your Samsung Galaxy S7 Edge.
Press and then hold the Home and Volume UP keys, then press and hold the Power key.
NOTE: It doesn't matter how long you press and hold the Home and Volume Up keys, it won't affect the phone but by the time you press and hold the Power key, that's when the phone starts to respond.
When the Samsung Galaxy S7 Edge shows on the screen, release the Power key but continue holding the Home and Volume Up keys.
When the Android logo shows, you may release both keys and leave the phone be for about 30 to 60 seconds.
NOTE: The "Installing system update" message may show on the screen for several seconds before displaying the Android system recovery menu. This is just the first phase of the entire process.
Using the Volume Down key, navigate through the options and highlight 'wipe data / factory reset.'
Once highlighted, you may press the Power key to select it.
Now highlight the option 'Yes — delete all user data' using the Volume Down key and press the Power button to select it.
Wait until your phone is finished doing the Master Reset. Once completed, highlight 'Reboot system now' and press the Power key.
The phone will now reboot longer than usual.
Ghost touches occurred every now and then, there's no pattern
It's actually difficult to troubleshoot a problem like this because it doesn't seem to have a pattern nor a trigger; it just occurs when it wants to. However, based on complaints from owners (including those who own non-Galaxy devices) who have encountered this problem, most of the time, it's a hardware issue but rogue apps as well as corrupt firmware may also cause it. But I suggest you the following steps:
Get a soft, clean piece of cloth and wipe the screen as dirt and sweat may interfere with the touchscreen's normal operation.
Reboot your phone to rule out the possibility that some apps have gone rogue or it's a minor firmware issue.
Boot your phone in safe mode and see if ghost touches still occur while all third-party apps are temporarily disabled.
If the problem occurs in safe mode, then you need to do the master reset. Follow the steps in the first problem.
How to boot your S7 Edge in safe mode
Press and hold the Power key.
As soon as you can see the 'Samsung Galaxy S7 EDGE' on the screen, release the Power key and immediately hold the Volume Down key.
Continue holding the Volume Down button until the device finishes rebooting.
You may release it when you can see 'Safe mode' in the bottom left corner of the screen.
Galaxy S7 Edge screen goes blank and unresponsive
A lot of users complained about the screen of their devices that just went black or blank without apparent reason. To make the situation worse, the phone won't respond even if the Power key is press or held. Some said their devices will ring if calls and messages come in while others reported theirs just seemed to have blacked out completely.
If this happens to you, don't panic as it is more likely just a simple system crash. It happens all the time and it may happen to all devices running Android. If this happened to your S7 Edge, then all you got to do is press and hold the Volume Down and Power keys together for 7 to 10 seconds and it will reboot provided that it has sufficient battery to power up the components.
Should the phone continue to be unresponsive or its screen black, then try charging it. If that won't help either, then send the phone in for checkup and repair.
Now that I've cited three of the most common screen issues with the Samsung Galaxy S7 Edge, it's time for our Q&As. Below are some of the questions our readers sent us regarding some issues they encountered with their new phones.
Q: "The screen on the side of my Galaxy S7 Edge appears to be color green and while it's functioning like it should, I'm worried that may be I got myself a defective phone. Should I be worried?"
A: Well, for someone who spent several hundred dollars to buy this new premium phone, there's always a reason to be worried about especially if you find something "unusual." In your case, however, there's no problem with your phone's screen. The slight green tint you can see on the Edge screen is actually due to the phenomenon called White Angular Dependency (WAD). It color may appear to be slight green or blue or yellow when viewed at an angle. When you view it directly from the front, however, the color is normal. In short, you don't have to worry about it.
Q: "How do I change the sensitivity of the screen in my Galaxy S7 Edge as I can't find it anywhere? With my S5, I can change the sensitivity but with this one, no. Where can I find the setting? Thanks."
A: Galaxy S7 Edge's screen sensitivity is fixed from the factory. Meaning, you can't change it and there's no setting for it. Samsung believes the screen of its new flagship is already sensitive enough or perfectly sensitive that there's no need for owners to change it. I'm not sure why you need to access that setting but there's nothing we can do about it but if the device's screen is acting up, then return or have it replaced.
Q: "Bottom half of screen flickers green light. Top half looks normal."
A: Are you sure it's not the Split Screen feature of the phone? To rule out such possibility, try to disable multitasking because there's a chance it's a hardware problem.
You may also try to reset your phone to bring it back to its factory defaults and if the problem remains after that, then have it repaired.
Q: "Trouble with lock screen. Although I have it set to unlock by pattern and in 5 seconds  or with the push of the power button it says "swipe to unlock screen". I have it in the pattern unlock mode but it doesn't lock.
Thanks for your help. — Joanne"
A: Hi Joanne! I think you may have enabled the Smart Lock feature in your phone. This feature can revert whatever type of screen lock you enabled if you've added trusted devices and places. Go to Settings > Lock screen and security > Secure lock settings > Smart Lock and disable it.
Q: "Had my phone under pillow and got extremely hot it has never done this before I've had the phone for a month now so after my phone got very hot I've got problems with my screen it glitches. I've tried hard reset nothing happened I've also tried rebooting the phone nothing happened just glitching on the screen if you can help me with this problem that will be great."
A: There are still two possibilities here–either it's a firmware issue or a hardware problem. Either way, you need to have a technician to check the phone up. Don't attempt to open it up or manually flash the firmware.
Q: "When I used the phone the other day I noticed that it was really, really hot on the backside. I checked if any of the apps was working really hard or if anything was using a lot of RAM but I couldn't find anything odd. Later at night when I went to bed I plugged in the charger as usual, started streaming a movie with Plex (as usual). I noticed that the phone went hot again and 31 minutes into the movie the screen went black. The back and other key as well as the power button all works but the screen is black. I can unlock the phone by drawing my grafic password by guessing where the dots are. It is like the screen doesn't illuminate as it should. But I don't know. I have tried soft reboot and shutting it down but it doesn't work. I haven't installed any new apps recently  (last week or so). Don't know if you can help me but now you know of another problem (maybe…). Best regards
Christer M."
A: Hi Christer. It's apparently a hardware problem. Sorry but there's nothing we can do about it. Send it in for repair or you may still claim to have it replaced under warranty.
Q: "I have a Galaxy S7 Edge brand new.  Today the screen went black.  Plenty of charge.  I have run through the other fault finding solutions, it does reboot but I cannot see it on screen when it does. Thanks, Andrew."
A: System crash. That's all there is to it. All you need to do is press and hold Volume Down and Power keys together for 10 seconds and your device should reboot. If, however, the problem keeps occurring, try the reset.
Connect with us
We are always open to your problems, questions and suggestions, so feel free to contact us by filling up this form. This is a free service we offer and we won't charge you a penny for it. But please note that we receive hundreds of emails every day and it's impossible for us to respond to every single one of them. But rest assured we read every message we receive. For those whom we've helped, please spread the word by sharing our posts to your friends or by simply liking our Facebook and Google+ page or follow us on Twitter.