Street Fighter 6 is an exciting new title in the popular fighting game series, developed and published by Capcom. However, some players are experiencing Street Fighter 6 crashing issues when trying to play the game on their PCs. This can be highly frustrating and may be happening due to temporary glitches, problems with game files, or even computer issues. Here is a comprehensive guide to troubleshooting and fixing this issue to get back to playing Street Fighter 6 without disruptions.
Table of Contents
What Causes Street Fighter 6 Crashing Issue?
Street Fighter 6 crashing issues can occur due to various underlying causes. One possible reason is incompatible hardware or outdated device drivers, which can lead to conflicts and crashes during gameplay. Another factor may be software glitches or bugs within the game, causing instability and sudden crashes.
Fixing Street Fighter 6 Crashing Issue
To resolve the Street Fighter 6 crashing issue, a systematic approach is necessary to identify and address the potential causes. By thoroughly checking for underlying problems and applying the appropriate solutions, players can enjoy a stable and uninterrupted gaming experience.
Here's how to fix the Street Fighter 6 crashing issue.
Check System Requirements
Before attempting other solutions, ensuring that your PC meets the game's minimum system requirements is crucial to avoid Street Fighter 6 crashing issue. Incompatibilities can lead to crashes or other issues, so ensure your hardware and software are up-to-date and compatible with Street Fighter 6.
Update GPU Drivers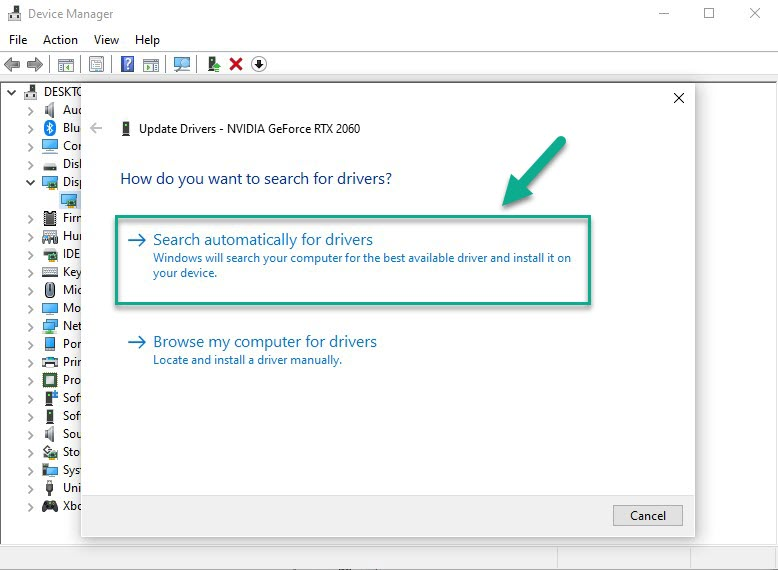 Outdated graphics drivers are a common cause of Street Fighter 6 crashing issues. Keeping graphics card drivers up to date is essential for preventing game crashes. It ensures compatibility between the game software and the graphics hardware, resolves known issues and bugs, and improves system stability, ultimately enhancing the gaming experience. Always check for updates and keep your GPU drivers current for optimal gameplay performance.
Press the Windows Key + X on your keyboard to open the Quick Access Menu of your computer, then choose Device Manager.
In Device Manager, locate and expand the Display Adapters category to reveal your graphics card.
Right-click the graphics card and select the "Update Driver" option.
Choose search automatically for updated driver software. If a newer driver version is found, it will be downloaded and installed automatically.
Disable Fullscreen Optimizations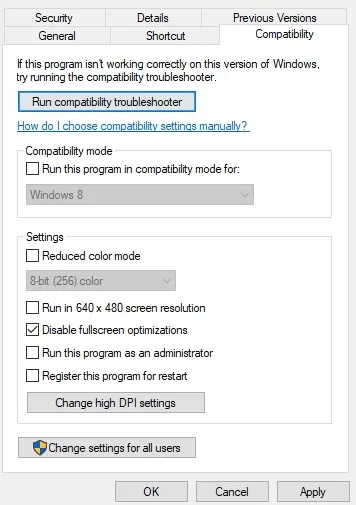 Fullscreen optimizations can sometimes interfere with game performance on Windows systems. Fullscreen optimizations can occasionally cause game crashes due to conflicts between the game's rendering and the operating system's optimization. These conflicts can result in instability, memory leaks, or compatibility issues, leading to sudden crashes or freezes during gameplay. Ensure this feature is disabled to avoid Street Fighter 6 Crashing issue.
1. Right-click on the game's shortcut or executable file, then select "Properties" from the context menu.
2. In Properties window, go to the "Compatibility" tab.
3. Check the "Disable fullscreen optimizations" box under the "Settings" section.
4. Click the "Apply" and then launch the game to see if the fullscreen optimizations have been disabled.
Keep Windows Up-To-Date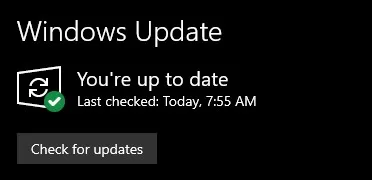 An outdated version of Windows may contribute to crashing problems in games. It's advised to regularly update your operating system for improved security, performance enhancements, bug fixes, and resolve the Street Fighter 6 crashing issue.
Close Background Tasks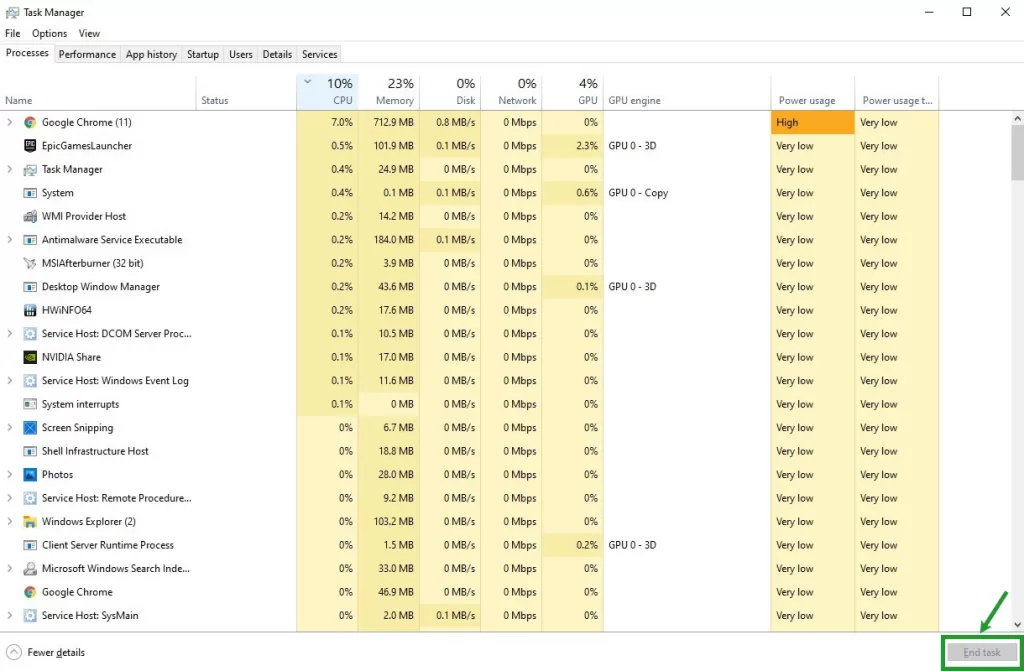 Background tasks running simultaneously with a resource-intensive game can negatively affect its performance. Close all unnecessary background tasks before playing to avoid Street Fighter 6 crashing issue.
Disable Third-Party Overlays

Overlay apps can consume system resources, which could strain your gaming performance. Disabling these apps may help resolve Street Fighter crashing problems and other issues.
Launch Steam client.
Click on the "Steam" menu in the top left, then select "Settings" from the drop-down menu.
In the Settings window, navigate to the "In-Game" tab.
Uncheck the box beside "Enable the Steam Overlay while in-game."
Click on the "OK" button.
Restart Steam.
Launch Street Fighter 6 and verify that the Steam Overlay is disabled during gameplay.
Adjust Power Management Options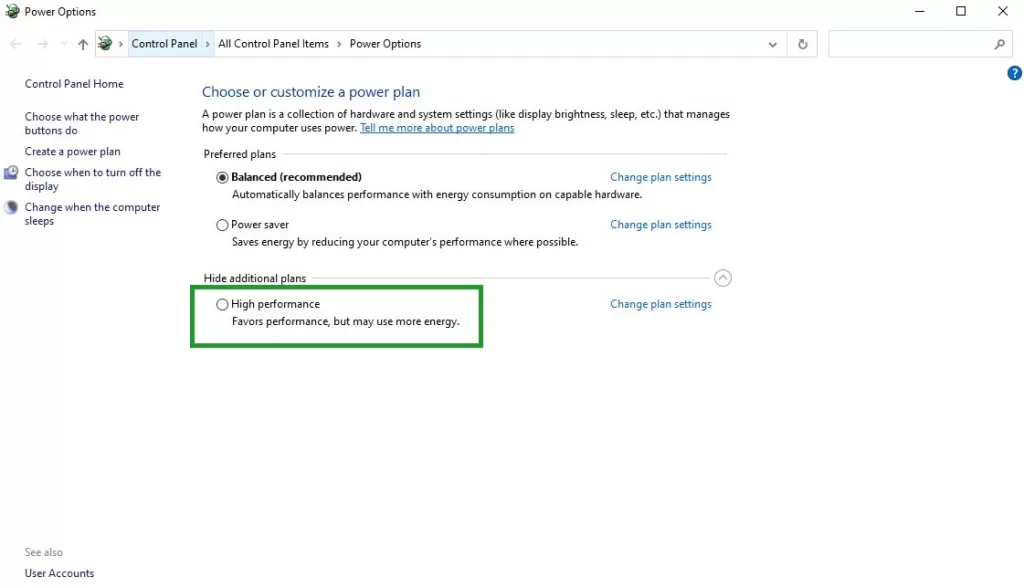 Set your computer's power management setting to High Performance for optimal gaming performance. This uses more power but ensures that your system runs at its maximum potential during gameplay and can avoid Street Fighter 6 crashing.
Open Control Panel by clicking the Start menu and searching for "Control Panel."
In the Control Panel, change the view to "Large icons" or "Small icons" to see all the available options.
Locate and click on the "Power Options" icon to access the power settings.
In the Power Options window, you will see a list of power plans. Select the "High performance" option to enable it.
If you don't see the "High performance" option, click on "Show additional plans" to reveal more power plan options.
Repair Game Files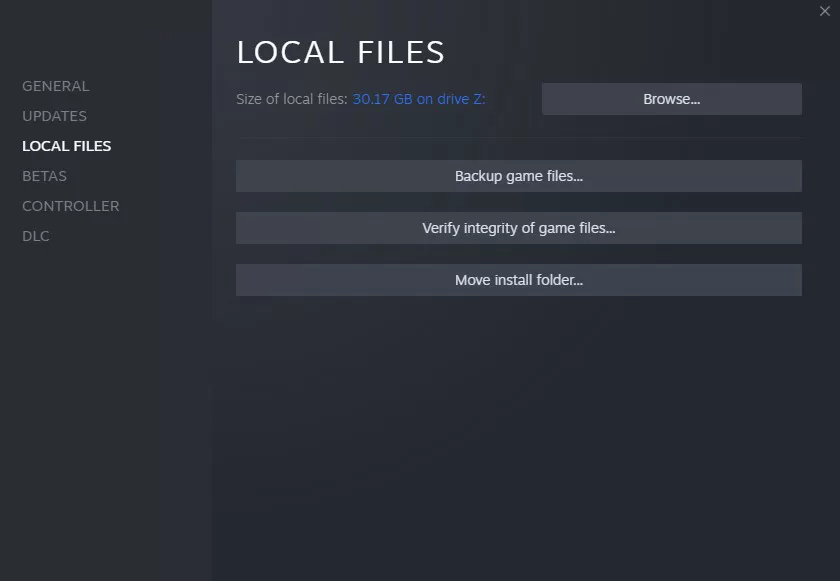 Corrupted or missing game files can lead to Street Fighter 6 crashing at the startup stage or during gameplay. Verify and repair the installed game files on your PC to prevent this problem.
Open Steam and log in.
Go to your Steam Library and locate Street Fighter 6 in the list of games.
Right-click on Street Fighter 6 and select "Properties" from the drop-down menu.
In Properties, go to "Local Files" then click "Verify Integrity of Game Files."
Steam will begin the verification process, checking the game files against the official files from the game's server.
Once the verification is finished, launch Street Fighter 6 to see if the game files have been successfully verified and repaired, if necessary.
Final Thoughts
The Street Fighter 6 crashing issue can be resolved through various troubleshooting methods. Check for compatibility issues, update necessary drivers and software, repair game files, and close unnecessary tasks to ensure a smooth gaming experience. By implementing the suggested solutions above, you should enjoy uninterrupted sessions of Street Fighter 6.
Frequently Asked Questions
How can I avoid the Street Fighter 6 crashing issue?

Ensure that your PC meets the game's minimum system requirements and that your hardware and software are up-to-date and compatible with the game.

Why does Street Fighter 6 crash on my PC?

Street Fighter 6 crashing issues can be caused by incompatible hardware, outdated device drivers, software glitches, or bugs within the game.

How can I update my GPU drivers to prevent Street Fighter 6 crashing issue?

Press the Windows Key + X, open Device Manager, locate your graphics card under Display Adapters, right-click it, select "Update Driver," and choose the option to search automatically for updated driver software.

What should I do to disable fullscreen optimizations for Street Fighter 6?

Right-click on the game's shortcut or executable file, select "Properties," and then go to "Compatibility" tab, check the "Disable fullscreen optimizations" box, click "Apply," and launch the game.

How can I prevent Street Fighter 6 crashing issue caused by background tasks?

Close all unnecessary background tasks before playing the game to avoid performance issues and crashes