This post will guide you what to do if Soulworker keeps stuttering and is sometimes associated with FPS drop or freezes. Most of the time it's just a minor issue that you can fix by doing a couple of procedures. Read on to learn more. 
There are several factors you have to consider when trying to fix a game that keeps stuttering because it can be caused by an unstable connection, down servers, hard-related issues or a problem with the game itself.
One of the games that seems to be having this kind of problem recently is Soulworker. The game is stable but there are isolated problems that occur every now and then. As a gamer, try doing some basic troubleshooting procedures to see if you can fix the issue by yourself.
Pre-requisites
But before you actually troubleshoot the game, make sure to do the following:
Perform a speed test to know if your Internet connection is still fast and stable. If you're not getting the speed you're supposed to get, then try to power-cycle your modem or router. Basically, fix your Internet connection before you fix the problem with the game.
Check for announcements on Steam to know if the problem is due to server maintenance or if there's a problem that needs to be fixed by the developers. Better yet, follow Soulworker on Steam to get updated.
Fix Soulworker Stuttering Issue
Here are the things you can do to try and fix Soulworker that started to keep stuttering.
Fix #1: Restart Soulworker
The first thing you need to do in fixing a game that stutters is to force quit it and open it again. Most of the time, it's just due to a minor glitch with the game or the system that affected the game. Restarting often fixes the problem. So here's how you do it: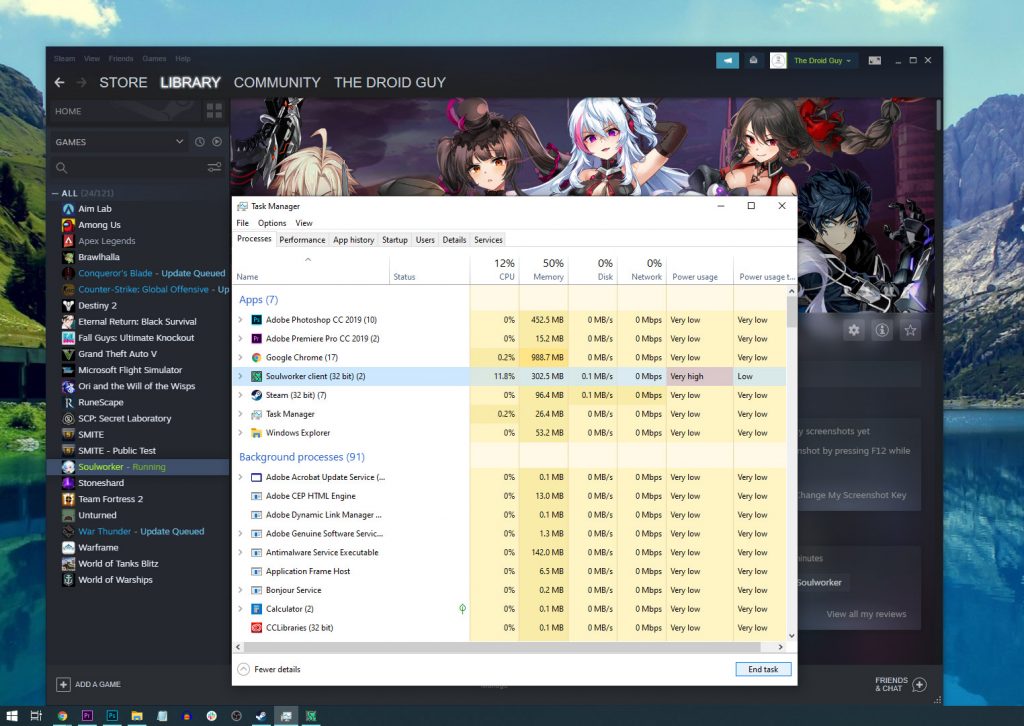 Right-click on the Taskbar and click Task Manager.
Look for Soulworker, click on it and then click the End task button at the lower-left corner of the window. 
Once the game quits, launch it again from the Steam client and see if it still stutters.
Fix #2: Update the GPU driver
Sometimes game stuttering can also be due to an outdated graphics card driver. So if the first solution fails, what you have to do next is to make sure your GPU is updated. You can follow these steps to update it: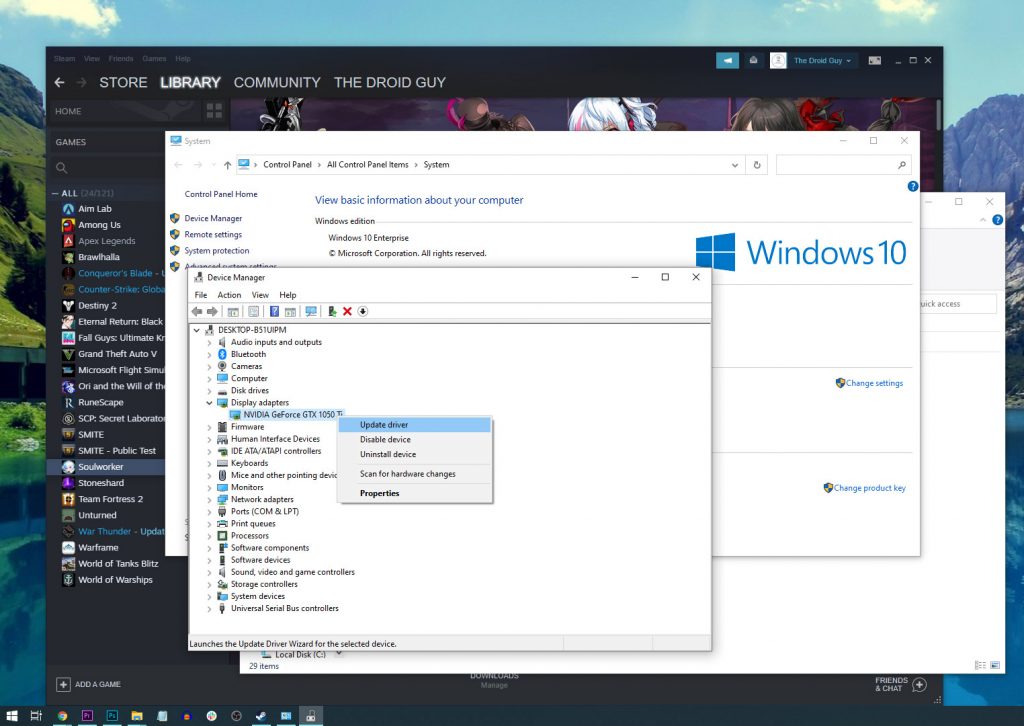 Click the Start icon, type "file explorer" and click the File Explorer app.
On the left panel, right-click on This PC and click Properties.
Click Device Manager.
Expand Display adapters, right-click on your GPU and click Update driver.
Click Search automatically for drivers, and wait until your PC finishes the update.
If that doesn't work, try following one of our brand-specific guides in updating the graphics driver:
You may have to wait for several minutes but most of the time, this will fix any game-related issue.
Fix #3: Verify integrity of game files
After doing the first and second procedures and Soulworker continues to stutter while you're playing, what you have to do next is to verify the integrity of its installation files. It's possible that some of those files are corrupted or deleted. Doing this procedure will force the Steam client to scan Soulworker's files and download anything that's missing. Here's how it's done: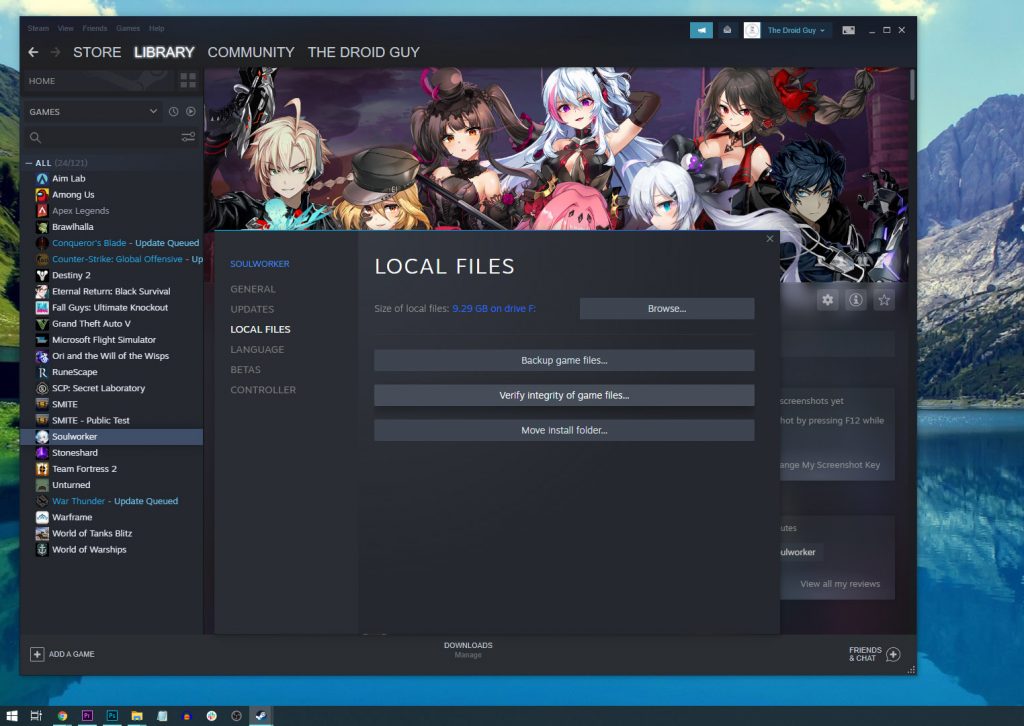 Launch the Steam client.
Navigate to the Library tab, right-click on Soulworker and click Properties.
Navigate to Local Files and then click Verify integrity of game files.
Wait until the verification is finished.
Once the process is done, open the game again and see if the problem is fixed.
Fix #4: Reinstall Soulworker
Reinstallation of a game should always be your last resort because as long as the problem isn't with the servers, this procedure will fix any issues. However, you may have to spend several minutes downloading the game again depending on how fast your Internet connection is.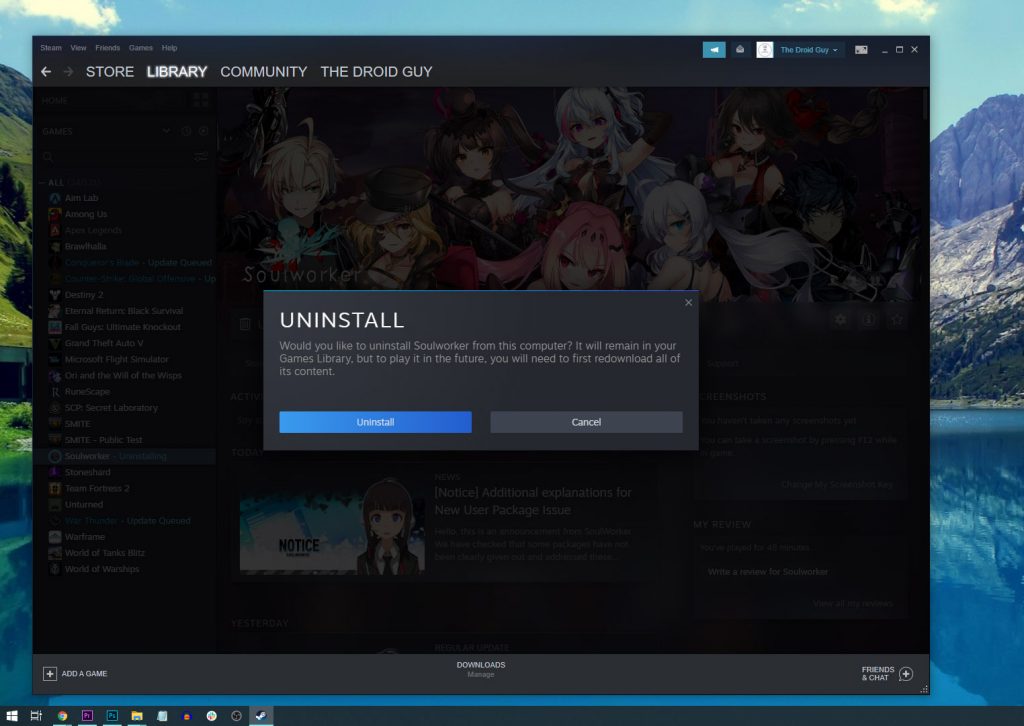 But you're left with no other option, then follow these steps to uninstall the game:
Launch the Steam client.
Navigate to the Library tab and right-click on Soulworker.
Hover over Manage, and click Uninstall.
Click Uninstall one more time to remove the game from your computer.
Once the game is uninstalled, restart your PC to refresh its memory. After that, download Soulworker from Steam again to be reinstalled.
That should fix the Soulworker stuttering problem. We hope that this troubleshooting guide can help you one way or the other.
Please support us by subscribing to our YouTube channel. Thanks for reading!
ALSO READ: