The #Samsung #Galaxy #S7 is one of the best Android smartphones released this year. It's got a powerful hardware architecture, has a great camera, and has water resistance to protect it from the occasional water splashes. A lot of people are giving this phone high marks since it is quite an impressive device. While this device has proven itself as a reliable daily driver there are instances when certain issues can occur. In this latest installment of our troubleshooting series we will address the Galaxy S7 stuck on software update issue & other related problems.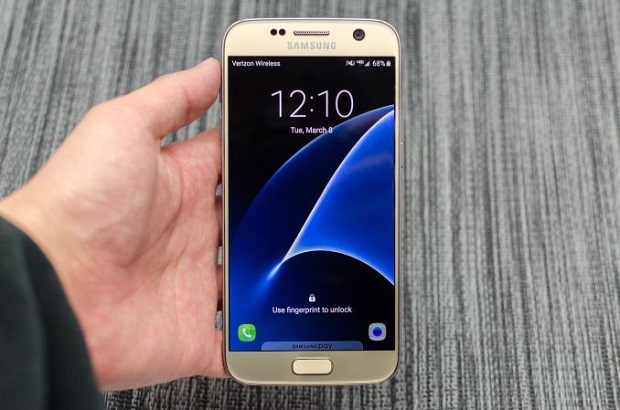 If you own a Samsung Galaxy S7 or any other Android device for that matter then feel free to contact us using this form. We will be more than happy to assist you with any concern that you may have with your device. This is a free service we are offering with no strings attached. We however ask that when you do contact us try to be as detailed as possible so that an accurate assessment can be made and the correct solution can be given.  
If you would like to browse the previous parts in this series then check out this link.  
You may also reach us at our Facebook and Google+ social media accounts.
S7 Stuck On Software Update
Problem: hi, my galaxy s7 has just stuck on a software update and now on a continuous "loop" from Galaxy S7 start up screen into initialising system update (blue screen with android) to error screen android fell over. tried switching off/on & power up/left volume but nothing happening I've taken video if that helps you to view it?
Solution: A glitch might have occurred during the update process causing this issue. The best way to deal with this right now is to start the phone in recovery mode then do a factory reset. This reset however will erase everything in your phone so make sure to have a backup copy of your phone data before proceeding with this.
S7 Will Not Accept Security Updates
Problem: Galaxy s7 will not accept security updates. The last one I installed was in Sept, 2016. After that, they download, then crash at the end of installation. (The android robot falls down with a yellow exclamation point) Phone will then restart, with a notice that update failed. I cleared the system cache, removed all apps that I could without removing the factory installed ones. I have shut it down, waited 10 min and then restarted. I have Googled looking for help, but can't find any. When I check for recent updates, I get a popup that says to contact Samsung Center, which I can't find online. Just for more info, it's a Virgin Mobile phone, running Android 6.01 that I bought in July. The first few security updates installed fine, but after the Sept. update, Oct.Nov.& Dec have all failed. Any clues? TI A for any help Android Guy!
Solution: Try downloading the update while your phone is connected to a different Wi-Fi network. If this fails then you should try starting the phone in recovery mode then wipe its cache partition. Once this is done connect your phone to a computer with Smart Switch running. Try doing the update using Smart Switch. If this fails then you will have to backup your phone data then do a factory reset. Once the reset is complete you can proceed with getting the security update.
S7 Sound Fades In And Out
Problem: For a few months now, everytime I try to listen to music on my s7, play a game, watch Netflix or watch a short video from fb. The sound on my phone for no reason fades in and out. I have tried everything to fix it. I have done factory re booting, updating, I tried having best buy, and version along with Costco to help fix it. But they don't have a clue. They have never heard of this issue. I always make sure my speaker is not covered as well. My phone wormed finally for about the first two months after I got it. But then this sound issue started. I have also don't cache clean ups and got rid of unnecessary apps. But nothing I do seems to matter. And what's weird about this. Is that it is an intermittent thing. I'm at a loss. Can u guys please try to help me. I don't know what to do. I love my phone. But it's so hard to listen to music on it.
Solution: Since you have already done the software troubleshooting on this device then it looks like this could already be a hardware related problem. I recommend that you have this checked at a service center.
S7 Fails To Backup
Problem: My galaxy S7 is failing to backup for the past week. It's meant to backup every night automatically when charging. When I try to backup manually it says problem connecting with server. Please advise. Many thanks.
Solution: For this particular issue you will need to check first if the problem is caused by your current connection to the Internet. Try connecting to the phone to another Wi-Fi network and check if the issue still occurs. If the issue remains then try restarting the phone then do a manual backup.
S7 Sometimes Rings Sometimes It Doesn't
Problem: Hi and thank you for a wonderful service! Just purchased to Samsung S7s and so far the techs at Best Buy nor Verizon have been able to figure this nuance out. In essence, sometimes the phones RING and sometimes they don't.  Been through all the typical troubleshooting steps like mutes, ring volumes, do not disturbs etc. etc. After just purchasing these on November 25th, we were prompted to UPDATE the system. Perhaps this update is the bug-a-boo but hoping perhaps you've heard of this dilemma happening before and might know of a fix. It's not a good thing when a phone won't ring. Thanks for your time
Solution: You can try checking if an app is causing the problem by starting the phone in Safe Mode. Check if the issue occurs in this mode. If it doesn't then it could be caused by an app you downloaded. Find out what app this is and uninstall it.
If the issue still occurs even in Safe Mode then proceed with doing a factory reset. This reset is highly recommended whenever issues occur on a device right after an update. Just make sure to backup your phone data before doing the reset.
S7 Screen Overlay Error Detected
Problem: So, my phone ended up having to be replaced, but now when I try to use the camera or download something it says, "Allow *app name* to access photos, media and files on your device? " and when I click "allow" it then says, "Screen overlay detected. To change this permission setting, you first have to turn off the screen overlay from Settings > Apps" For one, it doesn't show the app that wants access . Two, if it does, and I change it it still won't work
Solution: Do you have an app such as Twilight, Lux, or CleanMaster running? If you do then try to disable those apps first. Go to the permission settings and repeat your actions. Once you have allowed permission to the apps you can then go ahead and enable Twilight, Lux, or CleanMaster.
Feel free to send us your questions, suggestions and problems you've encountered while using your Android phone. We support every Android device that is available in the market today. And don't worry, we won't charge you a single penny for your questions. Contact us using this form. We read every message we receive can't guarantee a quick response. If we were able to help you, please help us spread the word by sharing our posts with your friends.