Learn how to fix your #Samsung Galaxy S7 (#GalaxyS7) that splits long text messages into several parts. This problem started after the recent firmware update.
What you should do if recipients receive your text messages in parts. Is it a problem with your phone or theirs?
One user reported having to receive messages that are supposed to be sent to his brother in his phone. Others see his phone number as his brother's.
Recipients are complaining not being able to receive all of the text messages the sender sent. Learn how to troubleshoot this problem.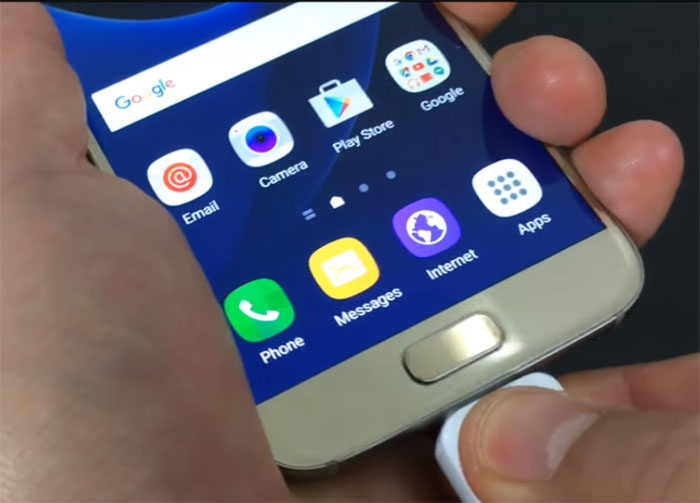 There have been some Samsung Galaxy S7 owners complaining about some text messaging issues that occurred after the recent update. One of those issues is about the Messages app that's splitting long text messages into several parts. And since those parts are often jumbled up, users have the tendency to read other parts before reading the first part. It's very annoying not to mention very confusing on the part of the reader.
I will address this specific issue in this post citing one of the problems we received from our readers. Read on to learn more about it as well as other issues reported by others. There's always a chance you'll encounter one of these problems in the future so better be ready now.
For those who have other issues with their phones, visit our troubleshooting page for we have already addressed hundreds of issues with this phone. Find issues that similar to yours and use the solutions we provided. If they don't work or if you need further assistance, then contact us by completing our Android issues questionnaire.
Q: "Hi. My phone is the new Galaxy S7 and there was an update I downloaded recently and that's when this problem started. Prior to the update, whenever people text me with long messages, I receive them as is but after the update, my phone splits them up and the worse thing is they're not in order. So, for instance, if others send me 4 pages of text message, I might read the second part first before reading the first page. Why did it happen? Can I fix it on my own? I hate to drive 60 miles to the nearest store just to have this problem checked. I hope you guys can help me. Thanks."
A: It seems like the update reset the settings in the Messages app. So, here's what you need to do; go to Settings > Applications > Messages > More settings > Text messages. In this page you can find the Auto combination option that allows you to group parts of long text messages into one. If it's already enabled yet you're getting text messages in parts, then the problem is simple–the system cache may have been corrupted. To address this, all you need to do is wipe the cache partition:
Turn off your Samsung Galaxy S7.
Press and then hold the Home and Volume UP keys, then press and hold the Power key.
When the Samsung Galaxy S7 shows on the screen, release the Power key but continue holding the Home and Volume Up keys.
When the Android logo shows, you may release both keys and leave the phone be for about 30 to 60 seconds.
Using the Volume Down key, navigate through the options and highlight 'wipe cache partition.'
Once highlighted, you may press the Power key to select it.
Now highlight the option 'Yes' using the Volume Down key and press the Power button to select it.
Wait until your phone is finished wiping the cache partition. Once completed, highlight 'Reboot system now' and press the Power key.
The phone will now reboot longer than usual.
I hope this helps.
Q: "People receiving texts from me are saying that my texts (single text in paragraph form) are being delivered to them in several separate broken up texts (aka several bubbles of texts when I only sent one).  They are also out of order, so it's extremely difficult and frustrating for them to figure out what I'm sending them! Is there some kind of setting I can try in order to have the text appear as I sent it, in one single paragraph/in one text bubble?"
A: That's what happens when their phones are set to split long text messages. In your phone, a Galaxy S7, there's an option under Messages settings that allows you to split text messages or automatically combine them into one long message–it's called Auto combination.
However, with your friends, we don't know what kind of phone they're using that's why we can't help them. But rest assured the problem isn't with your phone but theirs.
Q: "For MMS messaging I receive group messages meant to be received by my brother. He gets the messages as well but for some reason they also get sent to my phone. In addition, when my brother sends MMS messages to my mom it shows up as coming from my phone instead of his. I've contacted Sprint numerous times but they have been unable to help me. i'm very frustrated at this point and really would like a solution."
A: That's weird and we never heard of such problem before. So it seems like you and your brother have the same phone number, which is not possible, right? Since you're receiving the messages that are sent to your brother, have you tried sending him a message to see if you receive it on your end as well?
I think it's time you went to a Sprint store to get this sorted out by a real technician. You know, tech support aren't really technicians but even if they are, they're based off shore and have no way of knowing what's really happening with your phone. I also think this is an issue with the network and not with your phone.
Q: "Some people are receiving some of my texts but not all of them. It shows it was sent, but yet I keep getting people asking me to resend and even when I copy text to resend, the message still doesn't go through. I end up taking a screen shot to send to them."
A: One very effective troubleshooting procedure to check whether your phone actually sends out and receives text messages is to send a message to your own phone number. If it goes through and you can actually receive it, do it again just to see how many of your messages go through and how many you can receive. If you get them all, then there's no issue with your phone, the problem is on their end.
But assuming that there really is a problem on your side, you should call your service provider as it is most likely a network issue.
Connect with us
We are always open to your problems, questions and suggestions, so feel free to contact us by filling up this form. This is a free service we offer and we won't charge you a penny for it. But please note that we receive hundreds of emails every day and it's impossible for us to respond to every single one of them. But rest assured we read every message we receive. For those whom we've helped, please spread the word by sharing our posts to your friends or by simply liking our Facebook and Google+ page or follow us on Twitter.