The #Samsung #Galaxy #S7Edge is a high end smartphone model that has the distinction of being one of the best smartphones released in 2016. It's design is similar to its predecessor however this is where the similarity ends as this newer model sports upgraded internal components and comes with several new features. Aside from getting a more powerful processor and better camera this model now has a waterproof / dustproof feature and comes with a microSD card slot. Although a lot of people are using this phone as their daily driver without experiencing any problems there are instances when certain issues can occur which we will be addressing today. In this latest installment of our troubleshooting series we will tackle the Galaxy S7 Edge freezes then randomly reboots issue & other related problems.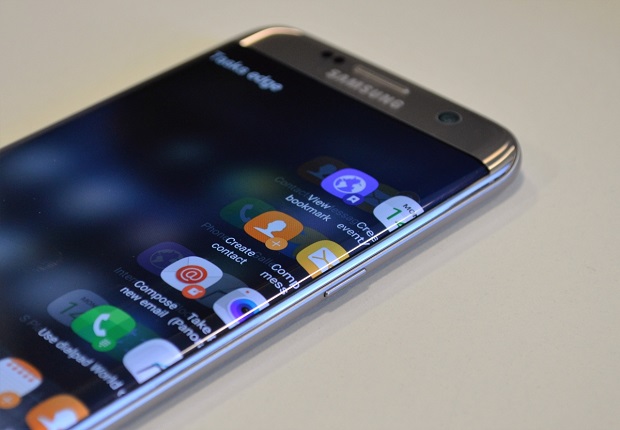 If you own a Samsung Galaxy S7 Edge or any other Android device for that matter then feel free to contact us using this form. We will be more than happy to assist you with any concern that you may have with your device. This is a free service we are offering with no strings attached. We however ask that when you do contact us try to be as detailed as possible so that an accurate assessment can be made and the correct solution can be given.  
If you would like to browse the previous parts in this series then check out this link.  
You may also reach us at our Facebook and Google+ social media accounts.
S7 Edge Freezes Then Randomly Reboots
Problem:  My phone just froze while charging and has rebooted several times until it became unresponsive and only the blue led light is flashing as well as the 2 icons besides the home button. My phone is a galaxy s7 edge and its battery was at 42%
Solution: The first thing that you need to do in this case is remove the microSD card of the phone is you have one installed. There are instances wherein a card that has corrupt sectors can cause the phone to freeze or reboot so we should eliminate this possibility before anything else.
If your phone does not have a microSD card installed or if the issue still occurs even after removing the card then proceed with the troubleshooting steps listed below. Make sure to check if the issue still occurs after performing a step then move to the next one if it still does.
Perform a simulated battery pull. This is done by pressing and holding both power and volume down buttons for at least 10 seconds. Your phone should restart after this.

Try starting the phone in Safe Mode. Does the problem occur in this mode? If it doesn't then it could be caused by an app you downloaded. Find out what app this is and uninstall it.

Wipe the cache partition of your phone from the recovery mode.

Start the phone in recovery mode then perform a factory reset. Take note that the reset will erase your phone data so if there is any way to backup your data before performing the reset then I suggest that you do it.
If the above steps fails to fix the problem then you need to bring the phone to a service center and have it checked.
S7 Edge Froze With Lines On Screen
Problem: I was on Facebook and my phone froze it had a few coloured thin lines all together then it turned off but it came back on straight away itself then turned straight back off. It won't turn on, reboot, charger or show any lights
Solution: What you should do first in this case is to simulate a battery pull by pressing and holding both power and volume down buttons for at least 10 seconds. Your phone should restart after this. If it doesn't restart then the next step is to make sure that your phone battery has sufficient charge. To do this you need to perform the steps listed below.
Clean the charging port of your phone making sure that any dirt or debris stuck in the port is removed.

Try charging your phone fro at least 20 minutes using a charging cord and wall charger that have been tested to work on another device.Try turning on your phone.

If your phone does not charge then try charging it from a computer USB port. If it charges this way then there's a possibility that one of the pins of the charging port is damaged. You need to have this checked at a service center.
If the above steps fails to fix the problem then you will have to bring your phone to a service center and have it checked as this could already be a hardware related issue.
S7 Edge No 4G LTE Signal
Problem: I have recently purchased a samsung galaxy S7 edge off of eBay I really like the phone and it's an upgrade for from the LG Aristo or at least I think it is! Anyway ever since I had put in the sim card I haven't had really that great of service thru my provider and I have to settings and then mobile device and there isn't anything in there concerning 4g lte at all. All I have is servings to apply are 2g and 3g for what to look for in the area and the aristo got 4g from where I am sitting right at this moment I got 1 bar max right now and every now then the light comes on for lte and my other issue I am having is I can't download software to my phone without having WiFi and I have gone to my settings and told it to use either my service or WiFi and it didn't change and I am pretty sure the software it's trying to download on my recently but can't cuz I don't have WiFi signal good enough to download it right now would probably help the phone I was trying to download android 7 also to come if that helps and I also reset the phone like I had read in a few of your problem solvers forums and that didn't do anything either. So I was gonna call t mobile and see if maybe they can help. What other things do you think I possibly could do to fix this these issues? Thank you and hope to hear from you soon
Solution: Is this phone that you purchased on eBay a brand new phone or is it a second hand device? If it's a brand new phone then it should have the 4G LTE option in its settings. If it isn't there then the phone might be running on a custom firmware.
To troubleshoot this problem what you will want to do first is to backup your phone data then do a factory reset. One the reset is complete proceed to the mobile network setting then choose LTE.
From the Home screen, tap the Apps icon.

Tap Settings.

Tap Mobile networks.

Tap Network mode. Make sure to tap on LTE/3G/2G (auto connect) from here.
Once the network mode is set make sure that the phone is using the correct APN settings then check if you can now connect to the 4G LTE network.
In case you are not able to set the network mode then you will have to update the phone software to Android Nougat. If it can't be done automatically then you should consider manually flashing the updated firmware file to your phone. You can get the firmware file as well as the detailed instructions on how to flash your phone from the Sammobile website.
S7 Edge No Internet Connection When Connecting To Wi-Fi
Problem: For little more than a day now my s7 edge can't get a internet connection when connecting to wifi. I have tried about everything from resets, forgetting network and entering ip manually. Keeps giving me the message "internet may not be available". I have the new nougat software for about 3 weeks now.
Solution: Try to check if the same issue occurs when you connect to a different Wi-Fi network . If the problem does not occur then it could be caused by an issue with the router. In case the problem still occurs even after connecting to a different Wi-Fi network then I recommend that you backup your phone data then do a factory reset. Once the reset is complete immediately check if the issue still occurs.
S7 Edge Screen Flickers Brightly After Drop
Problem: My phone dropped to the floor face down and my screen protector cracked. I don't know if there is actually anything wrong with my screen but it flickers very brightly although all the other functions work just fine. Please help.
Related Problem: My phone keeps flickering purple and green and barely. Not sure if it needs a new screen or backlight? HELP!?
Solution: It looks like the display has already been physically damaged. You can however check if the problem is caused by a software glitch by starting the phone in recovery mode. If the screen works in this mode then it's possible that a software glitch is causing the problem. If this is the case then you will need to perform a factory reset from here. Take note that the reset will erase your phone data. In case the problem still occurs even in recovery mode then you will have to bring the phone to a service center and have it checked.