More and more #Samsung Galaxy S7 (#GalaxyS7) owners are complaining not being able to send and receive text messages while others are having issues transmitting texts with attached pictures or #MMS. We've been receiving complaints from our readers each week about these issues and we've actually addressed them several times already but since there are still people who need our help, we just can't stop.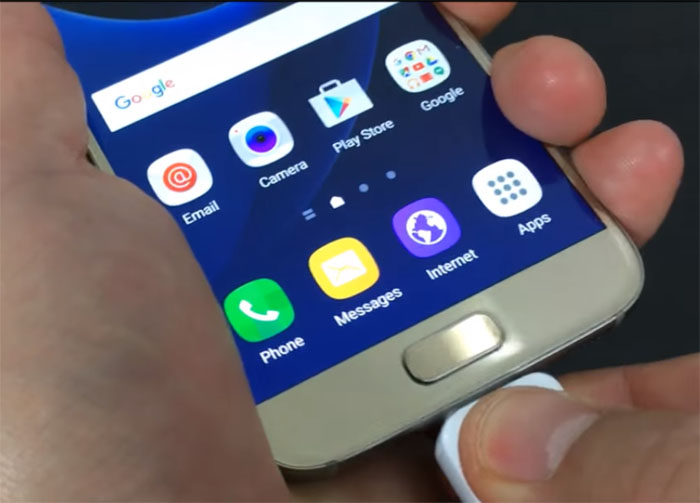 So, in this post, I will address some of the text messaging issues we received including an issue with the Galaxy S7 that cannot seem to download a text message that has an attachment. The second problem is about group messaging. According to our reader, the recipient of his message is receiving it as a simple SMS and not as a group message.
Read on to learn more about the problems I cited here and how to deal with them. You may encounter one of them in the future so it's better that you already know what to do just in case.
For those who have other issues, make sure you visit our S7 troubleshooting page as we've already addressed a lot of issues since the device was released. Find ones that are similar to yours and use the solutions or troubleshooting guides we provided. You may also contact us in case you need further assistance by completing our Android issues questionnaire.
Galaxy S7 cannot download a text message with an attachment
Problem: I purchased this phone on Saturday.  Sunday I received a text message with a 1KB attachment.  It would not download and kept giving an error message.  All the "helps" I could find online said to restart, delete previous MMS, clear downloads or reset it to factory setting.  I have nothing to delete and the dang thing has only been used for 28 hours!  So what can be done?!
Answer: Apparently, we're talking about MMS here and there's one requirement  before you can send/receive this kind of messages: mobile data. That being said, here are the things you have to do to troubleshoot this problem:
Make sure mobile data is enabled in your S7. While others believe Wi-Fi is needed to send MMS, it's not. Regardless whether you have a Wi-Fi connection or not, if mobile data is enabled, you should be able to send and receive text messages with attachments.
If mobile data is already enabled, then it's the APN that has a problem. To be able to connect to your provider's mobile data network, there are settings that have to be set on your phone but more often, owners don't know the correct settings but you can always visit your provider's website to find the APN for your phone.
If you don't know how to set up the APN, then call tech support. I've been a tech support for wireless companies for years and this problem can easily be fixed if owners would call the hotline and ask for help. You will be walked through in setting it up on your phone.
I believe these are the only things you need to do to make MMS sending and receiving work on your device.
Recipient gets the text as a private message and not as a group conversation
Problem: When I reply to a group message, even when the group message button is checked, my message goes to a private message and it sends it more than once to that person. I can see on my phone that it is in my group message but that person cannot. On his end, it's not on the group conversation.
Answer: Have you ever thought that maybe the problem in on his end? Because the way I see it, his phone wasn't set to receive group conversations as group conversations. On your end, there's only one way to verify if the message was sent as a sort of individual message or a group conversation and you already mentioned that it shows like the latter and that the setting for group conversation has already been ticked on your phone's settings. It is therefore obvious the issue isn't on your phone but his and I'm sorry we cannot just provide a solution for it for one obvious reason; we don't know his phone.
Galaxy S7 slows down when owner sends and receives text messages
Problem: Hi. Thing is, when I am texting messages, my phone will get very slow, I can't send message after message, like on iPhone, I need to wait for the 1st message to be sent and then write the other one. Also, if somebody is sending me messages one after each other my phone will freeze a little bit and won\t allow me to write 'til I have not received the message. I had the same problem with S5, still struggling to find a solution.
Answer: Text messages are sent in a matter of seconds provided you have a decent service coverage. The thing is if this thing has already been happening since day 1, then that's the way the phone works and there's nothing we can do about it.
I'm not sure how many seconds the phone freezes when messages are sent or received but if this problem started just recently, you may want to clear the cache and data of the messaging app you're using. If that doesn't work, then perhaps it's time you reset your phone and bring it back to it factory defaults.
Turn off your Samsung Galaxy S7.
Press and then hold the Home and Volume UP keys, then press and hold the Power key.
NOTE: It doesn't matter how long you press and hold the Home and Volume Up keys, it won't affect the phone but by the time you press and hold the Power key, that's when the phone starts to respond.
When the Samsung Galaxy S7 shows on the screen, release the Power key but continue holding the Home and Volume Up keys.
When the Android logo shows, you may release both keys and leave the phone be for about 30 to 60 seconds.
NOTE: The "Installing system update" message may show on the screen for several seconds before displaying the Android system recovery menu. This is just the first phase of the entire process.
Using the Volume Down key, navigate through the options and highlight 'wipe data / factory reset.'
Once highlighted, you may press the Power key to select it.
Now highlight the option 'Yes — delete all user data' using the Volume Down key and press the Power button to select it.
Wait until your phone is finished doing the Master Reset. Once completed, highlight 'Reboot system now' and press the Power key.
The phone will now reboot longer than usual.
Owner can't seem to scroll up when typing a text message on Galaxy S7
Problem: When typing a text, I am unable to scroll back up and read through the text before sending. I used to be able to review my text before sending on my GS5, but the GS7 doesn't seem to allow review via scrolling back thru the text. Is there a setting or something that will allow this?
Answer: I'm not really sure what messaging app you're using but if it's the stock Messages app, then you should be able to swipe down on the text field itself to scroll up and review your message before sending.
There's no special setting for it because it's always enabled for convenience. If you really can't scroll up and down by swiping on the text field, then it might be just a glitch with the app. With this, try to clear the cache and data of the Messages app. It might fix it:
From the Home screen, tap the Apps icon.
Find and tap on Settings.
Touch Applications and then Application manager.
Swipe to ALL tab.
Find and touch Messages.
Touch the Force Close button first.
Then, tap Storage.
Tap Clear cache and then Clear data, Delete.
Galaxy S7 auto converts SMS to MMS with phone numbers appearing like email addresses
Problem: When receiving texts from certain people, who are in my contacts, it shows up as a phone number email address combo.  Like [email protected]  When it does this, it auto converts the message, no matter how small, to an mms message.  Then it will not let me respond directly, telling me there is a server error.  So i have to go out and then make a new text with their name on it. I use Metro PCS.
Answer: It seems like those messages have been sent to you as MMS and not just some simple text messages. Therefore, they are received as MMS and the contact information that appears is like the ones you're seeing on your phone. We cannot control people if they want to send MMS to you instead of SMS. The only downside to this is that you cannot quickly reply but I think you can manage.
Galaxy S7 Messages app screen goes white and messages disappear
Problem: I recently have started having issues in my Samsung texting app. When I use an emoticon, and hit send the next screen goes white and I cannot see responses or even the text I sent. I have to close out of the app, and open it back up to see and/or send another text. I noticed this in the past week. I've tried to restart the phone a couple times, but it continues to happen.
Answer: Apparently, it's not normal for the Messages app to do such thing and it can be just a minor glitch or bug in the app. I suggest you try to clear the cache and data of the app to see if that helps, if not, then you have to choice but to reset your phone but you need to backup your data and files before following these steps:
From the Home screen, tap the Apps icon.
Find and tap Settings and then touch Backup and reset.
Tap Factory data reset and touch Reset device.
If you have screen lock feature turned on, enter your password or PIN.
Touch Continue.
Tap Delete all to confirm your action.
Galaxy S7 text messages aren't organized chronologically
Problem: My received texts will show up before my last sent one. When I receive a response, it shows up as if it was received before my text sent. I hope that makes sense. So even though the last message in the conversation  was from some one else, mine reads as the last. It's just not organizing the responses chronologically. 
Answer: It has something to do with the time and date in your phone. So, make necessary adjustments to them and make sure you choose the correct time zone.
Once you've made necessary corrections on the time and date, you will start receiving messages in their proper order, however, the messages you already received before you made the corrections will remain as is. It's up to you if you delete them or not.
Galaxy S7 is receiving random picture messages
Problem: I get random picture messages. But I know the person did not send it, it is normally a picture I have seen before and screen shot myself or one that had been sent to me in the past. But the person my phone says sent it to me isn't always the person I had the initial picture messaging with. A restart of my phone does not remove the message.
Answer: The thing is you're the recipient and there's nothing we can do if the phone that sends the message keeps sending you random picture messages…well, unless you blacklist the number. That, of course, isn't practical if you're in constant communication with the owner of the phone. Apparently, the problem isn't with your device but the sender's and we really can't help if we don't know the model of the phone. Perhaps you can tell that person to contact us so that we can provide solutions or troubleshooting guides.
Certain number can't receive text messages from a Galaxy S7
Problem: I can receive text messages from my mother's phone but she can't receive them from me and it's not an issue with text to any others.
Answer: Just like what I said in the previous issues, we cannot provide a solution if we don't the phone we're troubleshooting. Apparently, the issue isn't with your S7 but your mother's phone and it seems like she inadvertently blocked or blacklisted your number that any messages from you will be treated like spam and aren't displayed in the inbox. Tell her to check her phone's settings.
Galaxy S7 can no longer send text messages with attached pictures
Problem: I couldn't figure out what Android version I have first of all,  but my problem is this,  I can no longer send a picture text unless I use the Samsung filled sharing and it's driving me crazy,  I need to get step by step directions on how to solve this issue as I must be the village idiot,  I tried going in my phone looking how to enable Mobile data or check to see if it was enabled I can not for the life of me figure out how to do this,  could you please help,  my phone worked fine till this stupid last update,  thank you! — Theresa
Answer:  Don't worry about the version of Android your phone is currently running, Theresa. It doesn't actually matter because your problem is about mobile data that might have been disabled. To enable mobile data, follow these simple steps:
From the Home screen, tap the Apps icon.
Find Settings and tap on it.
Scroll to and touch Data Usage.
Tap Mobile data switch to ON.
After you enabled mobile data and you still can't send or receive picture messages, call your service provider as it has something to do with the APN settings. The representative will walk you through in setting it up on your phone.
Connect with us
We are always open to your problems, questions and suggestions, so feel free to contact us by filling up this form. This is a free service we offer and we won't charge you a penny for it. But please note that we receive hundreds of emails every day and it's impossible for us to respond to every single one of them. But rest assured we read every message we receive. For those whom we've helped, please spread the word by sharing our posts to your friends or by simply liking our Facebook and Google+ page or follow us on Twitter.