There are two #Samsung #Galaxy S6 Edge (#S6Edge) error messages I want to address in this post. The first one is "Unfortunately, Cocktailbar Service has stopped" and the other one is the "Unfortunately, Software Update has stopped." Both have something to do with the recent Marshmallow update, although I'm saying that the update brought them.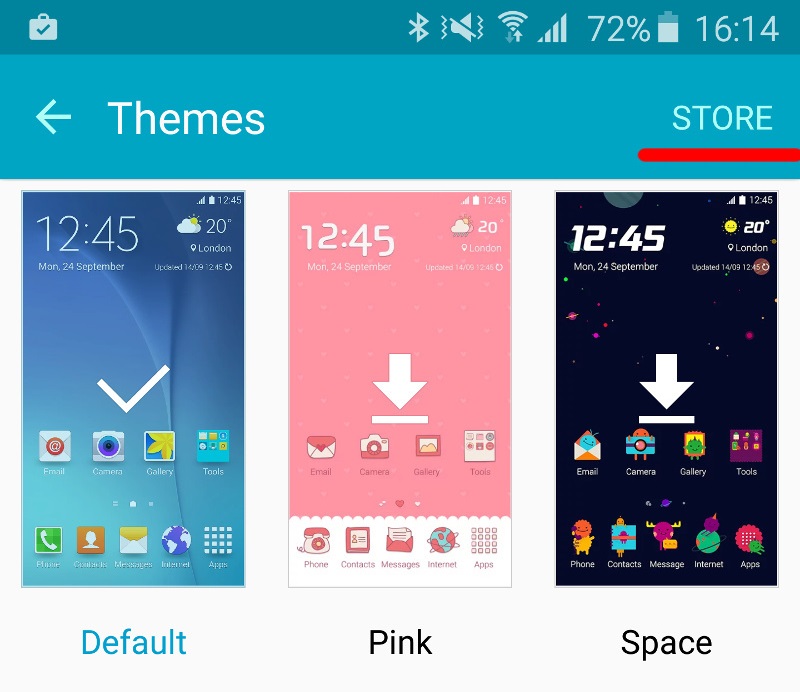 These errors already existed even before Marshmallow and it so happened that owners have encountered them shortly after the downloading the new firmware. So, it would seem like the update caused or triggered them.
Read on to learn more about these issues error messages and how to fix them. I provided brief explanations below and some procedures you can use to try to fix them.
For those who have other issues with their S6 Edge, make sure you visit our troubleshooting page as we've already addressed a lot of problems with this phone. Odds are we already answered your questions and there are already existing solutions for them. So, browse through the page and find issues that are similar or related to yours.
The other option you have to request for help is by contacting us directly. Yes, we are always open to your messages, however, we need more information about the problem so that we can help you better. So, be detailed in describing your problem and fill up our Android issues questionnaire completely and hit submit.
Fix "Unfortunately, Cocktailbar Service has stopped" error
Problem: Hi. Found your website while I was trying to find a solution to the problem with my Samsung Galaxy S6 Edge, which by the way updated to Marshmallow recently. I'm not saying it's the update or something because I was able to use the phone without a hitch after the update. I tried to change some settings and I can't really remember what I did or at least some of them. The error keeps appearing and it's saying about a cocktail bar service. I don't have an app with that name. I can still use my phone but it's really annoying to be greeted by this error when you unlock the device. Can you help, please?
Solution: The Cocktailbar Service always has something to do with your phone's themes and in this case that we're talking about the S6 Edge, it's also one of the services that handle some functions of the edge screen.
The most common solution to this problem is to revert the phone's UI theme to default or find a theme that doesn't trigger this error.
From the Home screen, tap Apps.

Find and touch Settings.

Under the 'Personal' section, find and tap Themes.

There are three built-in themes you can find, choose Default.

Or if you want to try other themes aside from other other, tap Store to find themes that fit your preference and download them.
If change the theme doesn't work, then the new update must have something to do with it but before we jump into our firmware troubleshooting, try to isolate the problem first by booting your device in safe mode.
Turn off your Galaxy S6 Edge.

Press and hold the Power key.

When 'Samsung Galaxy S6 Edge' appears, immediately release the Power key and then press and hold the Volume Down button.

Continue holding the Volume Down button until the phone finishes the restart.




When you see Safe Mode on the lower left corner of the screen, release the button.
If the problem still occurs in safe mode, then go ahead and troubleshoot the firmware, otherwise, find the apps that might be causing this problem and uninstall disable or uninstall them.
In case the error still occurs in safe mode, the next thing you should do is delete the system cache to make sure the new firmware uses new caches.
Turn off the device.

Press and hold the following three buttons at the same time: Volume Up key, Home key, and Power key.

When the phone vibrates, release the Power key but continue to press and hold the Volume Up key and the Home key.

When the Android System Recovery screen appears, release the Volume Up and Home keys.

Press the Volume Down key to highlight 'wipe cache partition.'

Press the Power key to select.

When the wipe cache partition is complete, 'Reboot system now' is highlighted.

Press the Power key to restart the device.
Lastly, if everything else fails, you need to do the master reset. It will delete everything in your phone including your apps, contacts, files, pictures, etc. so make sure you back them up before following the steps below.
Turn off your Samsung Galaxy S6 Edge.

Press and hold the Volume Up, Home and Power keys together.

When the device powers on and displays 'Power on logo', release all keys and the Android icon will appear on the screen.

Wait until the Android Recovery Screen appears after about 30 seconds.

Using the Volume Down key, highlight the option, 'wipe data/factory reset' and press the Power key to select it.

Press the Vol Down button again until the option 'Yes — delete all user data' is highlighted and then press the Power key to select it.

After the reset is complete, highlight 'Reboot system now' and hit the Power key to restart the phone.
I hope the problem cannot reach this far.
RELATED POST: How to fix Galaxy S6 Edge Cocktailbar service, Smart Remote & PeopleStrip apps crashes
Fix "Unfortunately, Software Update has stopped" error
Problem: There was an update that I tried to download. Everything was working great at first but a few moments later the download stopped and an error message showed up: "Unfortunately, Software Update has stopped." I did reboot your phone and the notification about an update is still there. Tried downloading it again but the same thing happened; download stopped, error message showed. Do you guys know what's wrong with my phone? Was it the update?
Troubleshooting: The Software Update is a service that handles firmware updates, although the download is handled by the Download Manager. I think it's a minor problem and you can fix this on your own. Please try these steps…
Step 1: Reboot your phone. Don't try anything else yet because we really don't know if it's just a minor problem or serious one.
Step 2: Download the update again. After the reboot, try to install the new update and if it doesn't go through, clear the cache and data of the Download Manager to get rid of previously downloaded firmware files.
Step 3: Reset your phone and try again. A reset might be able to fix this issue although we can't guarantee it. After that, try to download the firmware again.
Step 4: Manually install the firmware (for expert users only). Since you can't install the update the usual way, you might want to try to install it manually but please note that it's a risky process. You might want to find someone who already have experienced flashing a firmware to a phone. Basically, for this, this is what you should do:
Download the firmware package to your computer.

Download Odin to your computer and run it.

Boot your phone in Download Mode (Odin mode).

Connect your device to your computer and make sure Odin detects it.

Using Odin, load the firmware package and start flashing.
Step 5: Let a technician fix it for you. If all else fails, you still can go to a shop and let the tech handle it for you.
CONNECT WITH US
We are always open to your problems, questions and suggestions, so feel free to contact us by filling up this form. This is a free service we offer and we won't charge you a penny for it. But please note that we receive hundreds of emails every day and it's impossible for us to respond to every single one of them. But rest assured we read every message we receive. For those whom we've helped, please spread the word by sharing our posts to your friends or by simply liking our Facebook and Google+ page or follow us on Twitter.