Welcome to another installment of our troubleshooting series where we help our readers who are using the #Samsung #Galaxy #S6Edge fix the problems that they are experiencing with the phone. Today we will tackle the Galaxy S6 Edge screen has horizontal lines issue & other related problems. We have gathered several issues of this nature that have been sent to us and have addressed them below.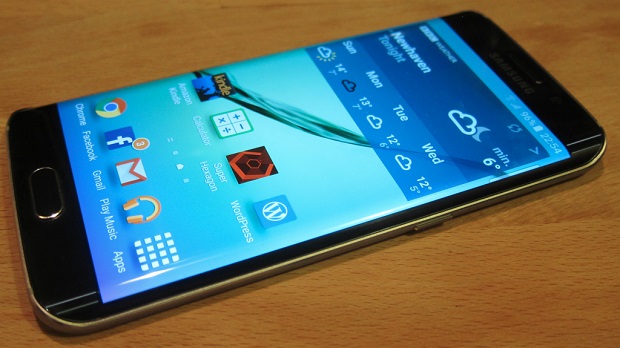 If you own a Samsung Galaxy S6 Edge or any other Android device for that matter then feel free to contact us using this form. We will be more than happy to assist you with any concern that you may have with your device. This is a free service we are offering with no strings attached. We however ask that when you do contact us try to be as detailed as possible so that an accurate assessment can be made and the correct solution can be given.  
If you would like to browse the previous parts in this series then check out this link.  
You may also reach us at our Facebook and Google+ social media accounts.
S6 Edge Screen Has Horizontal Lines
Problem: Hello I have a fairly new Samsung Galaxy S6 edge and recently had a software update. After the update I noticed broad fixed horizontal lines ( 4 of them ) on my screen. It is not a theme issue or wallpaper issue as the lines are there even on camera mode. The lines become thinner when I increase brightness levels to maximum, but still remain. Have done a wipe  partition divide, but am reluctant to do a factory reset, but will try if you recommend it. Thanks Any help would be appreciated
Solution: You could try starting your phone in Safe Mode first. While the phone is operating in this mode only the pre-installed apps are allowed to run while apps you downloaded are prevented from running. If the lines are not present when your phone is running in this mode then it could be caused by an app. Find out what app this is and uninstall it. If however the lines are still present then consider doing a factory reset. Make sure to backup your phone data before doing the reset.
Should the issue still occur after doing the reset then it's possible that the problem is caused by a faulty display. Have this checked at a service center.
S6 Edge Has Black Screen
Problem: My galaxy s6 edge has a black screen. Phone is working all right. I can receive calls and notifications. I have tried all the troubleshoot solutions you guys have suggested. Power button, volume key etc. The phone gets very hot arounD the left side of the camera when I turn it on. The Samsung shop in my country says I'll need to change my screen to fix it for almost $250.
Solution: If you have already performed our recommended troubleshooting steps for this issue then the problem could already be hardware related. It's either the display assembly is damaged or its connection to the motherboard has become loose. I recommend that you have this checked first at a service center.
S6 Edge Showing White Screen
Problem: hi .my S6 edge just began showing a white like screen with different colours all over..but I didn't drop it in water..the home button is not working ..only the the power button shows the white screen when I press and hold it..or if I put it on a charger…please help
Solution: What you can do right now is to start your phone in recovery mode. If the screen works in this mode then the problem could be caused by a software glitch. I recommend that you do a factory reset in this mode. Take note that your phone data will be erased if you do this so make sure to have a backup copy first. If the problem occurs even in recovery mode then the display assembly of your phone might be damaged. I recommend that you have his checked at a service center.
S6 Edge Flickering White Light On Screen
Problem: dropped my phone in a stream, cracked the screen and water entered the phone. Kept the phone in rice for 36 hours. phone was working fine for roughly 5 days after that the screen below the crack point started flickering white light and the upper portion got black. all the inner functions are working perfectly fine including voice assistant , songs, calling but the screen is not responding, even the touch is working perfectly.
Solution: It looks like the display has been physically damaged. Replacing the display will fix this issue however before you bring your phone to a service center it's best to check if a glitch in the phone software is causing this problem. Backup your phone data then do a factory reset. Once the reset is complete don't install anything in your phone yet. Try to check first if the issue still occurs. If it does then I suggest you bring your phone to a service center and have it checked.
S6 Edge Slow To Respond
Problem: The screen works, but it's so slow. it takes a few to respond to anything, when i turn the phone on the back and the one you use to close apps flicker on and off for a few secs. I have tried safe mode, and rebooting my phone.
Solution: To fix this problem try wiping the cache partition of your phone first from the recovery mode. If this doesn't fix the problem then I suggest that you backup your phone data then do a factory reset.
S6 Edge Top Part Of Screen Not Working
Problem: Hi, I was wondering if you could help. I have tried to fix the issue with the safe mode but this isn't working. The stop of my screen doesnt work, which is fine when you can turn the phone and the apps work in landscape but not all apps work in landscape. Do you know of another way to fix this?
Solution: For this issue you will need to backup your phone data then do a factory reset. If after the reset the issue still occurs then this problem could be caused by a damaged digitizer. I recommend that you bring your phone to a service center and have it checked if this is the case.
Feel free to send us your questions, suggestions and problems you've encountered while using your Android phone. We support every Android device that is available in the market today. And don't worry, we won't charge you a single penny for your questions. Contact us using this form. We read every message we receive can't guarantee a quick response. If we were able to help you, please help us spread the word by sharing our posts with your friends.