One of the selling points of the Samsung Galaxy S6 Edge Plus (#Samsung #GalaxyS6EdgePlus) is its AMOLED display with sensitive touchscreen and vivid colors but shortly after its release, some owners were already complaining about some issues.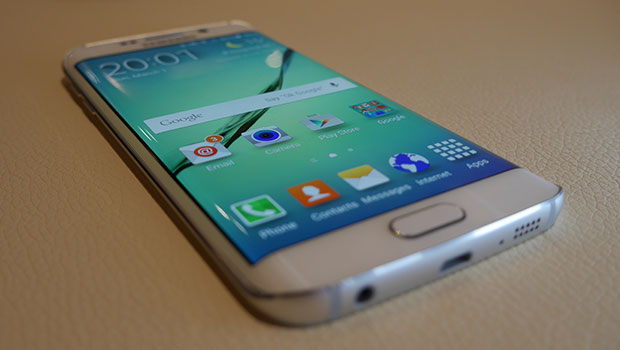 In this post, I tackled some of the most common problems that occurred due to firmware or hardware intervention. I also included a few that happened due to liquid and physical damage. Read on to learn how to tackle them. Refer to the links below.
If you are looking for a solution to a different problem, then visit the troubleshooting page we carved out for Galaxy S6 Edge+ owners. Find problems related to yours and try the solutions we provided and if they won't work for you, then contact us by filling up this form.
---
Screen randomly blinks, flickers after liquid damage
Problem: While I was having lunch by mistake my hand touch the water bottle and it fell on my mobile due to which some water fell on the mobile screen. After that the screen started flickering for some time & after that it completely went black. But the mobile was on. I couldn't switch off my mobile. But after 2 hours from that when I just turn my screen using side button it was less flickering then before and after some time it was ok. But after that the screen is slightly blinking sometimes & sometimes it slightly change colour like yellowish but not continues. Rest everything is ok. I'm using the phone as before. But these two things are bothering me. Sometimes flickering screen specially when I put on the screen using side button 2. The slightly changing colours that also sometimes.  Please advice.
Suggestion: When it comes to liquid damage, it's very difficult to determine the extent of the damage. Apparently, water got into your phone and these problems happen. You're even lucky all these are very minor issue and I'm quite sure that a general cleaning procedure would fix these issues. However, just unscrewing one screw would void your warranty so I suggest you bring the phone to an authorized technician and have him clean it up for you.
There's not much we can do about it because it concerns the hardware.
Galaxy S6 Edge Plus reverts back to default Home screen
Problem: When I download an app for a different home screen, it eventually reverts back to the factory home screen every time. Please help me out.
Troubleshooting: I am almost certain this problem started after an update, am I right? You're not the only one that's having this issue and it has something to do with the corrupt caches and/or data. That said, the first thing you should do is wipe the cache partition first and do the master reset if the previous procedure failed.
Wipe Cache Partition
Turn off the device.
Press and hold the following three buttons at the same time: Volume Up key, Home key, and Power key.
When the phone vibrates, release the Power key but continue to press and hold the Volume Up key and the Home key.
When the Android System Recovery screen appears, release the Volume Up and Home keys.
Press the Volume Down key to highlight 'wipe cache partition.'
Press the Power key to select.
When the wipe cache partition is complete, 'Reboot system now' is highlighted.
Press the Power key to restart the device.
Master Reset
Turn off your Samsung Galaxy S6 Edge.
Press and hold the Volume Up, Home and Power keys together.
When the device powers on and displays 'Power on logo', release all keys and the Android icon will appear on the screen.
Wait until the Android Recovery Screen appears after about 30 seconds.
Using the Volume Down key, highlight the option, 'wipe data/factory reset' and press the Power key to select it.
Press the Vol Down button again until the option 'Yes — delete all user data' is highlighted and then press the Power key to select it.
After the reset is complete, highlight 'Reboot system now' and hit the Power key to restart the phone.
Galaxy S6 Edge+ screen shows a strip
Problem: There is certain strip on my screen that reacts really strangely and if I'm scrolling through for example Facebook it will click on where the strip is and it can get really frustrating.
Troubleshooting: It could have been more helpful if you described what this "certain strip" looks like or how it got there. But since there's a lack of information here, please follow these:
Take a screenshot.
Download the picture your computer or other devices.
If the strip shows on the screenshot, the firmware or the app has something to do with it; a factory reset may fix it.
However, if the strip doesn't show on the screenshot, it's a hardware issue affecting the digitizer; you need a tech's help for that.
Galaxy S6 Edge+ screen cracked, static & won't charge
Problem: The screen cracked and phone was still operating for about three weeks.  A few days ago the phone went dead would not charge and now screen is static (black and white lines).  Unable to use the phone, is this something that you can help with.  Thank you for your time. — Sandy
Suggestion: Hi Sandy. Obviously, the phone suffered a physical damage that it's taking its toll now. If it were just a problem with the firmware or a minor hardware glitch, we may be able to suggest a solution or two but this is a problem with the hardware and you need someone who can further investigate the problem closely. Please send the phone in for repair.
Galaxy S6 Edge Plus touchscreen is not sensitive
Problem: I want my screen more sensitive. I feel like I have to push buttons 4 or 5 times before they work.
Suggestion: The latest Galaxy devices have more sensitive screens so Samsung took away the Glove mode that allows users to adjust the sensitivity of the screen. If you think the screen in your phone is not sensitive enough, I suggest you have it replaced as it's obviously a hardware problem.
Connect with us
We are always open to your problems, questions and suggestions, so feel free to contact us by filling up this form. We support every Android device available and we are serious in what we do. This is a free service we offer and we won't charge you a penny for it. But please note that we receive hundreds of emails every day and it's impossible for us to respond to every single one of them. But rest assured we read every message we receive. For those whom we've helped, please spread the word by sharing our posts to your friends or by simply liking our Facebook and Google+ page or follow us on Twitter.