One advantage that Android devices have, such as the #Samsung #Galaxy #S5, is the availability of a microSD card slot which allows the owner to expand the storage capability of the phone. Samsung didn't include this card slot in the Galaxy S6 but somehow realized that a lot of people loved this feature which is why it is making a comeback in the Galaxy S7. There are however instances when problems on the device can occur because of the addition of a microSD card. This is what we will tackle today as we aim to resolve the Galaxy S5 stopped recognizing microSD card issue & other related problems.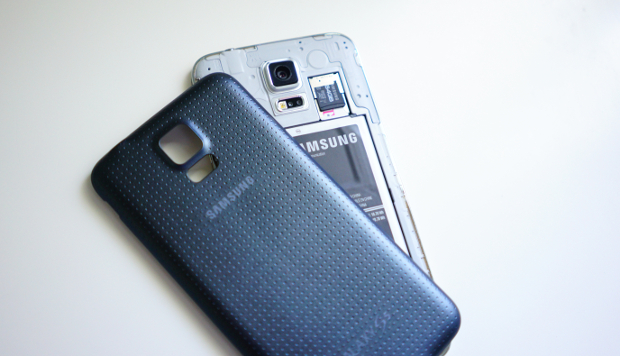 If you own a Samsung Galaxy Note 5  or any other Android device for that matter then feel free to contact us using this form. We will be more than happy to assist you with any concern that you may have with your device. This is a free service we are offering with no strings attached. We however ask that when you do contact us try to be as detailed as possible so that an accurate assessment can be made and the correct solution can be given.  
If you would like to browse the previous parts in this series then check out this link.  
You may also reach us at our Facebook and Google+ social media accounts.
S5 Stopped Recognizing microSD Card
Problem: My S5 has suddenly stopped recognising my Sandisk Ultra 128GB SD card.  I have loaded and unloaded it several times and tried to mount it via my file manager but it doesn't recognise it.  When I remove it and put it in an adaptor and then into my PC the PC also fails to recognise it.  All my camera stuff was on the SD card.  I took two photos this afternoon at roughly the same time and the second of them is stored in my internal memory as it has created a new DCIM folder but there is no sign of the first photo or two I took this morning.
Solution: If the microSD card can't be detected by the phone or by your computer then there's a possibility that it may already be corrupt. This usually occurs if the card has already developed a high amount of bad sectors.
If you would like to recover the data stored in this card then you can try to use several of the popular Windows-based software tools that are available. One such tool that you should check out is Recuva. It's a free data recovery tool from the same company that made Clean Master. Although Recuva does not have a 100% success rate in recovering lost data it is worth a shot.
In the meantime, I would suggest that you get a new microSD card.
S5 Not Detecting SD Card
Problem: Help. My phone doesn't detect my SD CARD. my sd card is 64gb and i tried every sd card i have and still it doesn't detect the sd card
Solution: If you have already tried using different microSD card's on your phone and still it does not recognize them then this could already be a hardware related issue. You should however check first if the problem is caused by the phone software by backing up your phone data then doing a factory reset. If after the reset the phone still does not recognize the card then inspect the microSD card slot. Clean this slot using a can of compressed air. This removes any foreign matter in the slot which could cause the problem.
If the above steps fail then I suggest you have your phone checked at an authorized service center. If I were to guess I'd say the microSD card slot of your phone might need to be replaced.
S5 microSD Card Write Protect Error
Problem: Just switched to a Galaxy S5 from an S3. I have a Samsung EVO 64GB micro sd card that I bought back in January that I moved from the S3 to S5. Everything worked correctly for a day then I noticed some of my pictures were corrupt, then later the whole card was corrupt. I have been able to use software to retrieve what was on the card, but now when I try to format the card it says it's write protected. The switch is unlocked and I have tried a couple of different micro adapters to make sure it wasn't the lock switch. Is there another way to UN-write protect the card?
Solution: Since you are about to format the card then I assume you already have a backup copy of its contents. The reason why you are getting the write protect error message is because this card is corrupt. You can try to fix this by using the chkdsk command on a Windows based computer. Follow the steps listed below to perform this action.
Connect the microSD card to your computer using a card reader.

Run the cmd.exe program. You can do this by going to the start menu then type "cmd" in the search bar. Right click on the cmd.exe program that appears in the search list then click on run as administrator.

On the command window type in "chkdsk h: /f" where "h" is the drive letter corresponding to your microSD card.

Once you click enter  it will start checking the microSD card and fix any corrupt sectors. This may take a few minutes.

When chkdsk is done , you will be prompted to save lost chains. Click Yes and wait for chkdsk to display all lost data files that have been repaired.
S5 No Storage Area Found Check The Device Storage Settings Error
Problem: I just updated my system to the Marshmallow and now my phone continous says "No Storage Area Found – Check the device storage settings" I've looked at my storage settings. My SD card is mounted and has space, my available space is more than adequate. I have no idea how to make this notice stop. I've restarted the phone, taken out the battery, taken out the SD card and reinstalled…when I tap the message it doesn't take me anywhere, when I clear the message it just comes right back. I've gone to Settings–>Storage and I'm not seeing any way to update anything. I'm pretty lost in how to make this message disappear. Any help you have would be appreciated!
Solution: This is not a common issue for devices that have upgraded to Marshmallow which is why I suspect that this could be caused by a glitch in the phone software. Listed below are the troubleshooting steps that you should do. Move to the next step if the current step fails to resolve the problem.
Start your phone in recovery mode then wipe its cache partition. This procedure deletes the temporary data in your phone which might be causing this problem.

Backup your phone data then do a factory reset. This is a highly recommended troubleshooting step which is effective when issues occur right after a software update. This step deletes all data in the device including the old software data which might still be present in your phone and is causing the problem.
S5 Can't Transfer Data To microSD Card
Problem: I have an Micro SD card of 16gb as an additional memory. Recently my phone's system memory is full and I was trying to transfer all data onto my SD card. I am able to have access to microsd card but to my surprise when I tried to transfer to sd card nothing is happening. Before that I had formated using sd card reader to windows and at that time the file format was shown as FAT32 then I again formatted this after inserting this to my s5 phone. Pls advise if there is any solution for this
Solution: What type of data are you trying to transfer to the microSD card? If it is an app or an app data you are trying to transfer then you might not have success with this as certain apps need to remain in the internal storage of the phone.
If it's music, photos, videos, or any other of your personal data that you are trying to transfer then you should be able to do this easily.
Try to check if this issue is caused by the microSD card by taking it out of your phone then connecting it to your computer. You will need a card reader to do this. Copy some files from your computer to the card. If the files can't be copied then the card has a problem. I suggest you try using a different card. If you are able to copy files to the card then the problem could be with the phone.
Reinsert the microSD card back to your phone then start the device in Safe Mode. Try to copy files to the card in this mode. If no issues occur then an app you downloaded could be the culprit. Find out what app this is and uninstall it.
If the issue still remains even in Safe Mode then you should consider doing a factory reset. Take note that you need to backup your phone data first before attempting this step.
Feel free to send us your questions, suggestions and problems you've encountered while using your Android phone. We support every Android device that is available in the market today. And don't worry, we won't charge you a single penny for your questions. Contact us using this form. We read every message we receive can't guarantee a quick response. If we were able to help you, please help us spread the word by sharing our posts with your friends.