Samsung has started rolling out a significant firmware update for the Galaxy S23 series smartphones across South East Asia, bringing improvements to the camera, haptic feedback, and UI animations.
The update bears version number S91xBXXU2AWF1 and has a massive file size of 2.2GB.
June Security Patch Included in Update
The new update is live in Indonesia, Thailand, Malaysia, and the Philippines and includes the Samsung June Security Patch.
It is anticipated that users in other regions will receive this update in the coming days.
Camera Functionality Improvements
One of the most notable enhancements contained within the June update is a 2x zoom option within the camera app's Portrait mode. Leaker Ice Universe had rumored this feature back in May. This new capability utilizes a cropped view from the main 50MP camera, providing users with additional flexibility for composing portrait photos from a comfortable distance.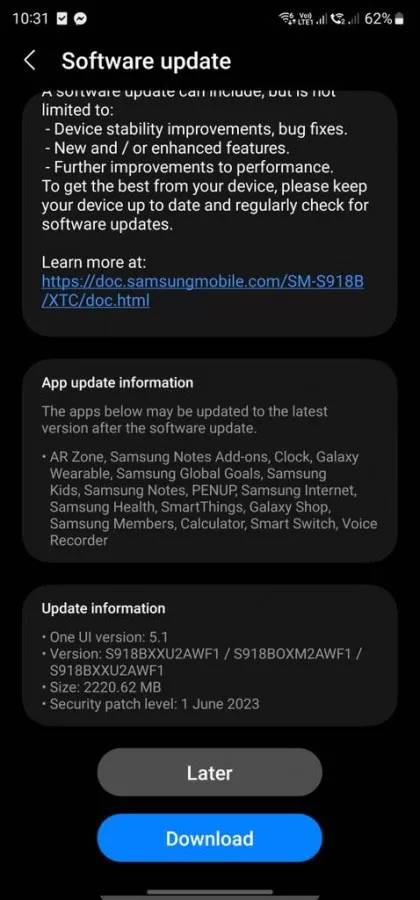 Other camera performance improvements include fixing autofocus issues such as "banana-shaped blur," which has affected some users when shooting close-up subjects. Additionally, HDR-related improvements have been made to address halo effects observed around objects in low-light scenarios.
Lastly, Night mode processing has received a revamp, hopefully addressing complaints of soft images and artifacts observed by some Galaxy S23 users when capturing images in low-light conditions.
Additional Updates: UI Animations and Haptics
Besides the camera enhancements, those who have already installed this "super-update" report smoother transitions for One UI animations and subtle improvements to haptic feedback.
Although no official changelog exists currently for these updates, many users who have tested out their new Galaxy S23s after installation have reported overall satisfaction with these upgrades.
Availability in Other Regions
While this June update for the Samsung Galaxy S23 series is limited to South East Asia right now, it is expected to reach other countries, including the US and Europe, in the coming days. Users can check for updated availability by going to Settings > Software update and selecting 'Download and install' when prompted.
Maintaining Galaxy S23's Reputation as a Top Camera Phone
The Samsung Galaxy S23 series launched in February 2023 and claimed its spot among some of the best camera phones available. With these latest camera improvements provided in the June update, it's clear that Samsung aims to refine user experiences, addressing any previous issues or glitches.
From autofocus fixes and HDR improvements to the new 2x zoom option in Portrait mode, these upgrades promise to enhance photographic capabilities on Samsung's flagship smartphones even further. Consequently, owners of Galaxy S23 devices will undoubtedly enjoy a more seamless camera experience with better overall performance and fewer photo-ruining artifacts.