Recent rumors indicate that the iPhone 15 and iPhone 15 Plus might get a significant camera upgrade, previously limited to the Pro models. According to supply chain reports, both new iPhones will boast a 48-megapixel main camera like the iPhone 14 Pro, unifying the main cameras across all four of Apple's expected 2023 releases.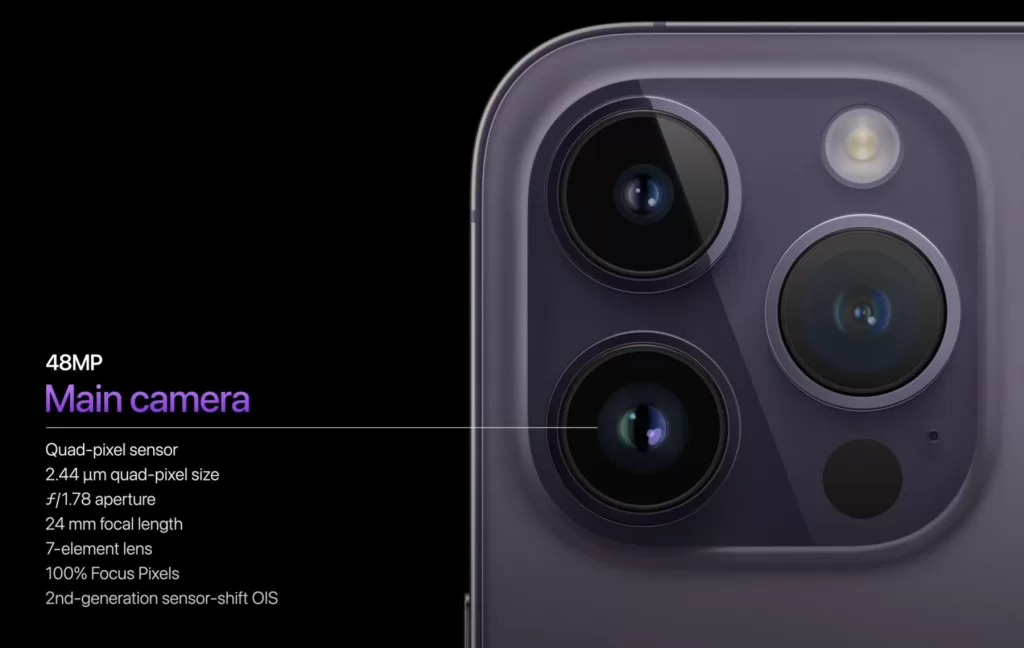 Supply Chain Report Backs Up Previous Claims
IT Home has released a report based on the supply chain stating that the upcoming generation of Apple iPhone (iPhone 15 series) will be fully equipped with a 48-megapixel main camera lens. This echoes earlier claims made by analyst Jeff Pu and suggests that buyers of the regular iPhone and Plus variants can expect improved image quality in these models.
The existing iPhone 14 and iPhone 14 Plus have 12-megapixel cameras, while only the top-tier iPhones received the 48-megapixel upgrade in 2022. With this parity in camera features across all models in the lineup, it's expected that there will be other distinguishing factors between Pro and non-Pro variants moving forward.
Enhanced Zoom Capabilities for Pro Max Model
One such differentiator for the iPhone 15 Pro Max has been hinted at in the form of a new periscope camera, allowing for improved zoom capabilities. Following Apple's usual release schedule, we can anticipate an announcement regarding the new iPhones around September. It is also likely that new Apple Watches will be revealed around this time period, including the Apple Watch Series 9 and an updated Apple Watch SE.
Additional Benefits from Camera Upgrade
Upgrading to a 48-megapixel camera could potentially allow iPhone users access to quality features such as capturing 48-megapixel ProRAW photos. In addition, ITHome has reported that Sony, the manufacturer of iPhone camera sensors, is ordering extra parts from TSMC, the chip fabricator. This move is intended to produce enough 48MP sensors for all iPhone 15 models, as millions more cameras will need these sensors if both Pro and non-Pro iPhones are upgraded.
Potential Limitations
However, it is unclear if Apple will fully exploit the benefits of the 48MP main camera on non-Pro iPhone 15 models. Currently, iPhone 14 Pro users must enable ProRAW photo format to capture full 48MP shots, a feature exclusive to the Pro range since its introduction. It remains to be seen whether a standard 48MP mode will be added or if a previously Pro-exclusive feature will be available to all iPhone 15 users.
Looking Ahead at the iPhone 15
If rumors prove accurate, the iPhone 15 could be a game-changer for Apple's phone line, as this latest update suggests that even the most basic iPhones will receive a considerable camera upgrade. The increase in production capacity by Sony and input from Taiwan Semiconductor lends credence to these reports.
Regarding the Pro versions, rumors suggest that additional features, such as a periscope-style lens, might be added to further distinguish them from base models. As for other changes, it's rumored that the iPhone 15 might finally feature USB-C compatibility, although there are also reports of Apple limiting charging capacities on non-Apple cable products.
Overall, excitement is building around this potential shakeup in Apple's phone lineup with the possible inclusion of high-resolution camera features across all models. This move could potentially impact competitors in the smartphone market and attract more consumers to flagship iPhones.