Are you experiencing Roku low power issue? There are several factors that can cause this problem such as the power outlet being damaged, the power adapter being defective, USB cable issues, and USB ports does not function properly, just to name a few. To fix this Roku low power issue you will need to perform several troubleshooting steps.
Roku is a brand of hardware to create digital media players. They make media streaming websites accessible to consumers. The first Roku model, which was developed in conjunction with Netflix, was made available in May 2008. Roku gadgets are credited with the concept of low-cost, small-form-factor set-top boxes for streaming media viewing. Additionally, Roku has licensed its platform as middleware for smart TVs.
Roku device insufficient power message? Here's how to fix it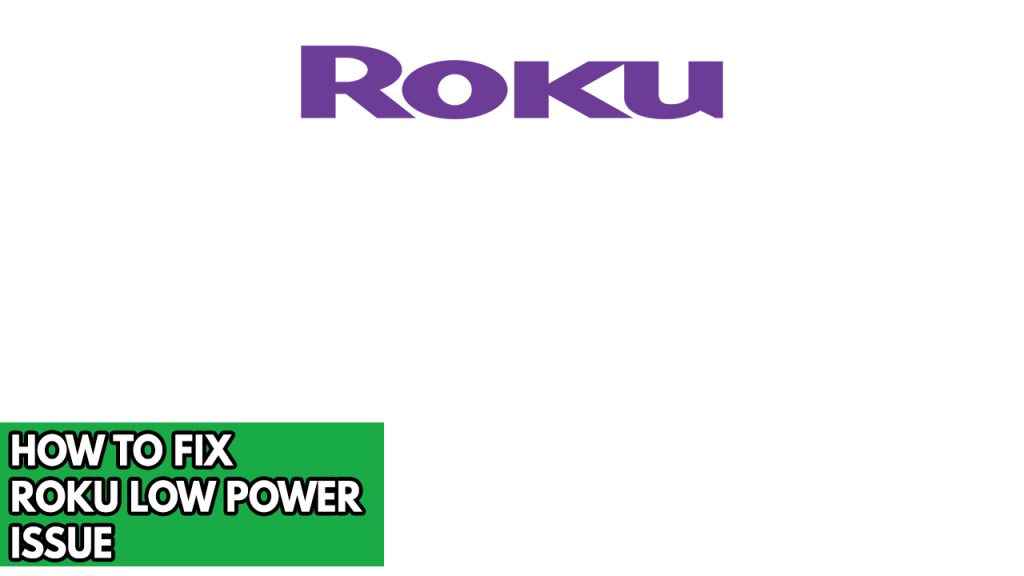 One of the issues that you might encounter when using the Roku low power error issue. This can be a frustrating experience especially if you want to watch your favorite shows on your Roku device or Roku streaming stick.
The Roku device can also flash red as an alternative. Your Roku device's light blinks red to let you know the power supply is insufficient. The LED, which is white by default, will be totally dimmed. This light will let you know if your gadget is getting too hot.
Fix #1 Check the USB cables
The Roku low power issues are most likely the result of a broken USB cable; using a cable other than the Roku's approved cable may not be able to supply the device with enough power, and as a result, it may have lower voltage, which causes this problem. For optimal performance, it is preferable to swap out any subpar cables with the original Roku USB cable.
Fix #2 Use other USB ports
If you are using the TV to power the Roku device, consider switching the USB port that the device is plugged in to and see if the problem with insufficient power is resolved. The different USB ports have varying volt ratings and power ratings, so they may vary in the output voltage delivered to the device.
Fix #3 Use wall outlet
Streaming devices like Roku often require relatively little power. Your device may use more than 4.5 watts of electricity when streaming 4K HDR videos on a Roku Ultra. When using streaming sticks, the Roku needs roughly 3 watts to charge streaming devices.
When not in use, the Roku needs about 2 watts of electricity, which is a little less than when it is. If you see Roku low power issues, it's likely that you're connecting to the television's USB connection.
Each Roku or Steam Player streaming stick has its own charger or power port. Simply unplug your Roku from the USB ports on the TV's back and connect the USB port on the power supply adapter to your Roku charger.
In some cases, it is preferable to use the charger and a wall outlet to power the Roku device directly to have enough power and avoid Roku low power. Use the included Roku charger to give the gadget the right voltage it needs to operate properly. It comes in the box with the device. Use a wall socket to plug the power adaptor straight into instead of utilizing an extension cord.
Use any wall outlet to connect the adaptor. If the battery dies, you should buy a replacement online. However, keep in mind that charger cords must precisely match the power needs on the item they are charging in order to work.
Fix #4 Plugged power adapter properly
You can check the adapter to make sure it is inserted into the socket properly and make sure the charger is securely fastened to the Roku device. Make sure the adapter is properly plugged in since if it is loose, it may not supply enough power.
Fix #5 Remove power extension cables and HDMI extension cables
It's common practice to connect the TV and Roku via HDMI and Power Extension cords, however occasionally these cables might break, leading to device overheating and the appearance of the above notice. Therefore, be sure to take off every HDMI and other extension.
Fix #6 Update Roku device
An updated media device is essential. They get the most recent information in this way, which helps them operate better and get security features that are more advanced. If a software update is out of date, the obsolete data will have an impact on how it functions and may cause the Roku low power insufficient error message.
Although Roku will update automatically, updates occasionally take longer than expected to install or, in the event of a power loss, are stopped.
Step 1: Press the Home button on the Roku control.
Step 2: Navigate to the Settings menu.
Step 3: Navigate to System Settings.
Step 4: Navigate to System Update.
Step 5: Press Choose Now.
There are three additional ways you can attempt if you are unable to reach Roku's Home page to update your device. One is to use the remote to press a series of buttons to reset Roku. The alternative is to factory reset your Roku. Last but not least, if your Roku device includes a reset button, you can use it to reset Roku.
Remote reset
You must press the remote's buttons in a precise order to perform this reset. They serve as a means of communication between the remote and Roku's software.
Step 1: Press the Home button 5 times.
Step 2: Press Up once.
Step 3: Press the Rewind button twice.
Step 4: Press Fast Forward button twice.
Factory reset
Roku should only be reset to factory settings as a last resort. All of the data you've saved on Roku will be erased if you perform a factory reset.
Your stored channels and personal preferences will all be lost. Roku will be reset to its factory default settings and be how it was when you first bought it. It will also force any outstanding updates and fix any hardware faults if all saved preferences and data are deleted.
Step 1: Press the Home button on the Roku control.
Step 2: Access Settings.
Step 3: Choose System.
Step 4: Choosing Advanced System Settings.
Step 5: Choose Factory Reset.
Step 6: To finish the reset, follow to any instructions displayed on screen.
Reset Button
Because not all Roku TVs or streaming devices have one, In essence, this button will function similarly to the previously mentioned factory reset. Once you wipe everything you've saved, Roku will restart with its factory default settings.
Find the Reset button on your Roku stick, streaming device, or TV. For 30 seconds, press and hold the button. When the reset is finished, the power indicator light on the device will begin to flash. When the light begins to flash, let go of the reset button.
Frequently Asked Questions
Why does my Roku keep saying low power?

There are several factors that can cause this problem such as the power outlet being damaged, the power adapter being defective, USB cable issues, and USB port does not function properly.

What is low power mode on Roku?

If it is displaying a low power notification, it's because the USB port on your TV where it's plugged in isn't supplying enough power. Instead, you must plug your Roku directly into a wall outlet.

How do I find hidden channels on Roku?

It offers its own selection of content, including "secret" channels that require a special code to access.

Does Roku have TV One?

Yes it has TV one.

Can I use any Bluetooth speaker with my Roku TV?

Roku Smart Soundbar and Roku TV Wireless Speakers are the only Roku TV-compatible Bluetooth products. Other Bluetooth devices cannot be connected directly to your TV, but you can use the Roku mobile app to do it.