Are you having difficulty launching your favorite Roblox game due to "HTTP error 503 service unavailable"? In this troubleshooting guide, we'll show you the ways to resolve error 503 service unavailable on Roblox.
What does HTTP 503 Service Unavailable error mean?
503 Service Unavailable error is one of the common errors associated with Hypertext Transfer Protocol or HTTP and it usually occurs if there's an issue with the website's server. If you're getting the error 503 Service Unavailable when trying to play Roblox, it's possible that the servers of Roblox are currently down due to a technical glitch, maintenance, or high traffic.
At other times, error 503 service unavailable may show up even when the servers are working normally because of corrupted cache or cookies in your web browser. If you enable or use cookies in your browser, you can try to clear the old ones or configure the browser to block cookies temporarily to see if that will work. This often works in cases when error 503 service unavailable keeps showing up even though the website or game like Roblox can be accessed using another browser.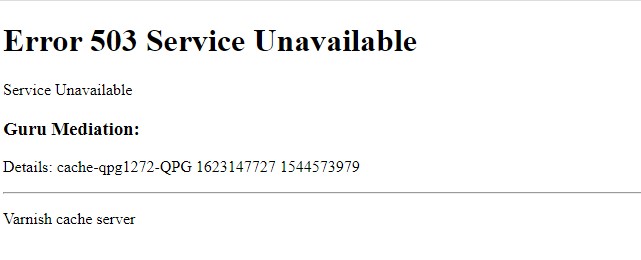 How to fix Roblox Error 503 Service Unavailable?
Error 503 service unavailable is typically easy to fix. Here are the solutions that you can try to fix this error.
Fix #1: Hit the refresh button.
Simply refreshing the page can sometimes be the only thing that you need to load a website or play Roblox again. To quickly do a refresh of the website, just press the F5 button on your keyboard, or you can click the refresh button on your web browser.
Fix #2: Restart the browser.
If a quick refresh did not address the Roblox HTTP error 503 service unavailable, your next move is to close and restart the web browser.
Fix #3: Check Roblox server status.
Sometimes, a Roblox game may not launch or return an error like the HTTP 503 service unavailable when you try to open it because of an on-going server trouble. To know if there's any issues with the game server, there are a couple of things that you want to do.
First, visit the official Roblox server status website. In this site, you'll know if there are any problems that affects certain aspects of the game. There's also a history of previous issues that might help give you an idea why you're getting the HTTP 503 service unavailable in the first place.
The other option that you can use to check is by going to third party server monitoring websites such as Downdetector.
Fix #4: Clear cache and cookies.
If there's no known service disruptions at the moment but you continue to experience the HTTP 503 service unavailable, you can go ahead and delete the cache and cookies of your web browser. The exact steps depend on what browser you're using so be sure to search the internet for steps.
It's highly recommended that you restart your browser after clearing the cookies and cache.
Fix #5: Use another browser.
If the HTTP 503 error service unavailable remains, you can also try to see if you can access your Roblox game using a different browser. If the game works on another browser, then you'll have to troubleshoot the non-working browser by probably uninstalling and reinstalling it.
Fix #6: Restart the router or modem.
Sometimes, a bug or a network device glitch may lead to browsing issues. Make sure that you reboot your modem or router at this point if you haven't done so yet.
Fix #7: Use another DNS.
Some players were able to effectively fix the HTTP error 503 service unavailable by using a different DNS server, preferably the Google public DNS. Visit this page to know how to change the DNS settings on your PC.
Fix #8: Contact your ISP.
If none of the solutions in this guide has helped you fix your Roblox HTTP error 503 service unavailable, consider talking to your Internet Service Provider for support.
OTHER INTERESTING ARTICLES:
Visit our TheDroidGuy Youtube Channel for more troubleshooting videos and tutorials.