In this post, I will provide a simple solution to a problem that haunted a lot of Samsung Galaxy S5 (#Samsung #GalaxyS5) owners especially those who are used to knowing the weather first thing in the morning. There were a lot of reports from owners who experienced having the weather widget disappear from the Home screen and when they tried to re-add it, the phone will say that the widget is already added.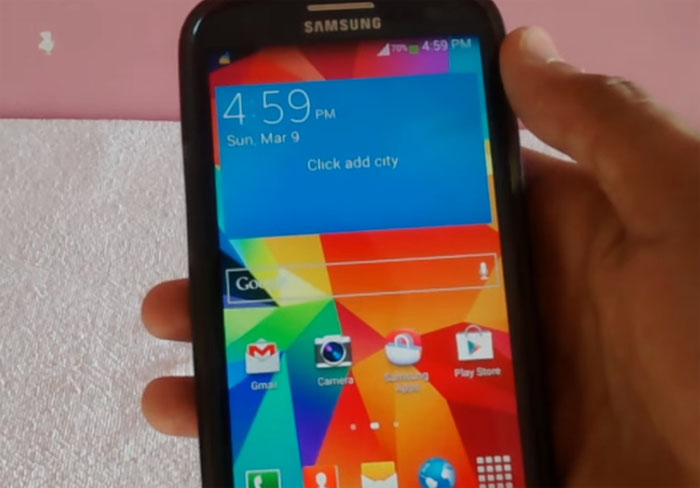 There are of course other issues I addressed, so read on to learn more about them and learn some new tricks to fix them. Your knowledge may come in handy in the future when one of these issues occurs to you. Here's the list of the problems I cited in this article…
In case you have other issues, visit our troubleshooting page to find similar problems. Use the solutions previously provided or you may contact us directly by filling up this questionnaire. Please provide as much information as possible so we can help you better.
---
Galaxy S5 weather widget disappeared, can't re-add the widget to Home screen
Problem: I have been facing problem with my weather widget. It suddenly got disappeared and now when I try to put it back on my home screen from widget column it says the widget has already been added to the home screen. Please help me out with this issue. I tried force stop it and then cleared its cache but it couldn't resolved my problem.
Solution: It's a known problem to the Galaxy S5 but there's actually a fix and it's very simple one:
Touch and hold on an empty space on the Home screen.
You'll see options like wallpaper, widget and Home screen settings at the bottom of the screen.
Choose widget and select the weather widget.
Drag it to your Home screen.
I hope this helps.
Galaxy S5 gets no or weak signal
Problem: No or weak signal. Had my phone sent away for repair, still having the same problem. Changed the network selection and fixed the problem but now that is not working all the time. I hade no problem with the phone for the first couple of months. And my mother's s5 is now having the same signal problems.
Answer: If you sent your phone for repair but the problem persists after that, then the technicians may have found no problem with your phone. That said, I think the one that's at fault here is your service provider. The easiest explanation to this is you're in an area where there's poor coverage. Call your provider and ask for their assistance.
Verizon Galaxy S5 with Straight Talk service has issues with mobile data
Problem: Unlocked Verizon S5, worked fine then I switched to straight talk using Verizon towers. It now acts like Straight Talk is blocking much of my data. Email notifications stop, pics on twitter don't load, no notifications for app updates, etc. Works fine on WiFi though.  Did factory reset, no help. If I go all day on 4GLTE then switch to WiFi that night I will instantly get 20 email notifications and sever all apps will update. Straight talk says no problems but It seems like they are throttling all data with their Sim card. Anything I can do other that switch back to Verizon at double the price ?  Thank you. — J.W.
Answer: Your provider can only throttle your connection if you've already gone beyond the threshold. It's better you call the hotline again and ask how much data you've already used up for the current month. If you're still within the threshold and you feel like your data is very slow or if some of your apps can't connect to the internet, then try checking if they're restricted from using data. Just go to Settings > Data usage for the setting.
HTML Viewer no longer works after Galaxy S5 firmware was updated
Problem: I created a set of html pages to run on my phone with notes I need in various situations. I installed the pages on my SD Card. I added an icon to one of the panels, when I clicked on it, the HTML Viewer would display the page and I could access the links to the other local pages. Loved it, worked great.
I applied an update, about 2 updates ago and suddenly this stopped working. Now when I click on the icon I get a screen that asks me to import calendars, with the message "No calendar files to import were found on your device."
When I use ES File Explorer to find the pages on the SD Card and click on the page I want to view, the HTML Viewer will bring up the page, but again when I click on a link on the page, I get the same calendar message.
I'm guessing this is happening because the HTML Viewer isn't recognizing the SD card. So, does anyone know how to get to the viewer and tell it to recognize the external SD card? Thanks for any help you can provide.
Answer: It's really difficult for us to determine what the problem is because there are some information lacking and we really can't follow some details you mentioned. But if this problem occurred immediately after an update, then there's a chance it's an app issue. Try to see if there's an available update for the HTML Viewer and update it. If there's none, try to reset app preferences by going the app manager and pressing the Menu key. If the problem persists, then try to report the issue to the developer. We really can't fix issues with apps or firmware.
Galaxy S5 Sport showing incorrect time and date
Problem: This is a Galaxy S5 Sport. I first noticed that something was down/up loading last night something like "down loading idle internal processes 18 hours to go." This morning I tried to send a text, I could type it in and send it, but it would not appear in my text sting.  It get sent because I could see a reply in the header (top) of my screen, but not in the message app.  Then I notice the phone has the incorrect time and date. I have restarted, then turned off, removed battery for 5 min, and then reinstalled turned the cell back on. Updated PRL and Profile.  Still have the same problems of incorrect date and messaging.  But I have backed up all data.  This most likely other problems I have yet to find.
Answer: I'm a bit confused what the problem here but reading between the lines, I think you're trying to tell us that your messages are not arranged in chronological order and the phone is showing incorrect time and date. In this case, all you have to do is make sure your phone has the correct time and date through Settings. Once you fixed that, your problems with the messages will be fixed also.
Galaxy S5 notifications aren't cleared after viewing messages
Problem: The status bar does not clear my notifications when I got to that notification. I have to clear the notification manually by swiping it off. e.g. I will miss a text, then open up the text and the missed text notification will still be in the status bar.
Troubleshooting: It's just a glitch. Try rebooting your phone and if the problem persists, delete the system cache:
Turn off the device.
Press and hold the following three buttons at the same time: Volume Up key, Home key, Power key
When the phone vibrates, let go of the Power key but continue to press and hold the Volume Up key and the Home key.
When the Android System Recovery screen appears, release the Volume Up and Home keys.
Press the Volume Down key to highlight 'wipe cache partition.'
Press the Power key to select.
When the wipe cache partition is complete, 'Reboot system now' is highlighted.
Press the Power key to restart the device.
Connect with us
We are always open to your problems, questions and suggestions, so feel free to contact us by filling up this form. This is a free service we offer and we won't charge you a penny for it. But please note that we receive hundreds of emails every day and it's impossible for us to respond to every single one of them. But rest assured we read every message we receive. For those whom we've helped, please spread the word by sharing our posts to your friends or by simply liking our Facebook and Google+ page or follow us on Twitter.