I addressed a few system-related issues with the Samsung Galaxy S6 (#Samsung #GalaxyS6) including the problem wherein apps disappear from the Home screen. There's also an issue of an app that's refusing to update. Moreover, one of our readers witnessed his Galaxy S6 being reset twice for no apparent reason.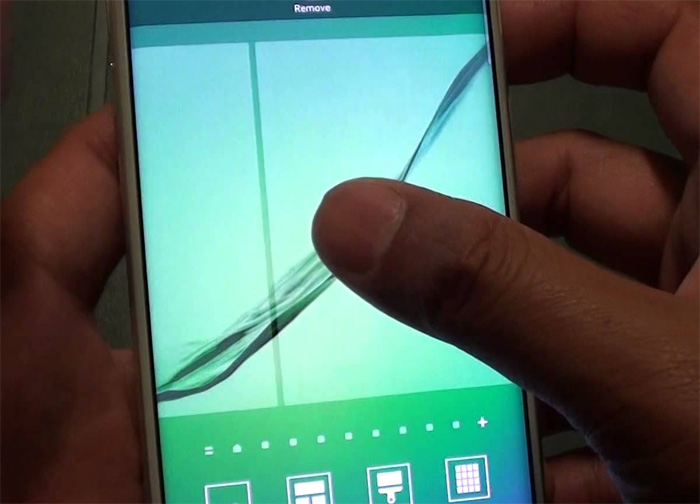 Read on to learn more about these issues and how to fix them. Here's the list for your reference…
If you are currently bugged by another problem, visit our S6 troubleshooting page. Find issues that are the same or related to yours and use the troubleshooting suggestions we provided. If they don't work, fill up this form and hit submit to contact us.
---
Apps disappeared from the Home screen
Problem: When I turn on my phone the home screen is completely clear there are no apps on it or home button or app grid nothing. So I restarted every time then the apps appear. Help. I went to the metro store and they configured my applications but they said it might be the software.
Solution: I'm wondering how they "configured" it and I'm also curious how and when this problem started. Those guys will just turn your phone off then back on, launch some apps to look they're doing something but they, too, couldn't figure out what's wrong with the phone let along fix the problem.
Now, there's one thing you can try–master reset. If it was just a firmware issue, then it would fix it. Here's how…
Turn off your Samsung Galaxy S6.
Press and hold the Volume Up, Home and Power keys together.
When the device powers on and displays 'Power on logo', release all keys and the Android icon will appear on the screen.
Wait until the Android Recovery Screen appears after about 30 seconds.
Using the Volume Down key, highlight the option, 'wipe data/factory reset' and press the Power key to select it.
Press the Vol Down button again until the option 'Yes — delete all user data' is highlighted and then press the Power key to select it.
After the reset is complete, highlight 'Reboot system now' and hit the Power key to restart the phone.
After the reset and the problem is still there, go back to Metro store and talk to a manager. Tell them you already reset the phone but the problem remained. They are required to make compromises as they couldn't just ask their customers to pay the bill without using the service.
Quick Connect app won't update on the Galaxy S6
Problem: The quick connect wont update. I cleared the data n cache. Without the update i cant use it. It just disappears when I try to update it. I was also wondering if there's a way to have the phone notify me when I missed calls and texts when the phone was off. Thank you for your audience and help.
Solution: About the Quick Connect app that won't update, there's one very effective solution to that. Uninstall it and then download the fresh copy from the Play Store and install it. Problem solved.
Now about your question on how to make the phone notify you of your missed calls and text when it was off, well, how can you make the dead speak? Seriously, you can't do that.
Galaxy S6 reset itself twice already
Problem: I have had my S6 for a few months now. Don't have a lot of apps. Twice since I have had the device, it has basically erased itself. The first time was all my contacts. The second time was everything. Contacts, Apps I had downloaded, recent pictures and videos, memos that I had written down. Basically, a factory reset. What would cause this?
Answer: It's possible and one of the common causes is firmware update. The phone may have updated itself automatically and deleted everything along the process. So far, this is the best guess and I can provide.
"Unfortunately, Phone has stopped" error showed after firmware update
Problem:
Dear Team,
I have updated firmware 5.1.1 last eek in my Samsung galaxy S6 (SM-G920F) post instalation my phone application is showing error stating that "Unfortunately phone has stopped."
My main concern is while i am calling or receiving calls, I'm not able to see phone displaying screen who is calling me/unable to answer the phone even, since there no screen is displaying.
Simply it throwing an error(mentioned above) while phone rings/dials, screenshot has been attached for reference.
Request your suggestion/guidance how to come out of it.
Thanks,
Vikram
Troubleshooting: A firmware glitch or bug. There are two things you can try; first, clear the cache and data of the phone app or dialer. If the won't do it, then you are obliged to do the master reset, of course, you need to back up all your data as they'll all be deleted during the process.
From any Home screen, tap Apps.
Tap Settings.
Scroll to 'APPLICATIONS,' then tap Application manager.
Swipe right to the ALL screen.
Scroll to and tap Dialer.
Tap Clear cache.
Tap Clear data, then OK.
Galaxy S6 won't turn on due to liquid damage
Problem: Phone gets submerged in water and suddenly the phone won't turn on. I tried to plug the charger then the phone blinks red, blue, green and from then on the phone did not show any signs of power .please help on how could I possibly fix this problem, thank you very much!
Answer: Your phone is fried! You shouldn't have attempted to turn it on after it was submerged in water and putting on charge worsen the issue. The best thing to do is sent it for repair and ask the technician if it can still be fixed.
Problem: My fingerprint scanner is broken. Without registering fingerprint my friend was able to unlock my phone. By just swiping on the scanner the phone unlocks. I tried resetting re-registering the print but it still doesn't seem to be fixed. What should I do I reached to Samsung and am waiting for there reply any suggestions what should I do?
Answer: Yeah, the fingerprint scanner is probably broken and it's more of a hardware issue. You should wait for Samsung's response or return the phone to the store where you bought it.
Connect with us
We are always open to your problems, questions and suggestions, so feel free to contact us by filling up this form. This is a free service we offer and we won't charge you a penny for it. But please note that we receive hundreds of emails every day and it's impossible for us to respond to every single one of them. But rest assured we read every message we receive. For those whom we've helped, please spread the word by sharing our posts to your friends or by simply liking our Facebook and Google+ page or follow us on Twitter.