We have received a lot of app problems from Samsung Galaxy S6 (#Samsung #GalaxyS6) owners so I included a dozen of problems in this post. I covered the common issues that may occur on both pre-installed and third-party apps including not being able to more pictures using the Gallery app, Play Store fails to download and install an app, app crashes, etc.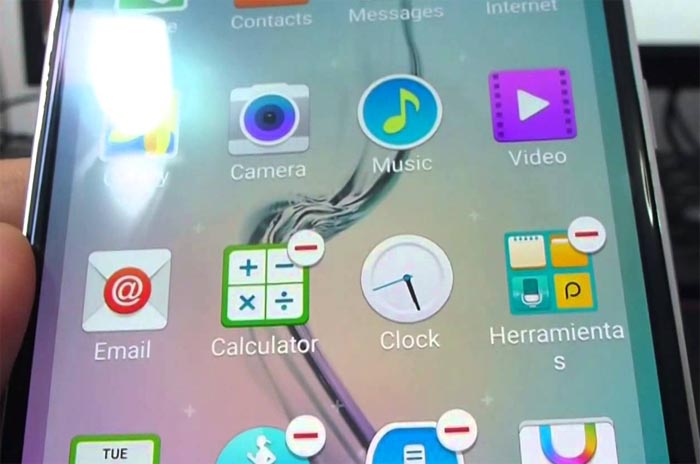 Read on to learn about these problems and how to fix them…
If you are looking for a solution to a different issue, visit our troubleshooting page, find issues related to yours and use the solutions we provided. If they didn't work for you, then you may contact us directly by completing this questionnaire and hitting the Submit button.
---
Galaxy S6 can no longer move pictures after an update
Problem: In regards to the gallery app, I was organizing photos from camera to different albums. At one point, the process armed to freeze either while or after moving some pictures. So I hit the key on the bottom right of the phone. Went back to the gallery but couldn't move any more photos. The message said, "unable to move photo." I kept trying then after a while it worked again. But then it froze up again. I waited overnight to try again, but still not able to move photos to albums . Any suggestions? Brand new phone, activated it yesterday. Now there was a software update, but I can't remember if it was before or after the problem began.  Thanks. — Linda
Solution: To be able to create albums is now a native feature in the S6's gallery app and you should be able to do so without having issues like this. But since it already happened to you, the most effective way to fix it is to clear the cache and data of the gallery app. You may lose the albums you already created but if it means it would be smooth sailing after this, then it's worth the trouble.
Play Store shows it's installing an app but it won't finish
Problem: I go to the play store and try to download an app and it shows the bar going and says installing but it never does. I also can't update anything either.
Solution: Just make sure you have an active internet connection and that no other app is updating. If you're not getting any sort of an error while trying to download an app, then it must be just a minor glitch. Force close the Play Store and then try again; it often works after that. If not, then clear the data of the Play Store. That should do it.
Firmware update notification keeps popping up, emails not updating
Problems: I have 2 issues. 1. This update continually wants to install the latest software update even though it has just been successfully installed.  After the 3rd time, I just started ignoring the update manager. 2.  Microsoft Exchange appears to be syncing all folders, except that it will no longer update unread mail status.  Emails read on the computer remain unread on the mobile device.
Solutions: The solution to your first problem is to download all remaining updates. Several updates may come in all at once when Samsung already rolled some and the phone has just been activated or used. Once you've downloaded all of them, you won't be bugged by the notification anymore until the manufacturer or your carrier rolls out another one.
As to the second problem, well, try to setup your email again and make sure all settings are correct.
Galaxy S6 audio blurred out & hissing while recording videos
Problem: Basically, on my SnapChat whenever I record a video while playing music through the phone, (Galaxy S6) the music is making a hissing sound and almost blurred out… Is there a solution?
Solution: Try playing a music and record a video using the stock Camera app to find out if the hissing sound is still there. If it's not, then the problem is with SnapChat and there's not much you can do about it but report the problem to the developer.
However, if the audio still hisses while recording a video even with the stock camera, then the issue is with the phone and apparently there's an interference between the camera and the amplifier. Still, there's not much you can do about it but report the issue. Your provider or Samsung may have already known about it and already has a solution for it. So, they sure are worth calling.
Problem: Hi. I have my S6 for few month with no problem but now it just keeps crashing and giving this unfortunately app has stopped error and i cant do anything, like memo wont open i cant write text and so many other apps please help me.
Solution: If this problem started after an update, then just wipe the cache partition and that should do it. However, if started without apparent reason, it might be a serious firmware issue. You need to backup your data and do the master reset.
Apps icons disappeared, home screens got deleted
Problem: Since I got the phone at various times apps disappear from the front screen.  I have tried locking the screen but it still did this.  Last night it deleted a whole page of apps.  The apps are still in the apps section that shows all of my downloads.  But I have to go back and bring them forward again to the front screen and recreate the different blocks of apps. Any ideas how to stop this?
Solution: If you downloaded a third-party launcher, try to uninstall it. However, if you're using the stock TouchWiz app, then clear its cache and data but please note you will also lose all the home screens you created. But the next time you build them up, they won't be deleted anymore. But if all else fails, the master reset will fix it for you.
Galaxy S6 doesn't display the IDs of the callers
Problem: My phone doesn't display the names of people who call me.  I have loaded the contacts on the phone's internal memory and I also have my contacts uploaded to my gmail account.  The phone seems to be having problems showing the incoming details when I register a number as +1864xxxxxxx but it will show incoming calls that are registered without the +1864 format. I am puzzled as I had no issues with my Samsung S3.  Please assist if you can.
Solution: I think the contacts that won't show the caller ID have duplicates. Delete or merge those duplicates into one contact that would fix the problem. You may also try clearing the caches and data of both Contacts and Contact Storage but be sure to backup your contacts first. Based on your description, these are just the things you need to do.
Galaxy S6 cannot retrieve emails
Problem: On my Samsung Galaxy S4, I was able to view emails saved to custom folders.  I have a Hotmail account. On my new Samsung Galaxy S6, I can retrieve the custom folders, but the folders are empty.  I get the following error message: "No Emails," "You may have emails that have not yet been retrieved from the server." How can I retrieve the emails from the server? Thanks.
Solution: Turn on the sync for the account and if the problem remained, just set the email up again.
Galaxy S6 is showing "Updating contact list…"
Problem: Contacts updating forever after latest update this morning. I could not find a sync button. I did do the recovery screen, wipe data partition and restart. Still contacts updating forever. Hope you can help ?
Solution: Clear both the caches and the data of the Contacts and Contact Storage services and that should do it. But please note that all contacts saved in your phone's memory will be deleted. Those that are saved in the SIM or online will remain untouched.
From any Home screen, tap Apps.
Tap Settings.
Scroll to 'APPLICATIONS,' then tap Application manager.
Swipe right to the ALL screen.
Scroll to and tap Contacts (then Contact Storage).
Tap Clear cache.
Tap Clear data, then OK.
Prevent Google Contacts image from replacing images with contacts on the phone
Problem: Do you know how I can stop Google contacts images from replacing the contact images on the stock contacts app on the Galaxy S6.
Solution: Disable the contacts sync for your Google account.
Owner complaining about multiple issues with the new Galaxy S6
Problem: I'm hating this phone, upgraded cause I loved the Galaxy S4.
Bluetooth can't wake up phone, even though it is a registered secure device. It sometimes sites if I use the Google our Samsung wake-up password. Should I need to do both? Or is there a conflict?
Thumbprint I'D spots working and locked me out. My password would not unlock it. So date this happened twice, and I was without access for 4 days till I could call my wife on another phone. Very dangerous. Finally got it to ask for my Google password and got in.
Still requires pin unlock in my identified secure locations.
Phone gives new 1 or 2 seconds to enter Pin before it goes dark. Usually takes me or 4 tries before it unlocks.
The native calendar app really sucks. Doesn't allow dialing phone from location, nor does it allow copy and paste. The former native app on Samsung 4 did allow this. Also the app doesn't show attachments our notes in an appointment.
The native message app won't read out message if there is more than one. It often won't see"" or read out a new message. And it no longer gives a menu of options after reading a message…no ""reply, forward, delete"" verbal commands. This is absurd they'd remove these functions from what worked so well in the 4.
Some data entered into contacts is not synced across platforms to exchange server, especially if done via Cardcam app.
There are more problems, but these are the most urgent. Thanks for helping and perhaps communicating this to Samsung. I'm about to switch to iPhone, I feel so frustrated. I'm president of a significant non profit org, and can't believe how unproductive I've become since upgrading, rather DOWNGRADING to the Galaxy S6.
Suggestion: For a brand new phone, that's a lot of problems and most of them appear on this list as they don't conform with your preferences. There's no use in troubleshooting if there's no real issue. So, I suggest, go ahead and switch to iPhone, this phone isn't just for you.
Galaxy S6 shows up a page suggesting to download random app
Problem: When I turn on phone for first time, usually if I try to open up my messaging app the google play store app pops up wanting me to install some random app.  I have done a total reboot a few time.
Solution: It's an ad, apparently. What happens actually is a webpage would pop up and suggests you install an app but more often, the Close (X) sign can't easily be found so instead of closing the page, you end up tapping on it. This time, you will be redirected to the Play Store page, which automatically opens Google Play Store. To fix it, find the app where the ad is attached and uninstall it and if you're having such a difficult time find the culprit, just reset the phone.
Connect with us
We are always open to your problems, questions and suggestions, so feel free to contact us by filling up this form. This is a free service we offer and we won't charge you a penny for it. But please note that we receive hundreds of emails every day and it's impossible for us to respond to every single one of them. But rest assured we read every message we receive. For those whom we've helped, please spread the word by sharing our posts to your friends or by simply liking our Facebook and Google+ page or follow us on Twitter.