Panda Helper is a third-party unofficial app store that grants you access to paid apps that you would have to pay for or jailbreak and root. This app store offers completely free access to all the apps altered and tweaked apps of premium apps and games. In this article we will go through some similar app stores to Panda Helper. The majority of them are accessible on both iOS users and Android users. Without rooting or jailbreaking your phone iOS device and Android devices, you can install these modded apps.
Panda Helper is the most popular third-party AppStore, with a wide range of handy unofficial apps for iPhone and Android users, including gaming emulators, screen recorders, file managers, and more. Thousands of programs, games, emulators, screen recorders, tweaked apps, and more can be found in Panda Helper, many of which have been updated with new features. Because it works on both Android and iOS devices, it has a larger user base than other app stores.
Panda helper alternative for iOS users and Android users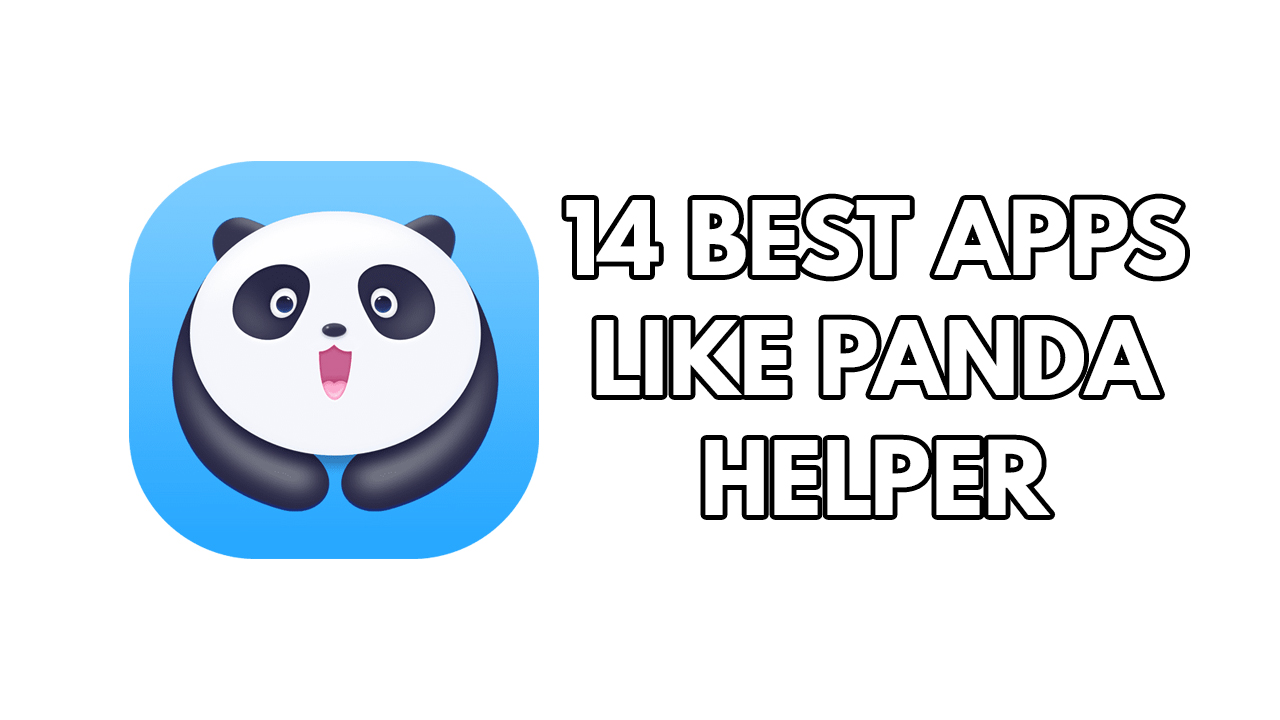 If you are having issues with the Panda Helper app store not working on your phone and want to know Panda Helper app alternative you can install then you have come to the right place. Below are the list of the best Panda Helper app alternative in 2023.
1.) TweakBox

Description
TweakBox Software is a jailbreak-free app installer and one of the best Panda Helper alternatives for your iPhone and iPad. Tweak Box Software is a Cydia-style app installer that works without a jailbreak on iOS devices like the iPhone and iPad. TweakBox is also accessible for Android users, and it comes with a variety of emulators to pick from. The software is also more reliable than some others on the market, boasting about its malware-free status and inspection and improvements.
The most widely distributed App Store for Paid games and applications completely free of charge. On the internet, there are numerous app stores where you can download apps. You can download paid apps without spending any money or jailbreaking your own devices. The application offers superior quality, is virus-free, and is more cost-effective than other unofficial app stores. TweakBox is a fantastic alternative to Cydia for many users. But, because you won't obtain everything from Cydia, there's no harm in trying.
2.) Sileo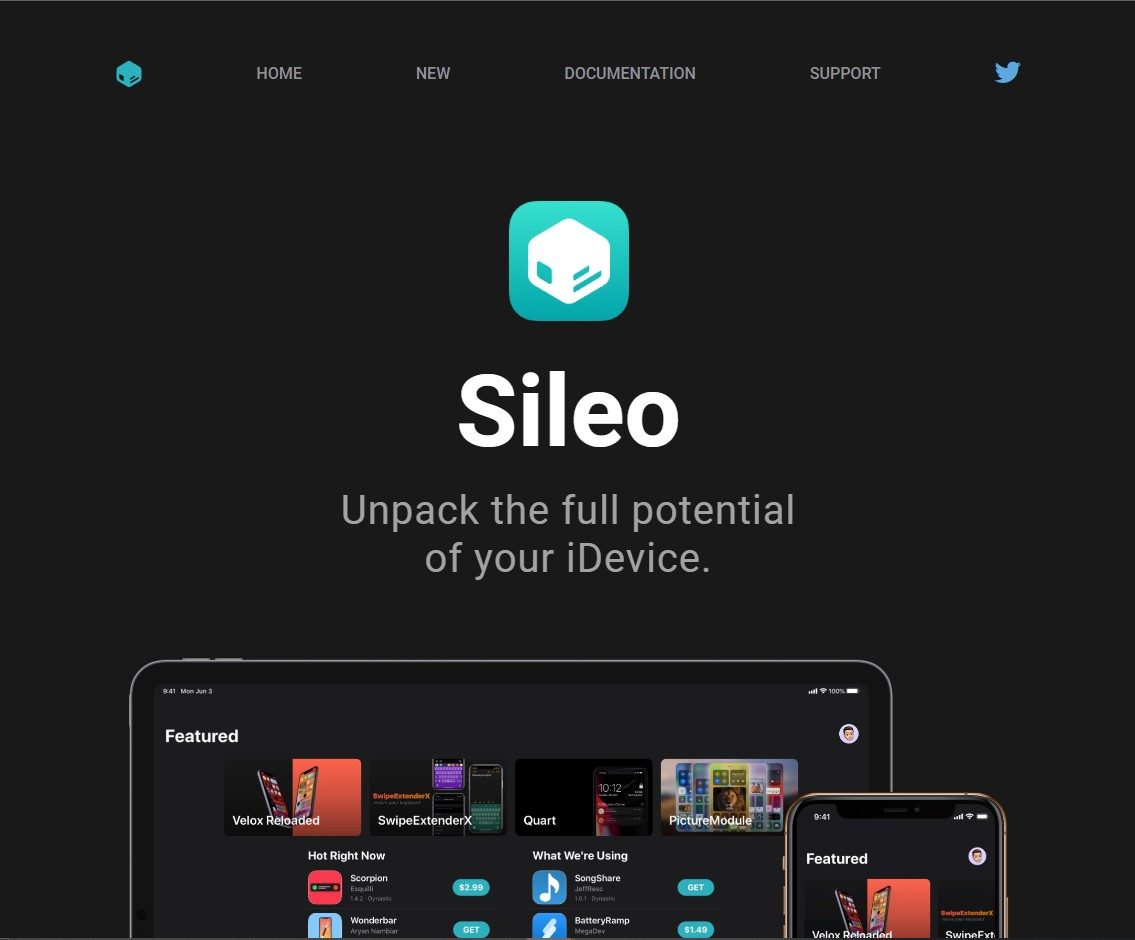 Description
For iOS users, Sileo is a third party app store for iPhone and iPad jailbreak devices. Sileo is a modern package management designed in Swift that is quick, dependable, and elegant. It may be used in conjunction with APT repositories to install packages to your jailbroken device, both free and paid. Sileo is a labor of love created by people all across the world. This app's best feature is that it also works for 64-bit devices, so it's no surprise that it works with the latest iOS versions.
Its interface is very similar to Panda Helper's, therefore it's a great Panda Helper app alternative. This option's only drawback is that it does not support Android apps. Those with Apple devices, on the other hand, are spoiled for choice with an abundance of free apps and games. Another advantage of this one is that you're more likely to locate mods that you couldn't find anywhere else. The app's popularity is understandable given how sleek and user-friendly the user interface is.
3.) Zeus App store for iOS device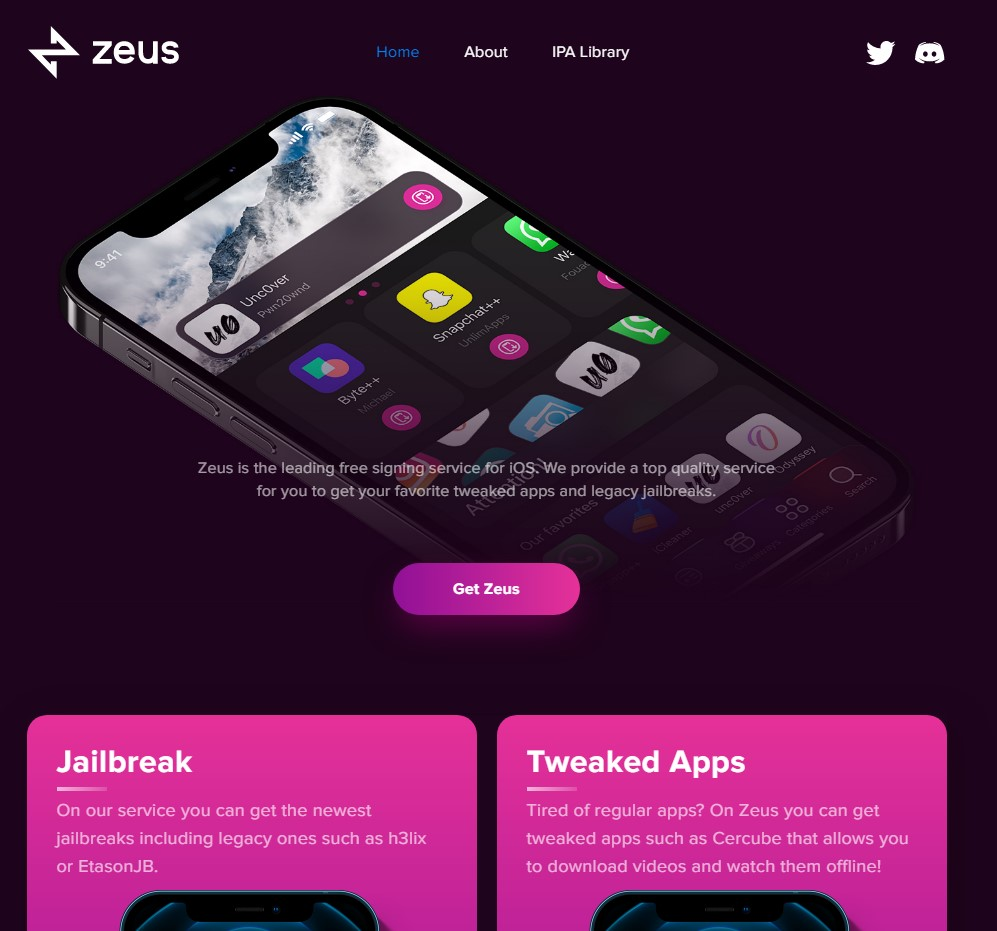 Description
Zeus is one of the most popular unofficial app stores for iOS devices, with a free signing service that ensures you acquire your favorite tweaked applications and legacy jailbreaks in the best possible way. The Zeus app store has some of the top emulators, screen recorder, and other unofficial apps that aren't available on Apple's original app store. Zeus provides access to jailbreak tools, modded apps, and hacked games that may be installed without the use of a computer on your iOS device. It allows you to use features that are either locked or paid. The app store is compatible with both jailbroken and non-jailbroken smartphones. It can be used for a wide range of purposes and is completely safe. Download Zeus App if you're seeking amazing apps, secure, dependable, and a free app store with a lot of unique features.
4.) ACMarket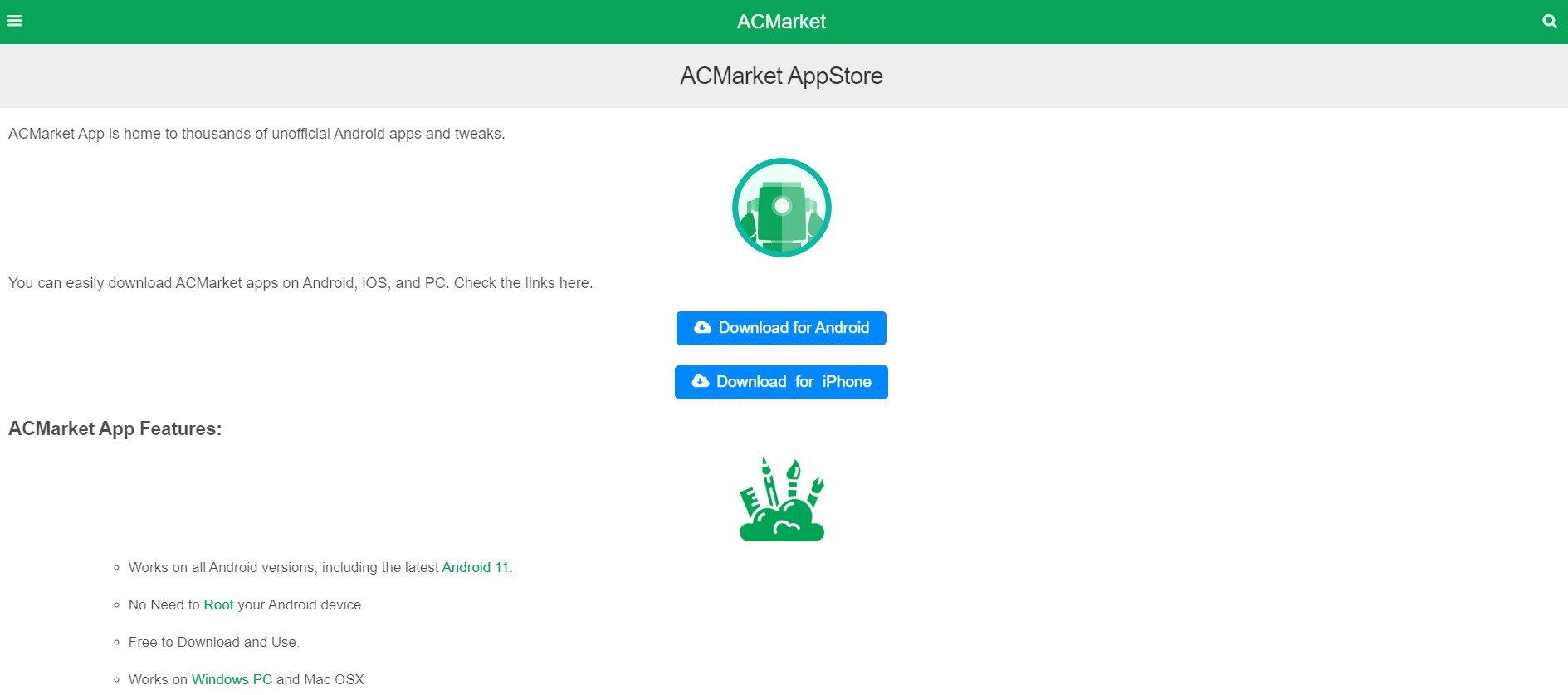 Description
ACMarket is a third party app store that is an unofficial app store like Panda Helper, with many apps of unofficial Android popular apps and customizations can be found on the ACMarket App. On Android devices , iOS devices, and PC, you can download ACMarket apps. All Android versions, including the most recent Version, are supported. Your Android device does not need to be rooted. ACMarket android app store is free to use and does not require a monthly or annual subscription. It's claimed to be the fastest 3rd-party Android app installation on the market right now. The AC Market app features a very active support team where you can report bugs, ask for help, and they are available 24 hours a day, 7 days a week on their Support page.
5.) AppValley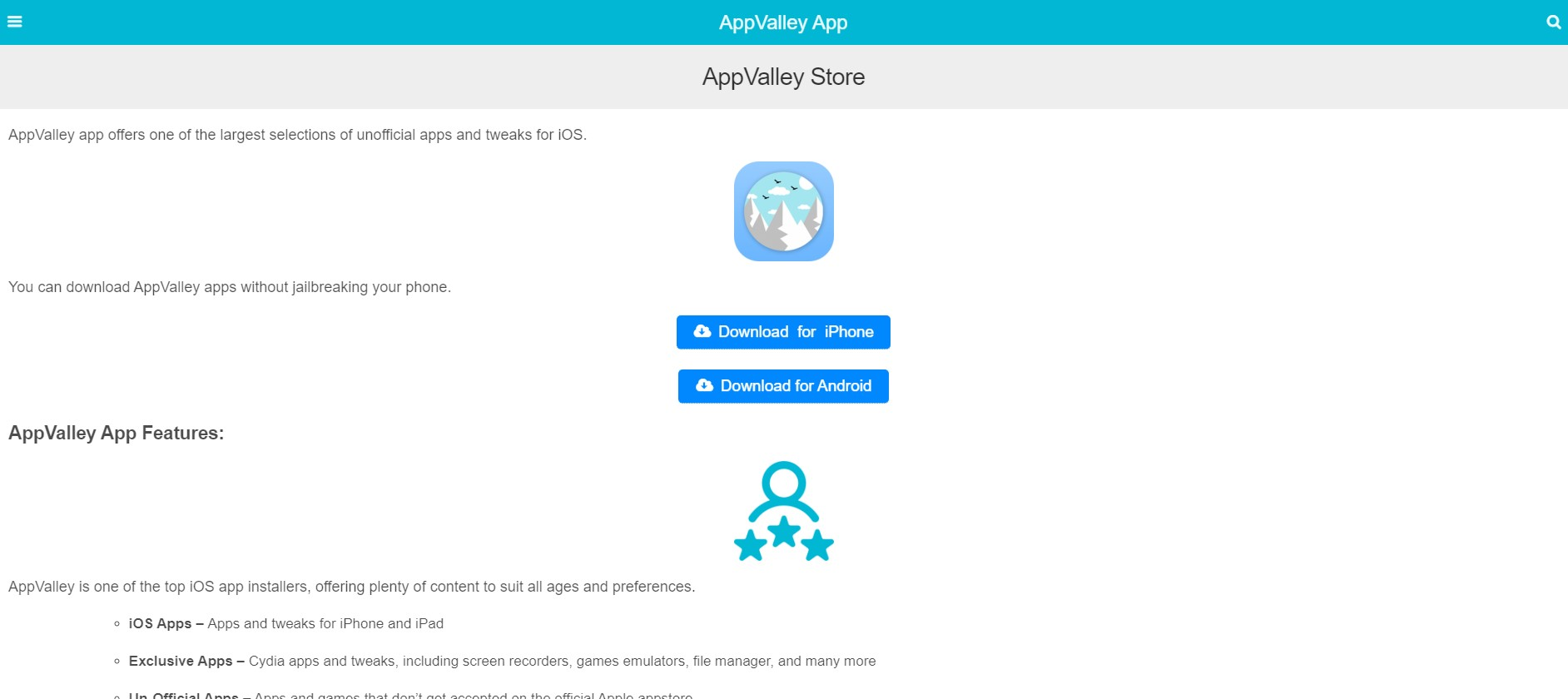 Description
One of the key reasons AppValley is one of the greatest Panda Helper alternatives is its tremendously large library of modified apps and games. You can also download a variety of music genres and books. AppValley, like the rest of the apps and games on this list, provides you with peace of mind when it comes to your safety and security while using the platform and its apps and games. AppValley is compatible with the most recent version of iOS firmware and does not interfere with Apple's security mechanisms.
The AppValley third party app store establishes its memory area, which does not interfere with the use of other iOS apps or games. Also compatible with Android. AppValley is completely secure. Downloading any software or tweak from the AppValley app store is completely risk-free. Twitter's engineers are very active and are always reviewing the app for issues. If any problems develop, they are quickly resolved. They also test everything locally to ensure that it is safe to use. The developers of AppValley update the software regularly, adding new, secure content and increase security so that you can download any app or tweak from the installer without worrying about malware, spyware, viruses, or anything else that could compromise your device's security.
6.) TweakDoor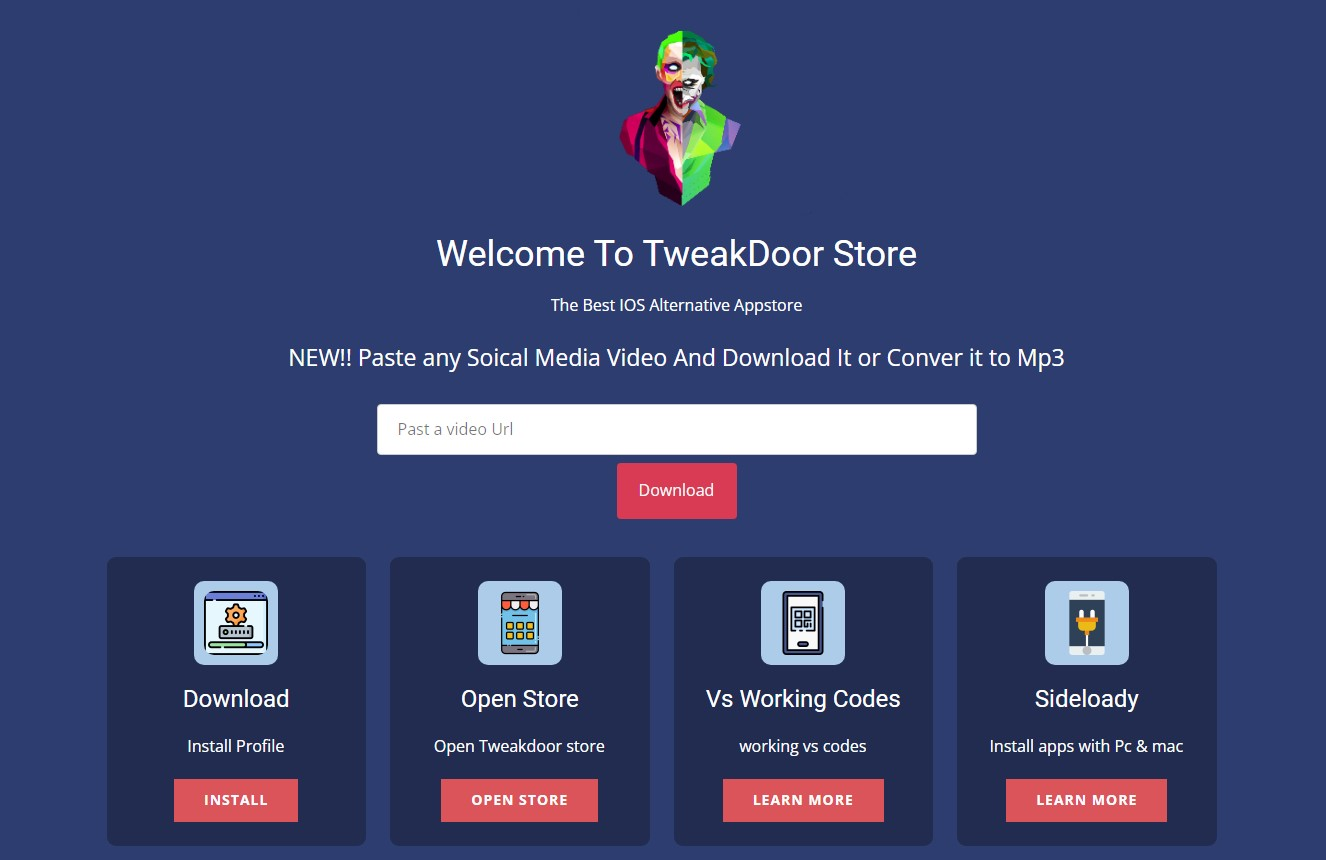 Description
TweakDoor is a third-party app installer that allows users to download unofficial applications and games. These are legal to use; they just never reached it into the apple store due to geo-location restrictions or Apple's policy constraints, and you now have access to them courtesy of an eager developer. There are numerous apps, emulators, games, screen recorders, and other great apps available. TweakDoor is the best place to find unofficial programs, games, and other stuff; it's legal, and everything on it is safe to use. You have nothing to lose by trying it because it is free.
7.) AppCake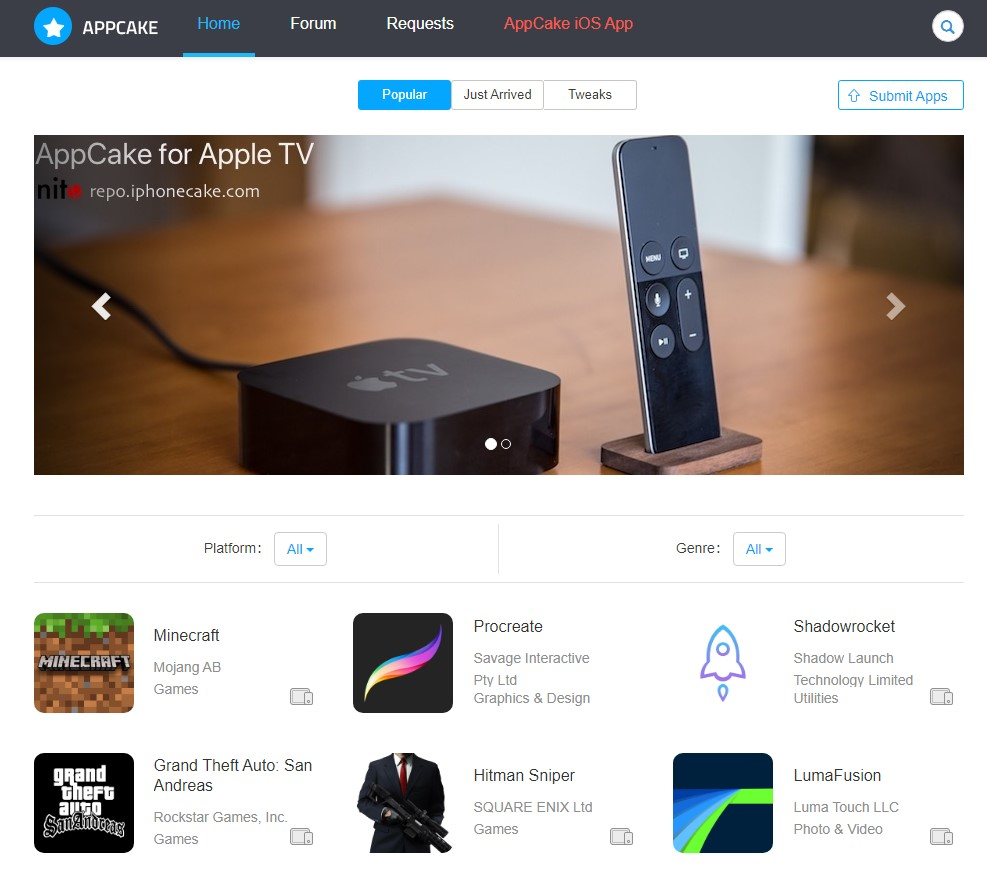 Description
AppCake is a third-party software store for iOS user that allows users to download and install unsigned IPA files. You can also create and install your IPA files. It's one of the best alternatives to Apple's official app store, with thousands of free games and programs. Appcake is a third-party app shop that does not require your smartphone to be jailbroken, and the sheer amount of content accessible makes it well worth your time. The platform allows you to install IPA file directly to your iPhone or iPad simply and conveniently.
8.) Asterix installer

Description
Users may access their favorite stuff, such as themes, customizations, apps, games, and more, through the Asterix Installer app. It allows its users from all over the world to obtain their preferred stuff for free. Users can also give developers comments to receive fresh updates, modifications, or a review of the software. It is available for download and usage on both Android and iOS smartphones.
The program is available in English and Russian, but users may quickly translate it into their dialect. It's not a region-specific app, and you can get it from anywhere. The Asterix Installer – will unleash the Potential of your device with software downloadable packages like Cydia packages, paid apps, hacked games, and paid games, among other things.
9.) CokernutX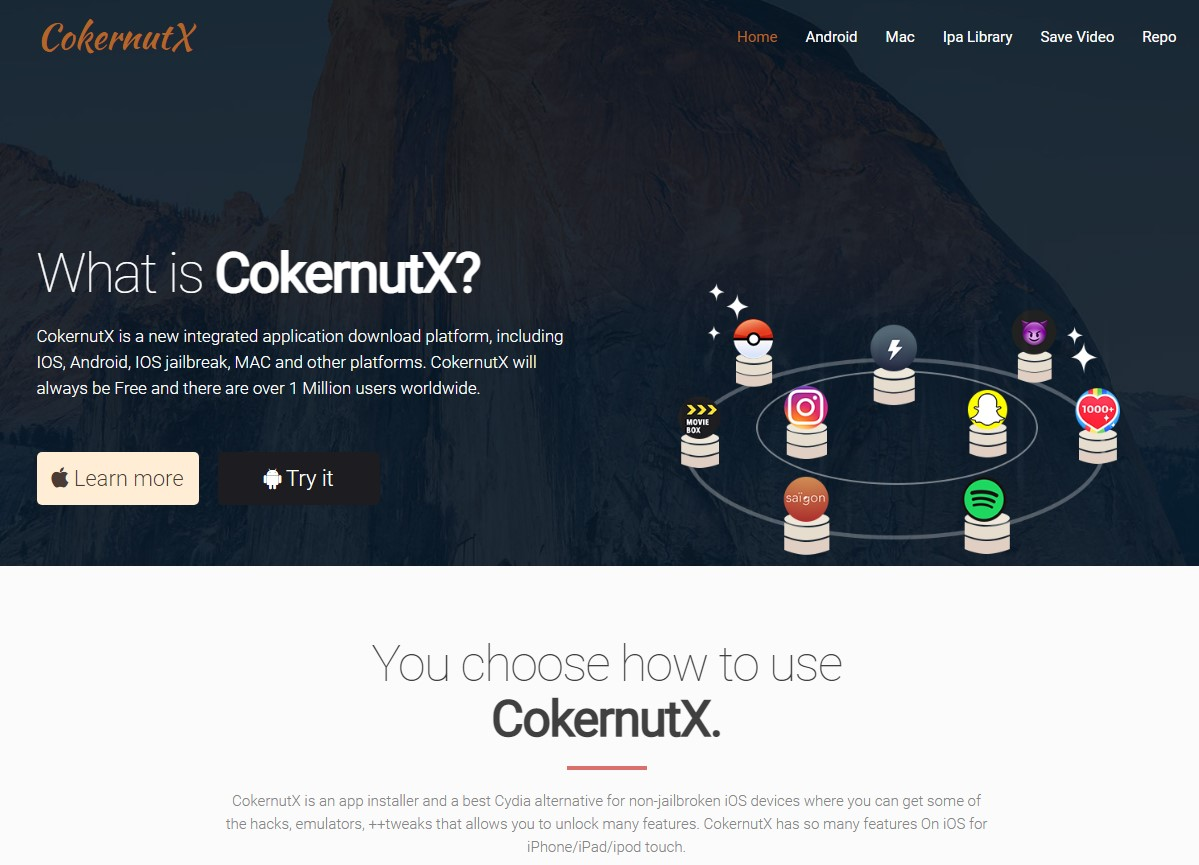 Description
CokernutX is a new software download platform that supports IOS, Android, iOS jailbreak, MAC, and other platforms. CokernutX is a non-jailbroken iOS devices app installer and best Cydia alternative where you can download several hacks, emulators, and ++tweaks that allow you to unlock numerous features. On iOS, CokernutX provides a ton of functionality for iPhone, iPad, and iPod touch users. CokernutX will always be free, and it has over a million members throughout the world. There are over 5,000 apps and games in the app store, which are grouped into numerous categories for your convenience. Support for a wide range of iOS and Android device. The usual SSL encryption is used to distribute apps.
CokernutX offers Modified versions of incredible apps, allowing you to have infinite lives, gold, money, and coins in a game. Spotify, Moviebox, Pokemon Go, and other similar services, normally you must pay to download apps from the AppStore or GooglePlay, which can be found on the app's platform, and they also provide tweak games, which can let users not only be limited to the app store version, which provides a lot of fun and exciting ways to play, that will bring users more diverse experiences, if these can pique your interest, then don't hesitate to download and Install the apps like panda helper.
10.) HipStore

Description
Hipstore debuted a few years ago and has since covered the market's major news stories. It's one of the greatest alternatives to Panda Helper. The world of iPhone apps has reached a pinnacle. More and more individuals are creating iOS app as time goes on. Many millennials are opting for iOS app development as their preferred carrier. As a result, these millennials do miracles and bestow upon us fantastic programs such as Hipstore and others. The biggest advantage of having a hip shop is that you can download a variety of premium apps for free. That's incredible, right? In addition, you can freely post your iOS apps here.
11.) Aptoide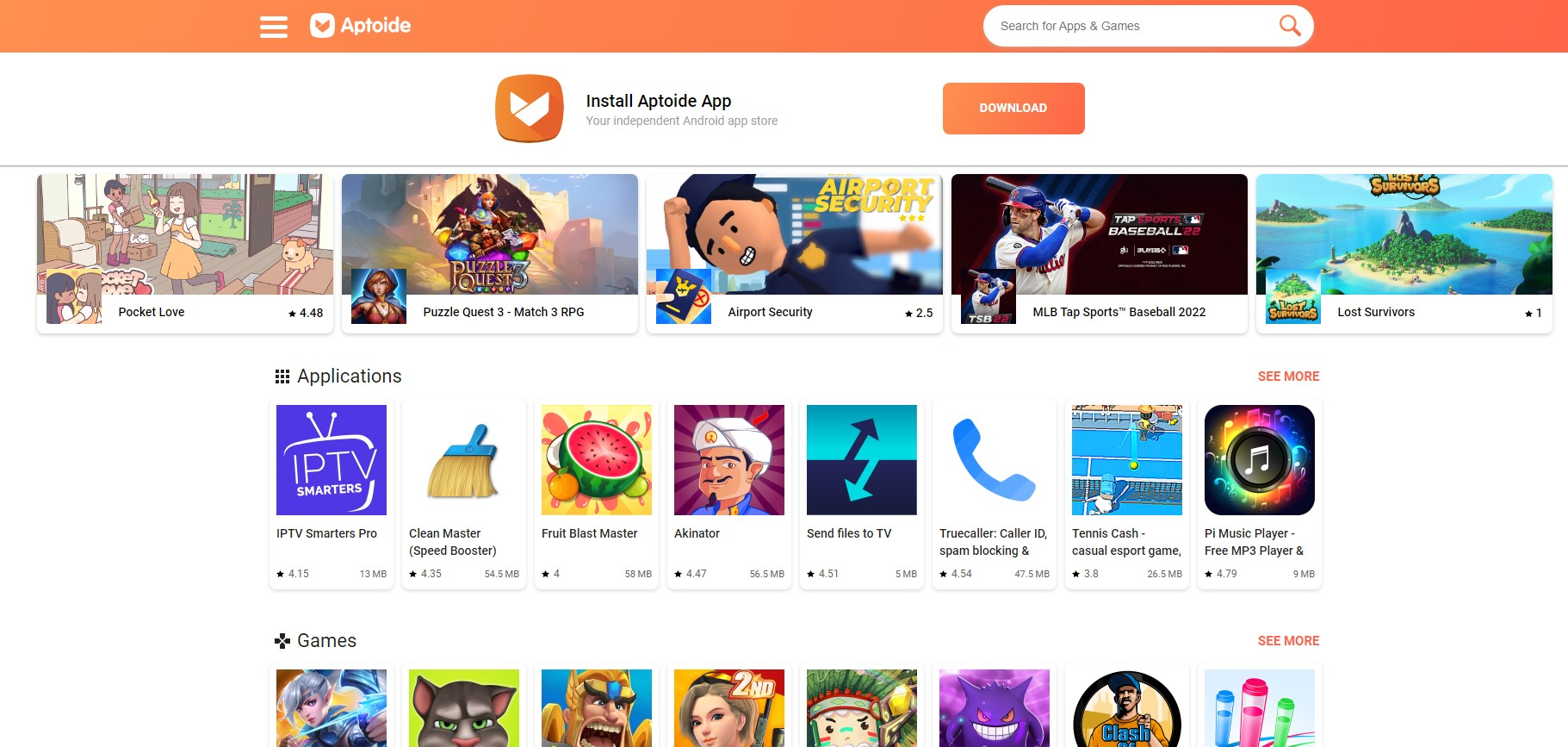 Description
Aptoide is an online marketplace for Android-based mobile apps. Aptoide is an Android app store that is also available for iOS users. Its foundation is slightly different from other app store in that each user runs their shop. Aptoide is available in multiple versions, including Aptoide for smartphones and tablets, Aptoide TV for smart TVs and STBs, Aptoide VR, and Aptoide Kids for children's devices.
The Aptoide platform software has been downloaded around 6 billion times, was utilized by approximately 200 million people, and was available in approximately 40 languages as of 2017. There are approximately 1 million Android apps available in the various marketplaces.
12.) Emus4u

Description
Emus4U is a fantastic app for your phone that allows you to download and install programs that aren't available in the iTunes Store or Apple AppStore. What you can receive from Emus4U has no limits. You may now enjoy everything from games to utility and productivity apps on your iOS smartphone.
After a brief installation, Emus4U is ready to use. It will present you with a clean list of available and downloadable apps. You have a lot of options because it not only has games and apps from the AppStore, but it also has apps that it has made itself. There are also Snapchat++ versions and alternatives. Mods for games are also available for download. To make things even better, all of the downloads are free! Emus4U is a great alternative to AppStore that allows you extra ways to enjoy all of the programs available.
13.) AppEven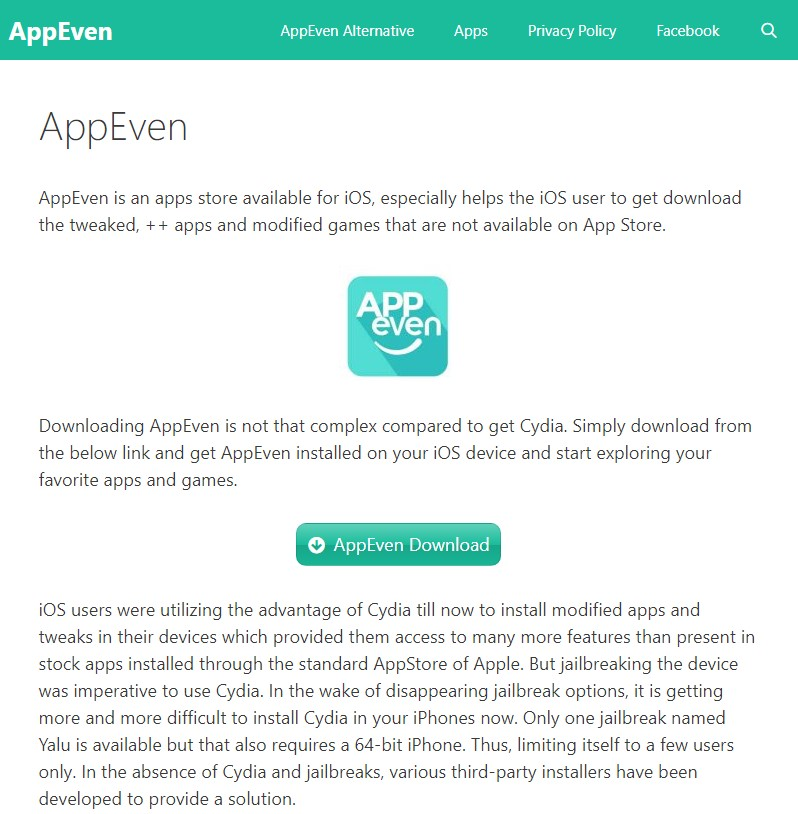 Description
AppEven is an iOS app store that specializes upon helping iOS users obtain customized, ++ apps, and modified games that aren't available on the App Store. When compared to getting Cydia, downloading AppEven is not as difficult. Simply download the AppEven app from the AppEven website and install it on your iOS devices to begin browsing your favorite applications and games. AppEven is a third-party app installer that claims to be the best way to install modified and advanced apps and features on iPhones running iOS 10 without having to jailbreak them.
14.) TutuApp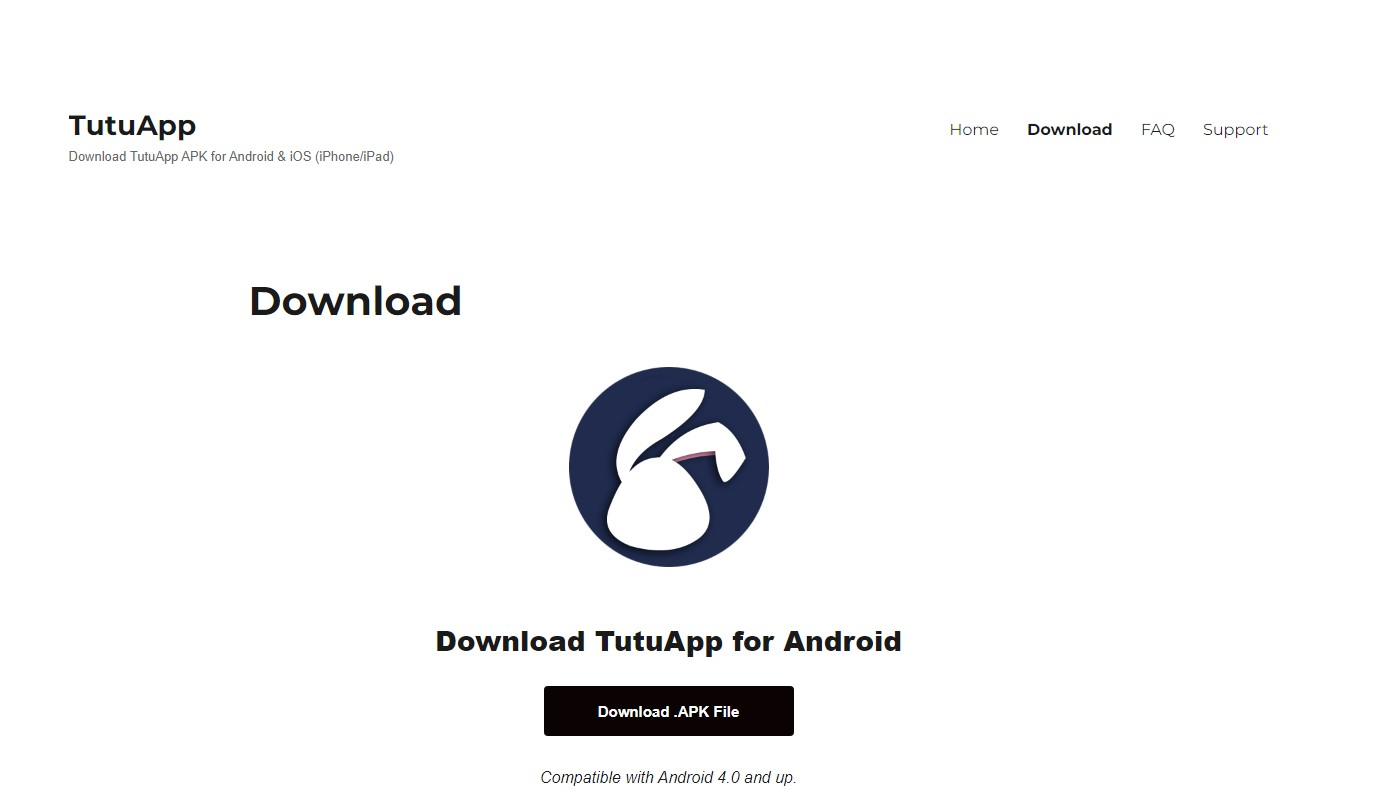 Description
TutuApp is a free app store for Android and iOS (iPhone/iPad) phones and tablets. TutuApp allows you to download app and games from the official Google Play Store and Apple Store on Android and iOS devices. TutuApp scans the Google Play Store and Apple iTunes databases and organizes them into categories. Users can look for games and programs in a variety of genres, and send them to the appropriate installation URL. TutuApp lets you choose between the original and modded apps. There's also the huge advantage of not having to jailbreak your iOS smartphone to use it. It offers a simple and user-friendly interface.
FAQ
How to Fix App Crashing?
For the IOS, Apple considers these Panda Helper alternatives as unofficial applications because it is not installed through the official Appstore, and thus it keeps revoking the certificate to operate it on your devices every few days. As a result, any other apps installed through it will cease to operate, and you will be forced to reinstall the program after each crash. Instead, you can permanently solve the problem by installing a VPN on your device.
I can not install the apps like panda helper?
If PlayStore Protect prevents you from installing, you must enable "allow installation from this source" in order to complete the installation. To make it work properly on iOS, go to Profiles Management and Trust the certificate.
Will installing these apps void my warranty?
No. These apps don't require any unique download methods, and they won't compromise Apple's security.