We've been reports from some Roblox players about the annoying Teleport Failed error 769. This error code usually occurs if there's a problem with your computer's network settings but at other times, it can be due to something outside the control of players. In this troubleshooting guide, we'll show you the five solutions that you can try to fix this bug.
Causes of Teleport Failed error in Roblox
There can be several reasons why you may be experiencing this error. By far, these are some of the known reasons that the Roblox community has compiled to possibly trigger this bug:
incorrect DNS settings
corrupted DNS cache
bad winsock
server-side bug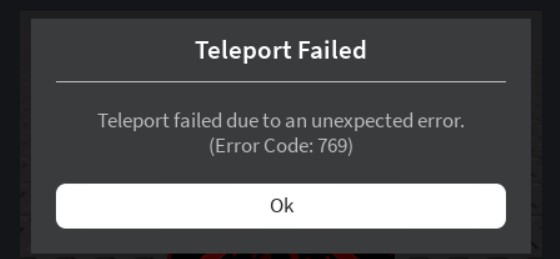 How to fix Roblox Teleport Failed Error 769?
Check out the solutions below if you are having difficulty running your favorite Roblox game due to the Teleport Failed error.
Fix #1: Verify the Roblox game server status.
Before going any deeper into your troubleshooting, you want to ensure that everything from the server side are in order. Visit the official Roblox server status page and see if there's any on-going problems that might affect your particular game.
The other option that you can use to check is by going to third party server monitoring websites such as Downdetector.com.
Fix #2: Change your DNS server.
If the servers check out, your next move is to ensure that you check if the Teleport Failed error is being caused by a fault in your computer's DNS settings. Sometimes, ISP provided DNS settings may not work due to server outage, or incorrect configuration. We suggest that you change your DNS settings by using the Google public DNS.
If you need help on how to change the DNS settings on your machine, follow this link.
Fix #3: Flush DNS.
If manually changing the DNS on your PC did not help, you can also try to force the system to refresh its DNS cache by doing the following:
Press the Windows key on your keyboard.
Type in "cmd" and right click on Command Prompt app.
Select Run as administrator.
In the Command Prompt, type in ipconfig /flushdns and press enter.
Fix #4: Winsock reset.
If refreshing the DNS cache won't work and you continue to experience the Teleport Failed error in your Roblox game, you'll then want to perform another command in the command prompt called a winsock reset. Here's how to do it:
Press the Windows key on your keyboard.
Type in "cmd" and right click on Command Prompt app.
Select Run as administrator.
In the Command Prompt, type in netsh winsock reset and press enter.
Reboot your computer.
Run your Roblox game again and check if the Teleport Failed error is still there.
Fix #5: Whitelist Roblox in your firewall settings.
If your machine's firewall is actively blocking your Roblox game, it may also lead to players being unable to log in or find their game servers. If you're using Windows Defender Firewall, try to see if creating an exception will help. Follow these steps on how to do that:
Press the Windows key + R on your keyboard.
In the Run dialog box, type in "control firewall.cpl" and press enter.
Click on Allow an app or feature through Windows Defender Firewall.
Click Change settings.
Find Roblox in the list of applications and make sure that both boxes for Public and Private are checked.
Restart the game and see if the problem goes away now.
OTHER INTERESTING ARTICLES:
Visit our TheDroidGuy Youtube Channel for more troubleshooting videos and tutorials.