The Twitter world has erupted recently as a recent update appears to have caused the app to app to crash. In this troubleshooting episode, we want to fix Twitter crashing issue on the Note10 although the solutions being offered here are perfectly available for other Galaxy devices and Android devices.
Before we proceed, we want to make it a point that Twitter problems are mostly temporary and often go away on their own. If you are not a heavy user of the app, we suggest that you just skip using Twitter for a few hours and make sure that you update when there's one available.
What can cause Twitter app to crash?
There are many possible reasons why your Twitter app is crashing. These are the most commonly encountered causes for this problem:
Poorly coded update
Minor app bug
Unknown software bug
Incompatibility issue
Coding error
How to avoid the issue?
The best way to avoid app problems is to keep apps updated. By default, your Galaxy Note10 should be set to automatically download app updates. We suggest that you re-check this option if you changed it before.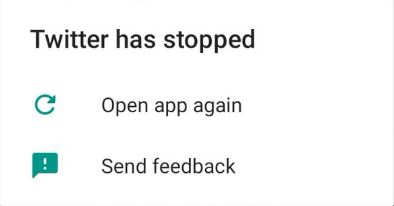 You can ensure that your Twitter app is fully updated by manually checking yourself.
To check if Twitter is up-to-date, follow these steps:
1.Open up the Google Play Store.
2.Tap Menu and then My apps & games.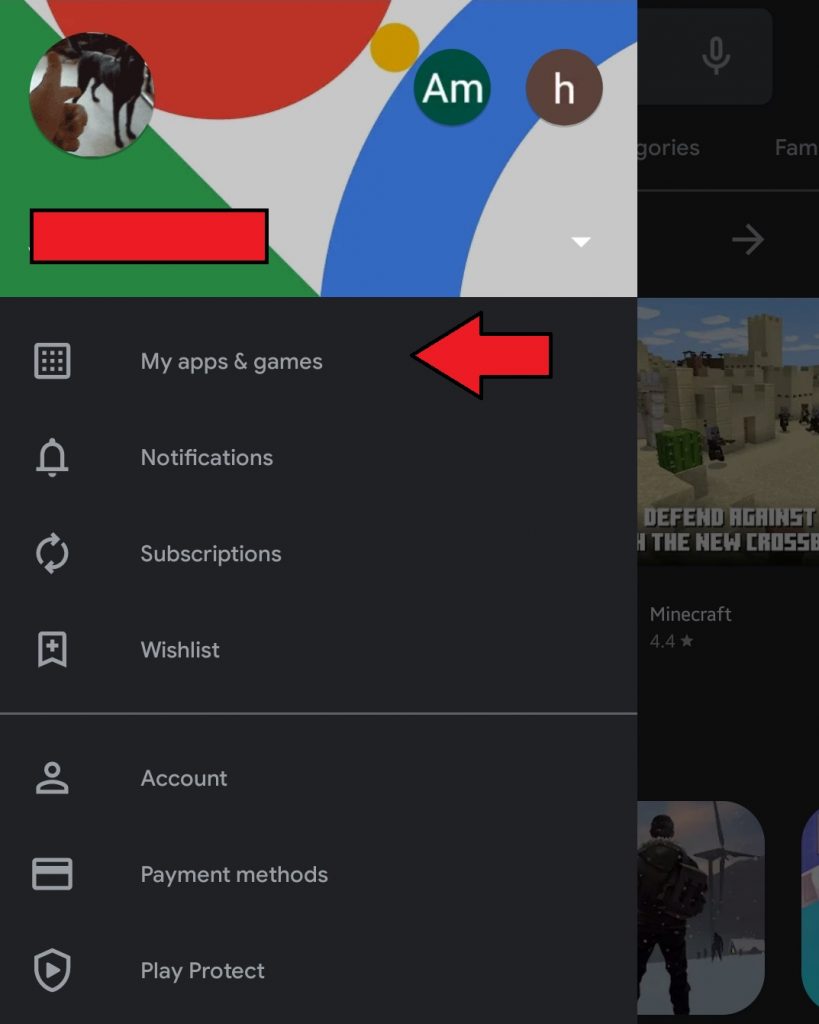 3.Find the Twitter app and click Update.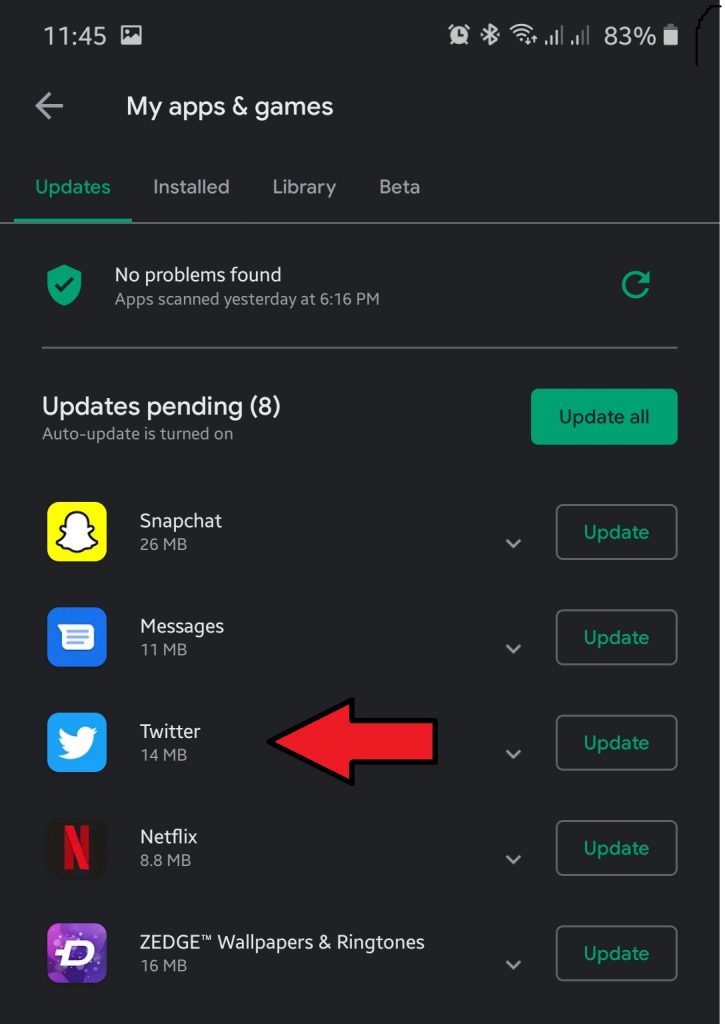 How to fix Twitter crashing issue?
Just like any other app problem, there is a set of troubleshooting steps that you need to do to fix your particular issue. Below are the things that must be performed to make your Twitter app working normally again.
Look out for recent update news
Even well maintained apps like Twitter can develop glitches from time to time. This is true for all apps so you can almost always expect hiccups every now and then.
For instance, a few days ago, many Twitter users were reporting that their social media app kept crashing after updating it. Twitter support later admitted to having encountered a problem with their app and that they were working on a fix for it.
If you are experiencing Twitter crashing issue on your Note10 without apparent reason, you must first check the internet for any server-side issues. These types of problems go away on their own after the developer figures out a fix so all you can do is to avoid using the app for the moment.
Solution to Twitter has stopped issue is usually rolled out via updates so just wait for some time and let your device download an update.
Perform Twitter app troubleshooting
If there's no confirmed on-going server-side problem for Twitter, the cause of your particular problem might be coming from within the device. The app may have become buggy for some reasons. Below are the troubleshooting steps that you can try to deal with the problem:
Force quit app
Erase app cache
Reset to defaults
Force quit Twitter app
This is often an effective way to deal with most app issues. What you're going to do is to force close Twitter app to remove it from your Note10's RAM, which in turn will refresh the app in a certain way.
There are two ways to do it:
Method 1: Close an app using Recent Apps key
On your screen, tap the Recent Apps soft key (the one with three vertical lines on the left of the Home button).
Once the Recent Apps screen is shown, swipe left or right to look for the app. It should be here if you managed to run it previously.
Then, swipe up on the app to close it. This should force close it. If it's not there, simply tap the Close All app to also restart all apps.
Method 2: Close an app using App Info menu
Another way to force close an app is by going within the app's settings itself. It's a longer way compared to the first method above but it's equally effective. You want to use this method if you plan on doing other troubleshooting for the said app like clearing its cache or data. Here's how it's done:
Open Settings app.
Tap Apps.
Tap the More settings icon (three-dot icon, upper right).
Tap Show system apps.
Find and tap the app.
Tap Force Stop at the bottom.
Erase Twitter app cache
If restarting the app won't fix your Note10 Twitter crashing issue, the next best thing that you can do is clear the cache. Each app stores a temporary set of files called cache in order to work efficiently. Sometimes, this cache gets corrupted, which in turn may lead to the app crashing or working poorly.
To clear an app's cache:
Go to the Home screen.
Tap Apps icon.
Open Settings app.
Tap Apps.
If you're looking for a system or default app, tap on More settings at the upper right (three-dot icon).
Select Show system apps.
Find and tap the appropriate app.
Tap Storage.
Tap Clear Cache button at the bottom.
Clear Twitter app data
This is a good follow up to the above steps. Deleting an app's data will return Twitter to its original factory state. You'll have to re-enter your account username and password again after resetting the app.
To clear an app's data:
Go to the Home screen.
Tap Apps icon.
Open Settings app.
Tap Apps.
If you're looking for a system or default app, tap on More settings at the upper right (three-dot icon).
Select Show system apps.
Find and tap the appropriate app.
Tap Storage.
Tap Clear Data button.
Restart your Note10
Your Galaxy Note10 can benefit from a restart even if it does not have any issues. If you haven't rebooted it yet at this time, be sure to do so.
A restart has been a staple troubleshooting step across many platforms for many years so you'll have to do it here as well. Hopefully, this will make Twitter to stop crashing on your Note10.
Simply press the Power button to access the boot menu. Then, select Restart option and see if that works.
Rebooting your device regularly at least once every week can be beneficial. If you tend to forget things, we suggest that you configure your phone to reboot on its own. You can schedule it to do this task.
To set up Auto-Restart on Galaxy Note10:
Open Settings app.
Tap Device Care.
Tap the 3-dot at the top.
Select Auto restart.
Contact Twitter support or submit bug report
If you can't seem to fix your Twitter issue with our suggestions above, you can also try to get help from your app's Help Center (if the app stays stable enough). Otherwise, you can use your web browser and visit Twitter help site.
Uninstall and use old Twitter app version
Deleting the current app and installing an older version is an option that you might want to do if you're desperate.
This solution is only recommended for above average Android users. If you haven't heard of the word APK or does not have any idea how to install an app outside the Play Store, then you can either research more about the topic, or simply stay away from it.
Getting apps from unknown sources can compromise your device and information in it.
Suggested readings
 Get help from us
Having Issues with your phone? Feel free to contact us using this form. We'll try to help. We also create videos for those wanting to follow visual instructions. Visit our Youtube page for troubleshooting.